A Conversation with Paul Craig Roberts:
Transitions; Morals; Alliances and Dissolutions
With Gary Corseri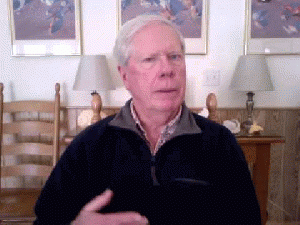 "This old anvil laughs at many broken hammers.
There are men who can't be bought.
The fireborn are at home in fire."
--Carl Sandburg
GC: I've been reading your work fairly regularly over the past 4 years. Within this year, I've reviewed your two most recent books: THE FAILURE OF LAISSEZ FAIRE CAPITALISM and HOW AMERICA WAS LOST. I know something about your background as Assistant Treasury Secretary during the Reagan Administration, and as a former associate editor and columnist for the Wall Street Journal, etc. You and I have corresponded a little, mostly about setting up this interview. I'm glad to meet you in person.
At one point in LOST you relate the story of a friend who had lunch with former colleagues of yours who lamented your shift in politics from a conservative "Reaganite" to someone now writing radical articles (posted, I'll add, at some of the best websites in the world!). These former colleagues took the attitude of "Poor Paul! He could have been really rich, with a sinecure at a prestigious university--probably a named chair for him--giving talks at Foundation events, getting cut in on special deals--as rich a sell-out as Tony Blair is now! He just had to play along" he just had to tone it down!"
So, my first question is: What's the matter with you? Why didn't you take the easy path? What kind of credo drives you?
PCR: Well, you know, being a prostitute is not an easy path! It's not a role that anybody really wants" and it's just people who don't have alternatives who get stuck in that. . After I left Treasury, I held the William E. Simon Chair in Political Economy at Georgetown University for 12 years. I think that what some of my former colleagues were saying is that they had gotten rich by selling out. That was their claim to fame--that they were now rich. [He laughs here. He has a good!] So, I felt sorry for them. My friend who related the story told me that he stood up and told them that he didn't know he was having lunch with a bunch of whores" and he left! [More laughter".]
GC: I like to read history--to get a grip on where we are now, to see the great continuum. You often write about the generation of our Founding Fathers; their intentions in our Constitution, our Declaration of Independence. One of the pictures on your Web articles shows you standing in front of a painting of what looks like a Revolutionary War leader--I think he's Alexander Hamilton. Can you tell me who is in the painting and how do you identify with him? What values do you share?
(Note: You can view every article as one long page if you sign up as an Advocate Member, or higher).