Die-In that caused Jack to spend Thanksgiving behind bars
(
Image
by scannerelli@syracuse.com)
Details
DMCA
My guest today is Jack Gilroy, who recently spent Thanksgiving in Jamesville Correctional Facility. Welcome to OpEdNews, Jack.
JB: What did you do that landed you in all this trouble?
JG: Hi, Joan. My crime was attempting to deliver a message to the 174th Attack Wing of Hancock Killer Drone base to stop the killing. Along with 30 other peacemakers, I walked in a solemn funeral procession in memory of the thousands who have been killed by missiles and bombs from drones. Then, we laid down on the ground in a die-in. That was our crime.
JB: Needless to say, it doesn't sound like much of a crime to me. How did you get involved? Was this your first such action?
JG: I've been an activist since the 1960s. I was the UpState (NY) Director for the COR [Committee of Responsibility], the Quaker organization that was taking war-injured Vietnamese children - mostly napalm wounds - for plastic surgery and other procedures. From there, my activism progressed to anti-nuclear actions, involvement in actions to inform Americans of the US Army School of Americas and their assassination program. That led to my incarceration in Southern jails, Atlanta Penitentiary, Petersburg Prison and a work camp in the mountains of Central Pennsylvania in the fall of 2001.
Drone actions began just five years ago. A couple of arrests and then the conviction for my April 28, 2013 die-in at Hancock.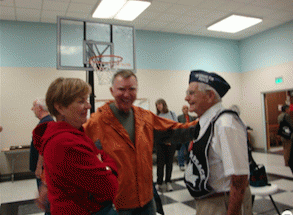 Jack with Helene and friend, the late Stu Naismith, Mother's Day, 2010
(
Image
by courtesy of Jack Gilroy)
Details
DMCA
JB: Wow. You're really a veteran at this! And no spring chicken either. I'd like to know more about what it takes to demonstrate and know that there's a good likelihood that you're going to end up behind bars. How do you prepare for that? And does it get easier the more often it happens? I freely admit that facing arrest and prison time would scare the willies out of me. Especially these days.
JG: Yes, it scares the be-Jesus out of me. But I could not take the plea bargain offer of the DeWitt (Syracuse Town) Court. If I said I was guilty of obstructing government administration and trespass, (we never entered the base--our nonviolent vow and action was outside of the fence) then I would betray the thousands of high school students I taught. I was a teacher of a mandated senior class course called Participation in Government. What was stressed in the class was mainly the First Amendment of the US Constitution. I taught it as the heart of our belief in this great nation. To say I was guilty of assembly, of speech, of religion, of press, by lying down in front of an institution breaking US and international law and defying our basic moral standards would be a gross lie.
Joan, when you say "first such action" I took it to mean peace and justice actions. That is a long and involved story that you may not want to get into. I brought up the SOA Watch because the focus was on torture and assassinations taught at Ft. Benning, the home of the US Army School of the Americas (La Escuela de Americas).
There is obviously a connection between my actions in opposition to the thousands of people we helped 'neutralize' in Latin America and the thousands we are 'neutralizing' in the Middle East. We still like to use the word "insurgents" assuming that we are the people who must decide who the insurgents are. Not us, of course, for we are on the side of peace and justice. As kids say, "yeah, right".
So, a short answer to your "When did you get involved (in drone actions)?" is about five years ago. But I have had only two arrests. Some folks have had four or more. However, I have had the most severe sentence. Three months in Jamesville Penitentiary, $1250 fine, $1300 for a transcript of my trial and - get this!- 1500 hours of community service. The Probation Officer in Binghamton NY (75 miles south of the drone base) said she never in the many years she has been a probation officer saw this kind of community service sentence. "50 or 100 but 1500? Pretty crazy. Are your appeal lawyers up to the force they must face?"
JB: Of course I'm interested in the back story, Jack. That's what brought you to where you are today. Do you want to tell us more about that?
JG: Well, in 1971, as a high school teacher at Maine Endwell Senior High in Endwell, NY, I was constantly removed from college campuses for showing a film that illustrated the crimes of our US government. I went to campus student unions, set up a projector and let the film roll"usually without incident but sometimes removed by campus police. The film was called The Survivors. I wish I had a copy of it but it was gone from my classroom closet after my family and I decided to return from Australia where we emigrated in in 1971 and returned two years later. My job was saved and I was able to shake out some of my anger at my government. Although I got into a lot of hassles in Australia (not with the kids or fellow teachers) with the tight educational system of New South Wales that did not think kindly of taking kids to the French Consulate to protest their explosion of nuclear weapons in the Pacific and making the top of the ABC News [Australian Broadcasting Company]. It was quite a struggle with the administrative part of my teaching in Australia.