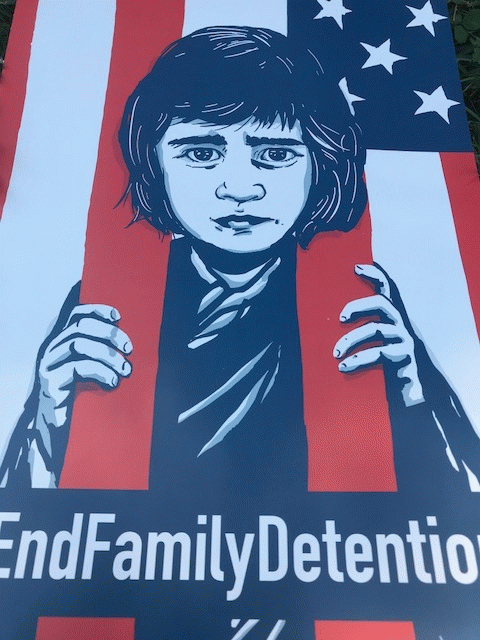 One of yesterday's heart-breaking images
(
Image
by
Marta Steele
)
Details
DMCA
"We cannot allow all of these people to invade our Country."--Donald Trump
I wondered if this was a story. The MSM have already carried it: "Thousands of people across the country [and the world] protested the forced, wrenching separation of children from families and their detention." Thousands?" Where were the millions? Sexist that I am, and given the gender data of the second annual Women's March on January 21 (hundred of thousands all over the world) and March for Our Lives (200,000-800,000), I expected hordes of bleeding-heart moms. But New Yorkers marched across the Brooklyn Bridge yesterday, within sight of the Statue of Liberty, I think. Why hasn't Trump torn her down? (horrors). Not that we've ever quite lived up to her literal message, which should be footnoted, but these days it's extremely worse.
Women in DC on January 21 and March 24 were both squeezed-against the-wall crowded with women. Where were we yesterday? There was a good number of men, father-aged, among us!
A beautiful child brought to the rally with her younger sister
(
Image
by
Marta Steele
)
Details
DMCA
It was hotter than hell. The crowds, some of whom brought their adorable children along, huddled in the shade under trees to survive. DC under a cloudless blue summer sky is brutal, especially without a breeze. We sweated buckets.
In between the fountain and statue at Lafayette Park, we couldn't hear the speakers. The PA system wasn't good unless you sat in a section chairs for disabled people in the sun far from the rally.
We were there to hear heart-breaking messages from immigrants still free, brave enough to speak out, others brave enough to speak out within close sight of the White House. Here is a great detail I picked up from the MSM: protesters as close as possible to Trump's golf game in Bedminster, NJ, which wasn't very close, chanted their horror as we did: "SHAME!! SHAME!! especially as we marched past Hotel Trump, past the DoJ, en route to the Capitol building, but my group lopped off before then: members and leaders of PDA (Progressives Democrats of America) hoping for more. We guessed that we were marching among Bernie Democrats for the most part.
Who else was there? The Latinos were speaking but I recognized few among the demonstrators. A few Asians, a few blacks, all middle class. But my perspective was limited. There were two marches, for some reason. I hope that the distribution was more multiracial in the other march.
One policeman halted on his bike, smiling, to allow us to take a group picture. Then a long line of others peddled past us, frowning to undo the good will. Nothing was going to happen with the kids along, sirs, except tears of horror, indignation.
What will we have accomplished? Will der Fuhrer react at all? Was our voice heard this time? A few children have been reunited with parents, a few. Families once reunited will be deported. But immigrants keep coming, preferring concentration camps to their homelands.
What a week, SCOTUS blindsided us again and again with fascist decisions. It's July. When they reconvene, barring a miracle, they will turn redder. There were other rallies during the week. Women in DC committed civil disobedience and 525, including actress Susan Sarandon, were arrested Friday night for protesting against the same fascist brutality. MSM are streaming editorials about fascist coups that happened the way that Trump wants our future to go. "The people united will never be defeated" (Repeat the same in Spanish). How many times have I marched chanting those brave, hopeful, defiant words?
I hope for many more chances to. MLK said (paraphrased) that the greatest enemy is silence. Fascism silences.
Great timing to snow down all those God-awful decisions in the hot hell of midsummer.
Keep shouting out. Defy hell in every shape it takes. I believe that we will prevail as long as Democracy Is a Verb (title of my forthcoming book if it doesn't get censored). Do something every day. March until you drop.
Fight for the privilege of taking a day off now and then to breathe the sweet airs of freedom. But don't ever stop fighting. That's our definition. The millennials are great. They are giving rebirth to the sixties. I believe in them.
(Note: You can view every article as one long page if you sign up as an Advocate Member, or higher).