We need to evolve to the point that every person takes responsibility for the effects of their personal choices. You may no longer blow smoke in my face, treat other people as insignificant, or consider yourself exceptional enough to deserve special privileges. What would the planet be like if everybody in China consumed like an American?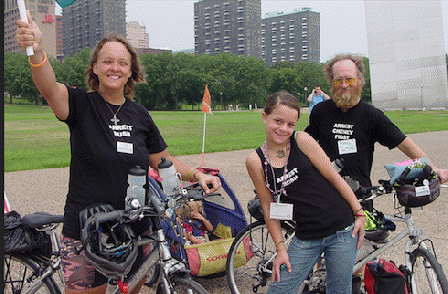 Michele, Grace, Willow, Tala, and Vernon celebrating Tala's 12th birthday in St Louis. This ride was her rite of passage. T-shirts read: Arrest Bush, Arrest Bush, Arrest Cheney First
(
Image
by courtesy of Vernon Huffman)
Details
DMCA
JB: Well put. I'm not sure how neatly this fits in here, but I read that you've served as an international election observer. Since Election Integrity is my beat, of course I'm interested. What can you tell us about that?
VH: In 2006, I served through International Peace Force as an observer for the Palestinian Legislative election. Although the election was certified "free & fair" by OSCE & UN observers, the legislature was not allowed to meet because Israelis arrested the Hamas representatives elected from the West Bank, mostly without charge.
The brief time I spent in Palestine left me feeling powerless and cynical, but more committed than ever to keep struggling against the empire into which I was born.
JB: Speaking of this empire, how have you translated your experience abroad to American election dysfunction, which I believe is the root of all the other issues we have here?
VH: I've learned more of the international standards, but I've had enough experience with elections here to see our problems:
Our mass media is seriously biased;

Campaign funding is not fairly distributed;

Polling procedures lack transparency.

Some areas also have serious registration problems, but that is less common in the Pacific Northwest. I did get a taste of the racism that plagues Georgia by working for Cynthia McKinney there.
When I was the Democratic nominee for State Representative in Washington's Tenth LD in 1984, I was told who to beg for money and what to say. I was warned that even at the state level it was poisonous to criticize Israel.