JB: Sounds like you're keeping your options open. I have no problem with that. Now that you've published Small Blessings, do you have any plans to refill your bucket list?
MW: When I was a kid of thirty or so, I remember hearing Jimmy Buffett singing a song about how he'd rather die while he's living than live while he's dead. That's pretty much my mantra as I zoom through my late sixties.
That aside, I have no plans to refill my bucket list. Yet...
JB: I'll stay tuned. Good luck with the paperback launch. I loved Small Blessings; I was totally engaged and think our readers will agree. Thanks so much for talking with me. I enjoyed myself immensely!
MW: Well, hot dogs! And back at you as far as enjoyment goes! Thanks so much for asking questions that made me think!
JB: Music to my ears, Martha, music to my ears.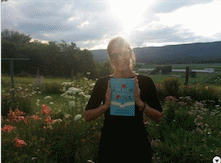 Martha and book
(
Image
by
Charlie Woodroof
)
Details
DMCA
***
Martha Woodroof's website
Martha is producer of THE SPARK features on WMRA Public Radio
and author of Small Blessings (St. Martin's, 2014)
Martha's Author Page on Facebook
Follow Martha on Twitter @MarthaWoodroof
other NPR-inspired interviews:
Behind the Scenes of "This I Believe" with Dan Gediman 4.28.2013
Part two of Gediman interview 5.2.2013
Public Radio's "A Way with Words": Not Just for Word Nerds and Language Lovers 12.20.2014