VH: Grace and Willow were eighteen month old twins when their mother, my friend and fellow cyclist Michele Darr, and I buckled them into the bike trailer that would be their room during the next six months. They celebrated their second birthdays at a peace encampment in Washington, DC, after that 4,500 mile ride across the USA.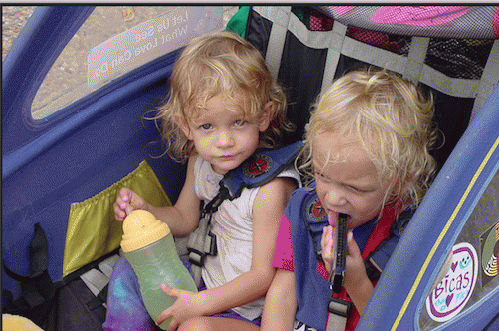 Twins Grace and Willow in the bike trailer that was their home for six months in 2007.
(
Image
by Michele Darr)
Details
DMCA
While the twins still delight in tales of their big adventure, I think it was even more eventful for their big sister, Tala, who celebrated her twelfth birthday at the VfP convention in St. Louis (with 800 veterans singing to her, led by Dennis Kucinich). For Tala, the bike trip was a rite of passage.
Grace, Michele, and Dennis Kucinich at the 2007 Veterans for Peace convention in St Louis. Dennis led 800 veterans in singing Happy Birthday to Tala.
(
Image
by courtesy of Vernon Huffman)
Details
DMCA
JB: So, as I understand it, you actually have two different threads going on at the same time. You have the cross-country tours for peace. But, you also encourage people to bike around town rather than use fossil fuel-eating cars. Do you practice what you preach?
VH: I started living car-free in the early '80s on Whidbey Island. I commuted 30 miles each way into Seattle once a week for a few years. After a decade of car-free living, I went back to owning a car for about a decade. I got rid of my last car in 2006. It was such a relief to eliminate that burden! Today I get around by bicycle, occasional walking, or public transit. Cars are inefficient, unsafe, and impractical.
JB: Your last statement is quite true. But, how practical is it for most people to actually give up their cars? And, in many places, public transportation, logistics and/or distances mitigate against people regularly biking to work. How can we ease into this and still be moving in the right, general direction, albeit more gradually?
VH: Climate change is accelerating and the dependence of North Americans upon personal automobiles is the single biggest cause. I'm not sure Mother Nature is willing to compromise any further. If she decides human growth is cancerous, she may allow us to join the sixth great extinction.
If you can afford an electric car powered by solar panels, we can probably bear with you on the roads. If you need to use biodiesel to carry the food you grow to market, we can allow some carbon into the atmosphere. But if you're just not creative enough to come up with an alternative to a meaningless job and a suburban lifestyle, please stop.
The biggest obstacle to walking, biking, and public transit is all the cars blocking the way.