But even with our younger generations coming into government service -- with a good sense of justice, a strong sense of self, and a willingness to speak openly about what they believe and know -- there is risk when someone questions the collective government story.
There is risk in the act of challenging authority and one's peer group, risk of being wrong and suffering loss of credibility. There is the rational and real risk of incurring the rage of the state, and being jailed, harmed, ruined and even killed on the whispers of an incensed or threatened agency.
There is another risk that we really don't talk about much. I think most concerning for many people is the risk that you are actually right, that you have discovered something damning and dark in your country, in your government, in your organization. Once this happens, if it happens, your life is irreversibly changed, and nothing is ever going to be the same. Understanding how your government actually works, in particular how it works to create and provoke war and murder, how it works to extract the wealth of the nation and use this blessing to commit Constitutional crimes and untold evil, in your name -- for many this understanding is not a gift, but a curse. I estimate at least 10% of our country, 20-30 million Americans, many of them veterans the U.S. Empire's global adventures in the past 50 years, feel this curse, and many of them deal with it by turning away from the dark side of Washington D.C., and not talking, writing, or speaking about what they know.
If anyone has followed the case of former Marine Sergeant Brandon Raub a few years ago, you realize that the government keeps a close and paranoid eye on what veterans are doing and saying. Given how things work today, they may be wise to turn away silently from the truth they know.
I think this is why it is often hard for us to demand more truth-tellers come forward, especially in the defense and security and intelligence arena, when we should be shouting it from the rooftops.
Some years ago, I did an online radio program where I would interview interesting people, like Ray McGovern and Sam Provance and Sibel Edmonds, among many others. One person, in our conversation, expressed surprise that I was a short (formerly) brown haired woman, when he thought I would be a tall blonde. I was reminded of this when watching Shock and Awe, because Rob Reiner and the writers did not know who I was, and they portrayed me as a tall light-haired woman, a modern day Viking of sorts. Notwithstanding that this is a popular and attractive stereotype, I think there is something to be learned here. We want to believe that anyone who stands up to authority, who knows his or her own mind, who is willing to enter into a battle of wills with the state, and to take a risk is somehow taller, stronger, bolder and braver than the rest of us.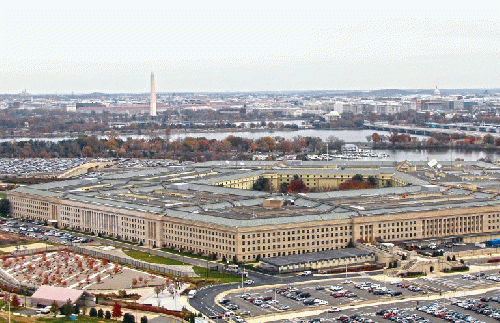 Where Karen worked when she told Knight-Ridder that the intel on Iraq WMD was false.
(
Image
by (Defense Department))
Details
DMCA
But it isn't true. There is something remarkably childlike and simple in being honest, in observing without fear what is happening around you, and reporting this to the person who pays the bills. In the case of the national security arena, the bill payer is the American people. To tell the truth is simple, honorable, and good for the health of the Republic. The fact that it drives the security apparatus and the government crazy is just icing on the cake. Granted, we all need jobs, and our mental health, and we don't want to be imprisoned, tortured or killed. But the more of us -- specifically those working with and inside the US government today -- who tell the truth, the less likely that government embarrassment will result in harm to a whistleblower, and the less likely in the long run that we will see whistleblowers as we tend to see them today. In a world of that values honesty, they would be receiving the public commendation of a proud Congress, a grateful media and President, and a contented population.
I'm not a Pollyanna, and I'm worried about the role the US government is playing at home and abroad. The kind of devastation that the US tolerates, supports and initiates around the world -- Afghanistan, Iraq, Libya, Syria, of course Yemen comes to mind, the horrendous situation that Julian Assange is still facing as we speak -- is not limited to "overseas." The industrial warfare state is as dangerous to Americans as it is to Iraqis, Syrians, and Yemenis. The arts of the warfare state are already being practiced here, against Americans. We -- average Americans -- are increasingly controlled, spied on, monitored, tracked, threatened, boxed in, and shut down by tools that were first used and tested on some contrived wartime enemy.
You don't need me to tell you this, it's in every newspaper every day, on every page. It is our modern reality. Truth and transparency are its only antidote, and truth and transparency needs all of us. To live in a society, to be a citizen, to love your country -- you cannot sleepwalk through it.
People who value wisdom, people who value common sense, people who value justice and people who believe that being woke is a good thing -- congratulations! You are the majority! You are alive, you are in charge of this country, and you can choose. America is worth preserving, healing, and saving -- and if she is to be saved we will do it by first learning the difference between the truth and a lie, and then speaking the truth loudly, boldly, to anyone who will listen, over and over and over again.
(Note: You can view every article as one long page if you sign up as an Advocate Member, or higher).