Appendix:
News Corporation executives deny any knowledge of
or participation in illegal voice mail and other phone tapping
before United Kingdom government inquiries.
Guardian.co.uk News of the World: the denials - video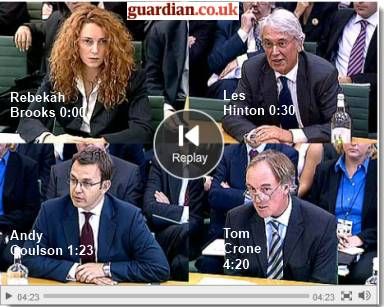 Rebekah Brooks - News of the World Editor 2000-2003, Currently CEO, News International
Brooks: We have paid the police for information in the past.
Les Hinton - Former chairman of the board News International 2004-2007. Currently CEO Dow Jones and Company (which includes the Wall Street Journal)
Q: Have you carried out a full rigorous internal inquiry and are you absolutely convinced that Clive Goodman was the only person who knew what was going on?
Les Hinton: Yes I have and I believe that he was the only person but that investigation continues under the new editor.
Andy Coulson - News of the World Editor 2003-2007. Currently under arrest, in police custody.
Coulson: We never condoned the use of phone hacking nor do I have any recollection of incidences when phone hacking took place.