The reality in Barataria Bay near pelican rookery
Image BP presented to Houma community regarding beach clean-up
The reality regarding "work" on the beach at Grand Isle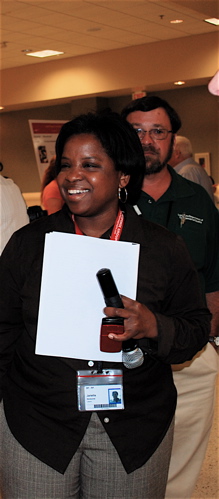 British Petroleum's image of press relations presented to Houma community
Reality on Grand Isle earlier that day
Yes, it was a cheap shot for me to have the video running. I had not intended to publish it, but his discussion of a "hot zone" is worth offering here. On an earlier visit, Talon Security forbade me to take photos of workers.

Local cable station LCN-TV wanted us to go on the air and talk about our experiences. LCN provides cultural snapshot of Louisiana culture, and is not a political entity. The station wanted our perspective on the sights and sounds we witnessed in Barataria Bay and Grand Bayou. Rather than go on the air for an interview, we gave them a stack of images and editor Debbie Stein put this short video together.
In any case, this is reality for the people, the environment and the animals of the Gulf of Mexico and her shores. A secondary reality is that the petroleum industry is vital to the economic health of Louisiana, and no one here doubts that reality.
(Note: You can view every article as one long page if you sign up as an Advocate Member, or higher).