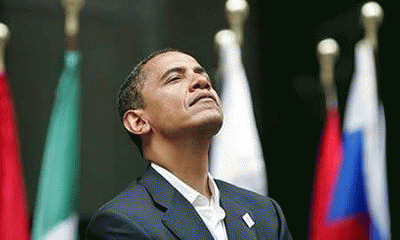 (
Image
by
Google Images
)
Details
DMCA
1. The Bureau of Labor Statistics claims, "Payroll employment rises 288,000 in April" while the actual number of Americans working decreased by 73,000. The civilian work force shrank by 806,000 while the number considered unemployed fell by 733,000. The number of workers "Not in the labor force" rose by nearly ONE MILLION in thirty days. The long-term unemployed are being pushed into destitution!
2. If 288,000 is the actual number of new hires, what is the number of people leaving their current employment? Answer: 253,000 Net job growth: 35,000 Unemployment falls to a 6.3% claim? Scandal? You wanna talk scandal?
3. In a nation with 21,049,000 unemployed, underemployed, part-time employed, Marginally attached, discouraged workers and no longer in the labor force, only 35,000 found jobs. If just one percent of the unemployed had found jobs, it would be seven times this month's 35,000 figure. That isn't bad, it's terrible, it's a disaster and yet, it is sold through the media as good news.
4. The Navy has been in the Littoral ship business since 2007. Small, fast and agile craft with a fixed price of $460 million each, but other than rust, float and guard the dock, the ships don't work. The USS Independence came in at $740 million, after failing 14 of 28 operational tests. The guns don't work when the ship is moving, the power plant is unreliable and in the case of the Independence: "may pose a navigational challenge in narrow waters and tight harbors" its greatest potential threat maybe as a hazard to navigation. 2011, program costs escalated to $3.7 Billion dollars. The ships are nothing but missile bait, the USS Sitting Duck and the USS Death Trap.
5. Barack Obama once mentioned the "Citizen's United" Supreme Court ruling in a State of the Union speech, he said Congress ought to pass corrective legislation and he would sign it. So you can only imagine how outraged he became, when the Supreme Court struck down campaign finance limits. It made him so angry, he did away with public financing of elections, there"take that! "This is the end of the end of public financing," said David Mason, a former Federal Election Commissioner. How will it affect Republicans and Democrats? It won't, it will close the door on independents and third parties.
6. Forty percent of all homeless people in the United States are under 18 years of age. (Covenant house)
7. Members of Congress are eligible for a pension at age 62 if they have completed at least five years of service. They are eligible for a pension at age 50 if they have completed 20 years of service, or at any age after completing 25 years of service. The amount of the pension depends on years of service and the average of the highest three years of salary. By law, the starting amount of a member's retirement annuity may not exceed 80 percent of his or her final salary.
(Note: You can view every article as one long page if you sign up as an Advocate Member, or higher).