February 15: Washington, DC. President Bush holds a press conference and backs off on the link between the weapons found in Iraq and the Iranian government: "Whether (Iranian President Mahmoud) Ahmadinejad ordered the Qods Force to do this, I don't think we know." (ABC) Had Bush asserted the claim as fact, he would have had a rationale for a military response to Iran and a likely war. He would have been obliged to fire General Pace as well, since his head of the Joint Chiefs of Staff had directly contradicted Bush as commander in chief. The first QF storyline failed. It was not forgotten.
Most remarkably, before the intensity of the claims and counter claims from February 11 through the 16th, long time actor and insider, Zbigniew Brzezinski testified before Senate Foreign Relations Committee. He said: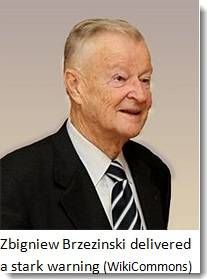 February 1, 2007: "If the United States continues to be bogged down in a protracted bloody involvement in Iraq, the final destination on this downhill track is likely to be a head-on conflict with Iran and with much of the world of Islam at large. A plausible scenario for a military collision with Iran involves Iraqi failure to meet the benchmarks; followed by accusations of Iranian responsibility for the failure; then by some provocation in Iraq or a terrorist act in the U.S. blamed on Iran; culminating in a "defensive" U.S. military action against Iran that plunges a lonely America into a spreading and deepening quagmire eventually ranging across Iraq, Iran, Afghanistan, and Pakistan "" (Zbigniew Brzezinski, Senate Foreign Relations Committee)
Brzezinski predicted a terrorist act committed by some entity that would be "blamed on Iran." If he had some intelligence that Iran had plans to do this or a strong belief based on evidence, he wouldn't have used the phrase, "blamed on Iran." He would have simply said, 'Iran will commit an act of terror.' This is an extremely strong statement. Brzezinski is a pillar of the foreign policy community. He was a founding member of the Trilateral Commission. Is he saying that some in the Bush administration were going to create a false flag event with Iran as the target and patsy? What did he know?
In fact, this statement aligns with one of the core arguments of the 9/11 Truth movement. Their literature is replete with references to the Project for a New American Century statement that the timeline for a "revolutionary change" in U.S. foreign policy "is likely to be a long one absent some catastrophic and crystalizing event - like a new Pearl Harbor." 9/11 is viewed as the rationale that provided the excuse to begin the "revolutionary change" by invading Iraq.
Brzezinski's message was clear. A major path to justify attacking Iran involved a fabricated act of terror, a false flag, as an excuse for military aggression.
Back to the Future
Here we are again with the same storyline used in 2007, revived to justify a violent response to Iran for acts they likely didn't commit. Is this a reprise of the tactic that Brzezinski warned us about in his Senate testimony in February 2007?
Shame on the Iranian government, if it tried to hire a Mexican drug lord to kill the Saudi Ambassador (or anyone else).
If the alleged conspiracy lacks any real credibility and coherence as reported in the public media, the implications are chilling. The nation's top two law enforcement officials have either dropped the ball in a way that complicates an already hostile relationship with Iran or they're pushing a fictional conspiracy theory that represents a real danger to every citizen; a harbinger for another endless war that we shouldn't fight, one that we can't even begin to afford.
It is time to review what Dr. Brzezinski said about the uses of terror, misdirection and blame to create a pretext for war.
END
This article may be reproduced with attribution of authorship and a link to this article.
- Advertisement -