LINK: NBC Nightly News OWS Story
September 26, 2011: There were no marches yesterday. There was housekeeping and organizational work to do after more than a week of occupation that has put Wall Street Banksters, among other parties to the economic calamity, on notice.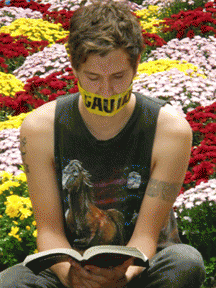 Silent Protester at OWS
(
Image
by
Valerie B. Taylor 9/25/11 Attribution for Use
)
Details
DMCA
Box Score:
OWS Protesters Arrested: 121 - 200 (?)
Wall Street Banksters Arrested: 0
People Power Hours since Day 1 (NYC only): 349,000
LINK: People Power Hours explained Page 3
Facilitators reported that approximately half of those arrested during the Union Square march had been released and were back at the occupation. Others were being held on more serious charges were waiting to have bail set.
(Send donations, money orders only: The UPS Store, Occupy Wall Street, 118A Fulton St. #205, New York, NY 10038)
Ketchup, her name, addressed the General Assembly
(
Image
by
Valerie B. Taylor 9/25/11 Attribution for Use
)
Details
DMCA
LINK: 13 Things You Can Do to Support Occupy Wall Street Now!
Those arrested who did return reported the following: Innocent bystanders were caught in the police drag net and detained. Employees and owners of several businesses harbored marchers to save them from arrest. And, a number of sympathetic NYPD officers treated those arrested with respect and extraordinary leeway, some expressing support.
"The police officer told me he was going to cuff me very loosely so it wouldn't hurt," said one woman arrested Saturday. Waiting in the bus she found the plastic strap cuffs were so loose her hands were not bound and she could freely take one out to use her cell phone.
On Sunday, occupiers cleaned up Liberty Plaza a.k.a. Zuccotti Park. Trash was moved to the proper place for sanitation department pick-up.