This piece was reprinted by OpEdNews with permission or license. It may not be reproduced in any form without permission or license from the source.
In his memoir, he complains bitterly that this judgment in that key 2007 National Intelligence Estimate "tied my hands on the military side. ... After the NIE, how could I possibly explain using the military to destroy the nuclear facilities of a country the intelligence community said had no active nuclear weapons program?" No, I am not making this up. He wrote that.
In another sometimes inadvertently revealing memoir, At the Center of the Storm: My Years at the CIA, CIA Director George Tenet described Michael Morell, whom he picked to be CIA's briefer of President George W. Bush, in these terms: "Wiry, youthful looking, and extremely bright, Mike speaks in staccato-like bursts that get to the bottom line very quickly. He and George Bush hit it off almost immediately. Mike was the perfect guy for us to have by the commander-in-chief's side."
Wonder what Morell was telling Bush about those "weapons of mass destruction in Iraq" and the alleged ties between Saddam Hussein and Al Qaeda. Was Morell winking at Bush the same way Tenet winked at the head of British intelligence on July 20, 2002, telling him that "the intelligence and facts were being fixed around the policy" of invading Iraq?
High on Morell
Not surprisingly, Tenet speaks well of his protege and former executive assistant Morell. But he also reveals that Morell "coordinated the CIA review" of Secretary of State Colin Powell's infamous Feb. 5, 2003 speech to the United Nations -- a dubious distinction if there ever was one.
So Morell reviewed the "intelligence" that went into Powell's thoroughly deceptive account of the Iraqi threat! Powell later called that dramatic speech, which wowed Washington's media and foreign policy elites and was used to browbeat the few remaining dissenters into silence, a "blot" on his record.
In Morell's own memoir, The Great War of Our Time, Morell apologized to former Secretary of State Powell for the bogus CIA intelligence that found its way into Powell's address. Morell told CBS: "I thought it important to do so because ... he went out there and made this case, and we were wrong."
It is sad to have to remind folks almost 14 years later that the "intelligence" was not "mistaken;" it was fraudulent from the get-go. Announcing on June 5, 2008, the bipartisan conclusions from a five-year study by the Senate Intelligence Committee, Sen. Jay Rockefeller described the intelligence conjured up to "justify" war on Iraq as "uncorroborated, contradicted, or even non-existent."
It strains credulity beyond the breaking point to think that Michael Morell was unaware of the fraudulent nature of the WMD propaganda campaign. Yet, like all too many others, he kept quiet and got promoted.
Out of Harm's Way
For services rendered, Tenet rescued Morell from the center of the storm, so to speak, sending him to a plum posting in London, leaving the hapless Stu Cohen holding the bag. Cohen had been acting director of the National Intelligence Council and nominal manager of the infamous Oct. 1, 2002 National Intelligence Estimate warning about Iraq's [non-existent] WMD.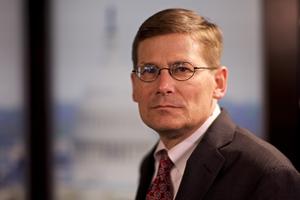 Former CIA Deputy Director Michael Morell
(
Image
by
eventbrite.com
)
Details
DMCA
Cohen made a valiant attempt to defend the indefensible in late November 2003, and was still holding out some hope that WMD would be found. He noted, however, "If we eventually are proved wrong -- that is, that there were no weapons of mass destruction and the WMD programs were dormant or abandoned -- the American people will be told the truth ..." And then Stu disappeared into the woodwork.
In October 2003, the 1,200-member "Iraq Survey Group" commissioned by Tenet to find those elusive WMD in Iraq had already reported that six months of intensive work had turned up no chemical, biological or nuclear weapons. By then, the U.S.-sponsored search for WMD had already cost $300 million, with the final bill expected to top $1 billion.
In Morell's The Great War of Our Time, he writes, "In the summer of 2003 I became CIA's senior focal point for liaison with the analytic community in the United Kingdom." He notes that one of the "dominant" issues, until he left the U.K. in early 2006, was "Iraq, namely our failure to find weapons of mass destruction." (It was a PR problem; Prime Minister Tony Blair and Morell's opposite numbers in British intelligence were fully complicit in the "dodgy-dossier" type of intelligence.)
When the storm subsided, Morell came back from London to bigger and better things. He was appointed the CIA's first associate deputy director from 2006 to 2008, and then director for intelligence until moving up to become CIA's deputy director (and twice acting director) from 2010 until 2013.
(Note: You can view every article as one long page if you sign up as an Advocate Member, or higher).