MDT: I can promise you that rehabbing an historic space is no longer on my bucket list. All kidding aside, it was critical to our vision and strategy to create a space that immediately translates the warmth of the Mediterranean, both rich in color, and bright in look and feel. We are amazingly fortunate that the space we found has 'good bones.' Anyone who knows this area knows that real estate is at a premium; it literally took me six months of driving around Cambridge and lucking out to find this spot. Because I had spent over a year in the planning and researching in the business planning process, I did have a look and feel in mind; once I was lucky (again!) enough to find a great contractor, we were off to the races. It took six months of taking the space down to the studs and rebuilding - while not an easy task, I wouldn't do it differently. One of the most gratifying parts of this new adventure is the reaction customers have when they walk in the door....it's literally 'ahhhhhh"....
There is nothing better than that! Floors, shelving, merchandising were all new tasks and needs for me, but I went into this knowing that I'd need to ask a LOT of questions. It was a matter of looking for what I liked, having a clear look in mind - and just ticking each thing off the list.
Tasting Room features 10 single varietal olive oils, more than 20 infused oils, and 25 aged balsamics from Modena, Italy
(
Image
by Mary Taylor)
Details
DMCA
JB: It's lovely that you're still so enthused, after all that work! Speaking of driving around and scouting out a location, is your client base primarily walk-ins? Maybe I'm showing my suburban roots, but where do people park in Cambridge, especially in Harvard Square? And is that a problem for you?
MDT: PARKING! It's always the parking! A challenge, to be sure. And I admit Cambridge is a bit behind other cities as we still rely on quarters and meters...providing quarters to panicked tourists is a daily occurrence!
We have a mix of walk-ins and planned visits; folks who check out maps of the Square, those on foodie tours, and those who live in the community. Parking absolutely can present a problem particularly as we are not in the heart of Harvard Square, so we rely on those stalwart food fans that are on a mission to find Salt & Olive.
JB: Salt & Olive is about to celebrate its first anniversary. What have you learned so far and how and what have you tweaked since opening?
MDT: What have we learned? How much time do you have? Every day is a day in the food classroom, and I'm still loving it. I was in the wholesale business for 27 years and I am a student in the world of retail. Our customers are great about sharing their own ideas and likes/dislikes, and we try to be as nimble and reactive to new tastes and offerings as we can. Salt was a huge surprise and we are constantly looking for new tastes, new processes, from all over the world. We added cheese and charcuterie to give folks who appreciate what we carry one more thing to take home. But the most important and gratifying learning is that folks who love and care about food are appreciating what we are trying to do. We want to be a place of creative inspiration; to have people spend an afternoon with us talking about what new creation they are going to make.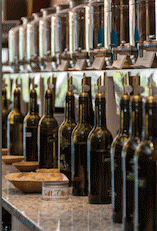 All the oils and balsamics are available for sampling and comparison
(
Image
by Frank Wing)
Details
DMCA
JB: No one would ever accuse me of being a foodie, although I do love to eat. Even so, I'm still fascinated by many aspects of your business. For instance, I learned from your website that you are a "certified technical olive oil taster". What the heck is that and how does being one enhance Salt & Olive?
MDT: Whether it's designing shoes, or working with olive oil, I am a product person at heart. I love to know where it's made, how it's made, by whom, why it's special, etc. I was fortunate to have time after leaving Puma to do that kind of deep dive and the highlight was my studies and certification via ONAOO (Organizzazione Nazionale Assaggiatori Olio di Oliva, Imperia, Italy) - the oldest olive oil tasting organization in the world. I spent time in San Francisco and New York learning how to become a Certified Technical Olive Oil Taster from the best in the world - and while I am an absolute novice, I am learning every day how to appreciate extra virgin olive oils from around the world - and most importantly, to share what I've been fortunate enough to learn with others.
My knowledge and certification enhances Salt & Olive because I can tell folks where the oils are from, how and when they are harvested, the importance of terroir, how each olive varietal differs from one another - and also the health aspects of extra virgin olive oils that other oils (including Virgin olive oils) just don't have. I believe that knowing about the product enhances the tasting, understanding and enjoyment of the oils. And one more point - it's important that consumers understand that there is a significant amount of mislabeling happening within the olive oil industry. UC Davis undertook a significant research project, testing olive oils from around the world - and found that 69% of the oils they tested were not what they claimed to be: oils marked Extra Virgin were found to be substandard, adulterated, not where they claimed to be from, etc. So, education about not only the fruit of the olive but the industry helps our customers make better and healthier choices.
JB: I have a small but niggling question that you can put to rest: can one use extra virgin olive oil for baking and frying? There's some controversy about that.
MDT: That's the question we get the most - there is a lot of misunderstanding about cooking with olive oil. Per the International Olive Oil Council, the smoke point for extra virgin olive oil is 410 - 420, suitable for all but deep frying. If you go higher than that in the oven it could splatter so keep that in mind but cooking with olive oil is not only delicious but better for you!
JB: Very helpful. Thanks. I'm glad to hear that I'm not the only one with that question. Now, how about curated oils and spices: what are they and what does that add to the mix?
MDT: Curated really refers to our entire collection of oils, balsamics, spices, salts and teas that we offer at Salt & Olive. Curated - to bring new, fresh tastes to consumers; flavors that enhance, enrich and enliven food, and eating. Curated to bring a full complement of tastes to the very international community that we serve here in Cambridge. And the spices have been such a revelation! We carry herb blends, rubs and spices from all over the world - and have done particularly well with North African blends like Ras el Hanout, Harissa, Za'atar, Berbere....we work hard to bring not only fresh and organic spices but those that you can't find at your local supermarket. Most of all - we want to introduce customers to new flavor profiles to broaden their culinary adventures, to help them 'think outside the pan' as it were.