Photographer Jerry Moran digging at dolphin burial site
Moran uncovered some unidentifiable bone fragments, before we found what we were looking for.
Dolphin teeth were scattered in the grasses.
Dolphin teeth and bone

A reasonable question to ask is whether the oil company is malevolent or simply a foreign corporate entity totally under siege and trying everything at its disposal to limit fiscal damage to themselves and their stockholders. BP security is patrolling the Grand Isle beach and in control of access. We discussed possibilities as we quietly walked back to the main road. There was no way to know who moved the dolphin, but it was gone. The question was why would someone move it after burying it? What we did know was that incident command had relegated responsibility for wildlife disposal to United States Wildlife and Fisheries and the Louisiana Department of Wildlife and Fisheries.
Besides outlining the protocol for toxic waste management, and this includes dead animals, the document also calls for an organized approach to "community outreach."
Community relations are vital to the handling of this unfortunate situation. With this in mind a community outreach plan has been developed and is being used throughout this operation including at the staging areas that address community relations. This plan was also used in the planning and securing of these locations.
Unfortunate situation? This is worse than referring to the river of oil spewing from the broken, twisted riser pipe as a "spill."
There were no answers on the beach, but Incident Command had forwarded a press release on June 9 that announced a "Terrebone (wrong spelling) Parish Community Open House" in Houma the same night that we were returning from Grand Isle. You would think they would know the correct spelling.
Representatives from BP, the U.S. Coast Guard, U.S. Wildlife and Fisheries, the Environmental Protection Agency and other state and partner agencies responding to the Deepwater Horizon incident, will host an open house Friday, June 11, 2010 in Terrebone (sic) Parish at the Houma Civic Center, 346 Civic Center Blvd. in Houma starting at 6 pm. The open house will offer Terrebone (sic) residents the opportunity to engage one-on-one with experts about the techniques, strategies and materials being used in the spill response.
"We want to keep the local communities informed with the most accurate and timely information we have," Coast Guard Capt. Roger Leferriere, Coast Guard unified commander at the Incident Command Post in Houma said. "We want to communicate with the public and provide them with first-hand information on the topics that concern them most."
This important meeting was not heavily advertised in the community, was scheduled on a Friday night during the dinner hour, and it was no wonder that attendance was light. State aid organization representatives told us they were mandated to attend by Governor Jindal's office, but only had two days advance warning, and had to scramble to manufacture handouts.
We had a few questions of our own, but there was no point in trying to get candid answers.
The BP representative, Hugh Depland, was not in the mood to speak to someone with a camera. A pleasant young woman named "Janella," with a badge that read "BP-RP" and had a bar code at the bottom was a news liaison. She sensed our frustration, asked who we were, wrote it down, and wondered if our questions were answered. This interaction was staged, managed, and if you had been around the block once or twice you knew immediately her job was not to get questions answered but to soothe expectations.
She asked us to stay put while she sent another BP rep to find out what happened with Depland while we cooled our heels. She said he would talk to us now, but when we tried to find him, he had vanished.
What we found especially chilling was the PR campaign waged on Terrebonne residents. Giant photos, propped on easels, lined the perimeter of the room. The picture BP painted of the "clean-up" effort did not resemble what Moran and I had witnessed in days on the water and prowling the Delta beaches and roads
Photos and video tell the story.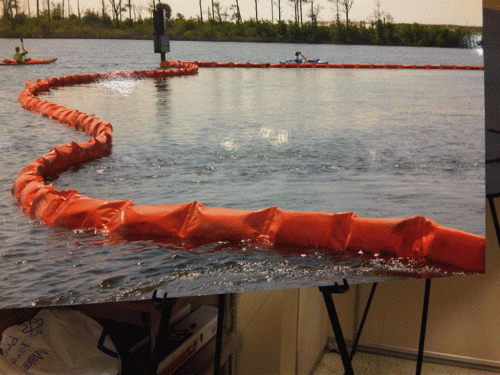 Images of boom deployment BP presented at Houma, LA community meeting
(Note: You can view every article as one long page if you sign up as an Advocate Member, or higher).