Through their own eye-opening experiences with injustice, these women began working to organize their communities and raise awareness about the ongoing impacts of the BP oil disaster on coastal communities. All the while, they continue to see their families, friends, and communities struggle.

"This is a group of people from the Gulf" sitting there in solidarity because there are real health issues that need to be addressed," said Drew Landry, a friend and fellow advocate who was also at the hearing. "It seems like [the court was] scared they were going to stand up and say something."


The Removal*

A few minutes before 3 pm on Thursday, as an attorney for the Plaintiffs' Steering Committee was discussing the merits of the medical component of the settlement, Judge Barbier received a note from a U.S. Marshal, and called for a pause in the proceedings. After consulting with the Marshal, the Judge asked, "Is there someone in the courtroom who is attempting to or is live streaming the audio of this hearing?"

No one responded, and the Judge said the live streaming was coming from the back row. Confused about whether the iPad she was taking notes on was somehow connected to live streaming, a woman named Christine Breault raised her hand tentatively and said, "Well, I have an iPad?" She was immediately approached by a second U.S. Marshal and court guards, and told to leave.

The Marshal who consulted with Barbier then said, "She's with two other people," and that they had to leave too. The court guard asked Breault to identify whom she had come with, but she responded she was alone. (Breault and the other women have met through events and actions related to the BP oil disaster, but say they did not arrive together.) The U.S. Marshal then looked specifically at Arnesen and Chauncey. "All three or four of you need to leave right now," said Barbier.

After Arnesen and Chauncey left, the U.S. Marshal said, "There's somebody else." The other Marshal and guards approached Foytlin and began to remove her. She said she didn't do anything. The Marshal said the live streaming was going to her web site. "I don't have a web site!" she said. Judge Barbier told her to leave immediately. The U.S. Marshals pulled her out by the shoulders, as she insisted she didn't have a website and hadn't been live streaming.

Once outside the courtroom, one of the Marshals asked Foytlin, "You have a Facebook page, right?" Foytlin responded yes. The two men then pushed her against the wall between two elevators and handcuffed her, while she continued to protest that she didn't do anything. Inside the elevator, they held her against the wall and told her to calm down, and that they saw on her web site she was live streaming.

Once downstairs, the U.S. Marshal told Foytlin he knew she was posting to her Facebook page, and showed Foytlin a print out of a photo, apparently as evidence of her "live audio streaming."

The photo was from a Facebook update Foytlin posted a couple hours earlier: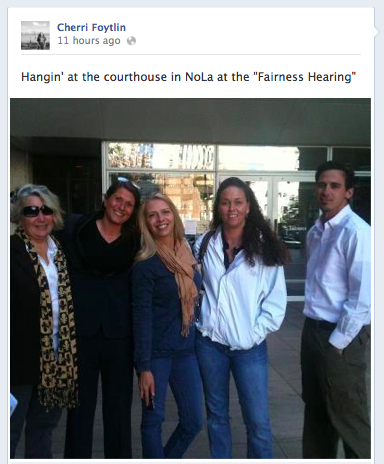 (That's Breault on the left and Chauncey and Arnesen third and fourth from the left).

The men, now there were four or five of them, a mix of U.S. Marshals and other courthouse security, then led her outside and released the handcuffs, and admonished her for being disruptive in court. Foytlin says they threatened to charge her with federal contempt of court and warned her that there would be "big time charges" with prison time.

It's unclear what the relationship is between the Facebook post and the alleged "live audio streaming." Taking a photo outside a federal courthouse is protected by the 1st Amendment. Foytlin had her press pass around her neck the entire time.



- Advertisement -

Inside the courtroom, a reporter with WWL-TV had been live tweeting the proceedings all morning. The court itself had its own "live audio streaming" set up -- there was an 800 number anyone could call to listen live to the proceedings.

It seems the women had been targeted from the beginning -- Arnesen said when she arrived at the courthouse that morning, a U.S. Marshal rode in the elevator with her and said, "I remember you from outside." She took that as a reference to a February protest against the settlement outside the courthouse that Arnesen participated in, which was videotaped by federal agents. Foytlin says that another person who was at that February protest was turned away from the courtroom for lack of space, but heard a security officer say to another, "Is he on your list?"

From the sidewalk outside after being ejected, Foytlin said, "I'm a citizen, I'm a journalist, I was sick [from BP's oil and dispersants]. I had a right to be in that courtroom. They target people who speak up and tell the truth. It's supposed to make you scared, but it ought to make you mad."