Great Financial Schemers Huddle with Great Givers
When in close combat with corporate-armored opponents, he responds with his deft political Ju-Jitsu, respected by friend and foe alike. However, he is wise enough to know that to win the battle for truth, justice, and the American way, he cannot be a Lone Ranger. To win, America's James Bond of politics realized at a young age that he must win many more of America's 330 million hearts and minds via building an army of informed public citizens.
So, naturally, in the 1960s he took on America's Goliath auto industry, employer of decently-paid millions. Naturally, the unknown 32-year-old lawyer and his 1965 book "Unsafe at Any Speed" won and established the National Traffic and Motor Vehicle Safety Act of 1966.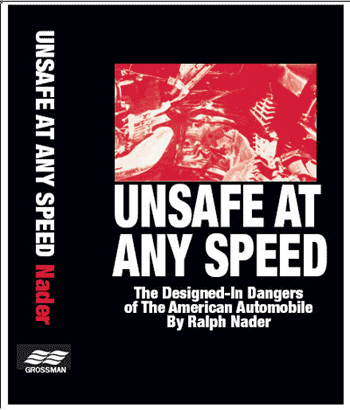 Nader's Unsafe at Any Speed
(
Image
by
Ralph Nader
)
Details
DMCA
1964 Aston Martin DB5
(
Image
by
Michel Curi
)
Details
DMCA
Ninety-plus books later, to novelistically influence more hearts and minds, America's 007 public-policy wonk wrote and titled his 2009 first novel around one of his political tenets: Only the Super-Rich Can Save Us.
England's undercover policy-making James Bond garnered some of his sexy dashing allure because of his killer Aston Martin wheels, while America's public policy making Bond financially crushed the auto industry's sex-alluring attempt by de-wheeling the killing Chevy Corvair.
After gnashing out the first few of 736 pages on his Underwood typewriter, the James Bond of American politics (AKA Ralph Nader) concluded that the non-bloody Ju-Jitsu needed had to come from the likes of the fabled "M" of Her Majesty's Secret Intelligence Service, MI6.
Josh Ricard, trusted adviser, editor, and poison-pen maker, lobbied that wild, dashing, and enigmatic Captain Outrageous of America's Cup fame, Ted Turner, should be his M main character. Supporting his premise, Josh argued, "It was Turner who said back in 1997 that 'There are so many rich guys in the world, billionaires... The world is awash in money and nobody knows what to do with it. We don't want the money they know what to do with, just the money they don't know what to do with.' "
"With Turner as 'M' we could hook Jane Fonda to glamorize the movie," sweaty Josh added deliriously.
However, with America's political 007 having been logically educated at Princeton and Harvard, Nader kept the poison pen Josh had stealthily designed for him but tossed his right-hand man's advice and cast the intricate "M" as a bifocaled, older, smiling man in a rumpled suit hanging a cherry Coke-stained necktie. In overalls, trading cherry for 30W oil, this guy could have passed as a Nebraskan farmer.
Now, I am not going to tell you what Public Citizen 007 has "M" do to help save America's meager pikers, and you shouldn't wait 'till Oliver Stone makes a movie of it to become imbued with knowledge. If you want to know what happens to the Joe Sixpacks of the world, then read Nader's bible-sized book. However, I will tell you that in the first 699 pages I do not recall novelist Nader propose that Buffett and Gates create a "Giving Pledge."
(Note: You can view every article as one long page if you sign up as an Advocate Member, or higher).