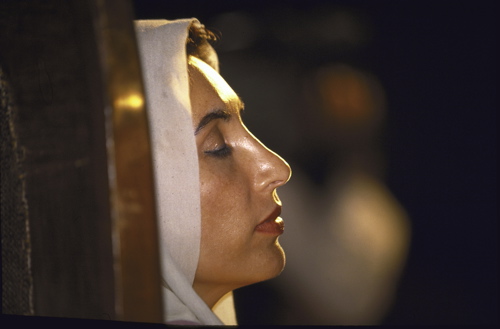 Bhutto: The Film was one of sixteen documentaries selected for judging at the 2010 Sundance Film Festival in Park City, Utah. Entertaining, compelling and heartbreaking, Bhutto did not "win" at Sundance, but in this case winning is certainly not everything. As the visually dazzling opening flashback sequence ends with a bomb blast announcing the assassination of Benazir Bhutto in December 2007, the image slowly fades over Pakistan's green flag with its crescent moon and five-point star. A history lesson begins to take hold, but never overwhelms. If the goal of a good documentary is to tell the story and motivate thought, questions, and discussion, then the makers of Bhutto should rest easy. In this case, history and its retelling has a soul, and the soul of Benazir Bhutto inhabits this film.
A friend sent me the trailer and it was so beautifully done that I requested the screener. I was not in attendance at Sundance, but my perspective is more that of a journalist who works in the third world and has an interest in history and the truthful telling of events that provide the outline. If memory provides the framework of existence, then Benazir Bhutto is positively reborn in the narrative presented by the production team of Duane Baughman. This documentary is vexing, dramatic, and fascinating; certainly possessing a life beyond the glitter and cache' of Sundance if film buyers have any marketing sense at all
Bhutto: The Film presents the story of a woman whose strength of personality and conviction totally dominates the constraints of a fundamentalist religious society where women had no intrinsic value. The voice over of Bhutto describing her birth is the ghost in the room. Her extended family was in mourning that Benazir entered the world in a society where the only desire is that the firstborn be a boy. "Dogs and cats were giving birth to boys," she narrates from the grave.

Never has a description of the confines of the burqa been so eloquent as Bhutto's words take us inside the weight, isolation and constriction of the garment. She credits her father, Zulfikar Ali Bhutto, with giving her an "appreciation that a woman was not a lesser creature." Bhutto says, "You can see the world through that garment, and it is not a clear world. It is a muted, grayish world."
Beyond the confines of the burqa, Bhutto endured imprisonment, months of solitary confinement, the state-sponsored hanging of her father, the murder of two brothers, political exile and accusations of corruption that resulted in eleven years of imprisonment for her husband, who was never convicted of any crime.
Benazir Bhutto's life intersected the Muslim world in a country mandated in confusion and political expediency that separated Muslim from Hindu in 1947 India. The narrative account offered by screenwriter Johnny O'Hara is a striking description of a personality that transcended the limits of birthright--possessing all of the elements of tragedy--but no god arrives from the machine to set things right and redeem destiny from history's dustbin. There is supreme irony in Bhutto's narrative about her fate as she matter-of-factly says, "My protection comes from God, and God willing, all will go well" as she returns from eight years of exile to begin her third and final quest for Prime Minister. Whether she was silenced by an assassin's bullet or the concussion of a suicide bomb really does not matter in the end, and this documentary does not attempt to answer the as yet unanswerable. To do so would be folly.
Image: Screen shot of Benazir Bhutto assassination aftermath
Bhutto:The Film casts worthy doubt on the 1998 international public relations and "intelligence" campaign to discredit the Bhutto family--a campaign that found a home in the pages of the New York Times. When John Burns, the paper's London Bureau Chief, is interviewed about the 8,000-word expose that charged Bhutto and her husband, Asif Ali Zardari, with corruption, one senses some backpedaling. Burns says, "We (journalists) are an imperfect business."
Yes, writers are an imperfect lot, but we cannot be held hostage to our own imperfections. The United States had huge interests in the outcome of Russia's war in Afghanistan and before Bhutto's father was hanged, murdered, or "judicially assassinated" by the Pakistani government (pick one) on April 4, 1979, Henry Kissinger warned him, "We will make a horrible example out of you." The filmmakers took a bold step by not shying away from the elephant in the room and presented this complex question of multi-national interests front and center.
In the end, it was Benazir Bhutto who warned the world that Pakistan was under "increasing threat of extremism" from Al Qaeda and the Taliban. The lessons of history are cruel and unheeded.
Was "power the end goal" as Bhutto's niece Fatima Bhutto suggests? And if it was, was that a flaw or the means to a noble vision of democracy for Pakistan? By all accounts, Bhutto was a both a martyr in the end and a woman with political position during two terms as Prime Minister, but she never had real political power, as her father did. Her power and her strength flowed from the good will freely offered by the Pakistani people. All of the questions remain, even in this unabashedly sympathetic portrait.
Is this film the absolute truth? Benazir Bhutto is the only one who can answer the unanswerable. Feminist, or not, Bhutto's life was filled with contradictions and that is what makes this presentation so compelling. It is a triumph of skilled editing that a spider's web of historical facts are interwoven with archival footage, news reports, interviews with contemporaries, both friend and foe--the whole package morphing quickly into live action and cutaway shots that are cinematographically beautiful and breathtaking in composition. Bhutto is a feast for the heart, mind and soul, delivering an education and history lesson in its 115 minute run time.
The flaws are few, but jar at the beginning. Cheesy maps with fake tanks are probably unnecessary as was the overly obvious sixties background music that smacks the viewer in the face with its "power to the people" message. I could have done entirely without Cat Stevens, but I could not make this very good documentary either.
A short interview with Arianna Huffington that made the final cut is useful. Huffington was at Cambridge, and Bhutto at Oxford, when they became acquainted in the early 70's. Huffington describes Bhutto as more than an intellect or political personality--"She was a force of life."
(Note: You can view every article as one long page if you sign up as an Advocate Member, or higher).