Quotation by Robertson Davies:
What ails most of them, and what has ailed them most of their lives, is that they lack curiosity. They have never engaged themselves strongly in anything. The waters of life have washed over them without anything soaking in. They are not interesting when old because they were never interesting when young.

Curiosity... is the greatest preservative and the supreme emollient. Enthusiasm. Zest. That's what makes old age... a delight. One has seen so much, and one is eager to see more. One has reached a few conclusions. The twilight years (!) are a glorious sundown.

When we have lost our curiosity about our world we have lost much, though not all.

We have lost all when we cease to be curious about ourselves, for that means that we have indeed abandoned hope. When we succumb to the bodily and mental habits of those who have given upall hope of change or improvement, we have lifted the hatch of the tomb.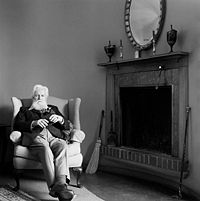 Robertson Davies (more by this author)
1913-1995 (Age at death: 82 approx.)

http://en.wikipedia.org/wiki/Robertson_Davies
from wikipedia:
William Robertson Davies was a Canadian novelist, playwright, critic, journalist, and professor. He was one of Canada's best-known and most popular authors, and one of its most distinguished "men of letters", a term Davies is variously said to have gladly accepted for himself and to have detested.[1] Davies was the founding Master of Massey College, an elite graduate residential college associated with the University of Toronto.

Country: Canada

Type: Prose
Context: Unknown
Source: Vital Signs

Rob Kall has spent his adult life as an awakener and empowerer-- first in the field of biofeedback, inventing products, developing software and a music recording label, MuPsych, within the company he founded in 1978-- Futurehealth, and founding, organizing and running 3 conferences: Winter Brain, on Neurofeedback and consciousness, Optimal Functioning and Positive Psychology (a pioneer in the field of Positive Psychology, first presenting workshops on it in 1985) and Storycon Summit Meeting on the Art Science and Application of Story-- each the first of their kind. Then, when he found the process of raising people's consciousness and empowering them to take more control of their lives one person at a time was too slow, he founded Opednews.com-- which has been the top search result on Google for the terms liberal news and progressive opinion for several years. Rob began his Bottom-up Radio show, broadcast on WNJC 1360 AM to Metro Philly, also available on iTunes, covering the transition of our culture, business and world from predominantly Top-down (hierarchical, centralized, authoritarian, patriarchal, big) to bottom-up (egalitarian, local, interdependent, grassroots, archetypal feminine and small.) Recent long-term projects include a book, Bottom-up-- The Connection Revolution, debillionairizing the planet and the Psychopathy Defense and Optimization Project.
Rob Kall's Bottom Up Radio Show: Over 200 podcasts are archived for downloading here, or can be accessed from iTunes. Rob is also published regularly on the Huffingtonpost.com
Rob is, with (more...)

| | |
| --- | --- |
| The views expressed in this article are the sole responsibility of the author and do not necessarily reflect those of this website or its editors. | |