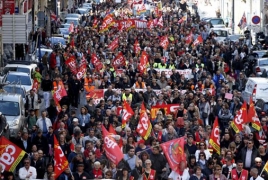 French rail workers strike as unions continue labor reforms ...
(
Image
by
panarmenian.net
)
Permission
Details
DMCA
'Thousands of protesters marched Tuesday in Paris as France's Senate approved a hotly debated government bill reforming labor laws. The march was mostly peaceful but police used tear gas to counter some demonstrators throwing projectiles.'

Incidentally, today is July 3rd. The most current article listed by Google is June 29th. Why? Has there been no news for four days?