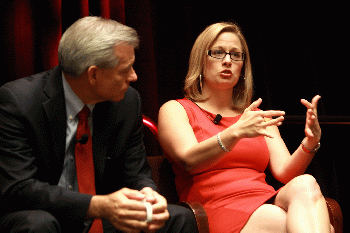 David Schweikert (R-6th District, AZ) & Senator Kyrsten Sinema, who is famously friendly to the .red. side of the political isle.
(
Image
by
Gage Skidmore from flickr
)
Details
DMCA
An Arizona Democrat's unfathomable opposition to progress is a win for her hedge-fund, Big Pharma donors, and a huge loss for democracy.
Sinema's opaque obstructionism has become the grapes of wrath for President Biden and their fellow Democrats seeking to invest $350 billion a year to continue child tax credits for the middle class, expand child care, fight climate change and offer free community college. The plan is foundering largely because of vague but obstinate opposition from Sinema and her money-soaked doppelganger Sen. Joe Manchin of West Virginia, when Democrats need all 50 of their senators onboard. Advocates believe the real problem is how Biden and his allies want to pay for this: Largely by raising taxes on Sinema's filthy rich patrons such as Price and Gates.