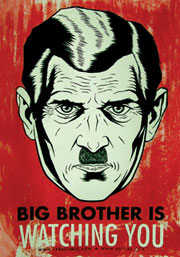 (
Image
by
(From Wikimedia) Frederic Guimont ; Original uploader was ChemicalBit at it
, Author: See Source)
Details
Source
DMCA
Do You Believe In "Conspiracy Theories?" An FBI Report Says You're A Potential Domestic Terrorist
Authored by Daisy Luther via The Organic Prepper blog,
The FBI has released a 15-page document warning of the dangers of "anti-government, identity-based, and fringe conspiracy theories." The law enforcement agency says that these are "very likely to motivate some domestic extremists to commit criminal, sometimes violent activity." The document seems to recommend increased social media and web censorship.
So - it is not enough that Google, Facebook, Amazon and Twitter are already censoring all information that does not comport with corporate/deep state war propaganda. Now ALL information, all opinion, that does not support the war empire will be censored. welcome to bastardized amurika - the founders are rolling in their graves.