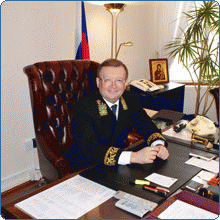 Alexander Vladimirovich Yakovenko
(
Image
by
Russian Embassy in UK
)
Details
DMCA
Ambassador Alexander Yakovenko's talking points at the Press Conference, 20 April 2018
Syria air strikes, legal issues
Let me come back to the legal issues which were outlined by PM May in her speech on Monday...
The Skripal case
- Nearly seven weeks have passed since the poisoning of Sergei and Yulia Skripal in Salisbury and more than a month since the Prime Minister Theresa May accused Russia of this crime...
OPCW
OPCW experts worked in the UK not in accordance with standard CWC procedures, but in the bilateral format with the UK, which lacked transparency...
The Glushkov case
Let's turn to another case, namely the murder of Mr Nikolay Glushkov...
Cyber security
The British government has been constantly blaming Russia for various kinds of cyber attacks...