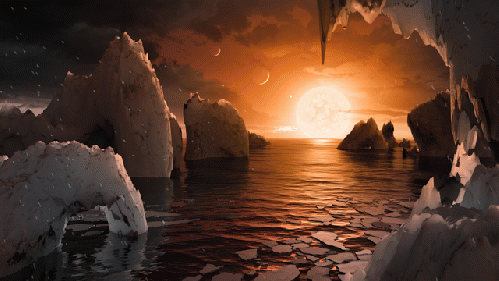 This illustration shows the possible surface of TRAPPIST-1f, one of the newly discovered planets in the TRAPPIST-1 system. Scientists using the Spitzer Space Telescope and ground-based telescopes have discovered that there are seven Earth-size planets in
(
Image
by
NASA
)
Details
DMCA
"Seven Earth-sized planets have been observed by NASA's Spitzer Space Telescope around a tiny, nearby, ultra-cool dwarf star called TRAPPIST-1. Three of these planets are firmly in the habitable zone."
There's also this more detailed look at the Trappist system. The 7 planets are tidally locked, meaning that probably only a narrow band is just right-not too hot or cold for life. If so, and since trips to the other system's planets would take days & weeks, not months like our system, it's easy to imagine a space-faring civilization arising quickly if intelligent life originated there. Perhaps they will visit us before we visit them. The Trappist sun has 10 trillion years of life left, plenty of time!
With so many pressing threats to life on Earth, it would be ironic if the next few years brought proof of life on other planets.