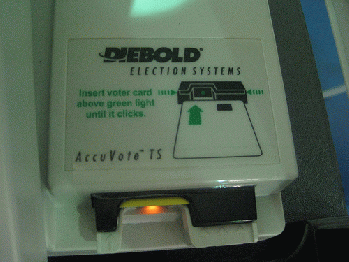 An example of black box voting machines that were each and every one successfully hacked at the DefCon convention in Las Vegas.
(
Image
by
sylvar
)
Details
DMCA
" In 2003, Wired published a shocking whistleblower expose from Rob Behler, a Diebold computer technician who had a special nickname for the Diebold touchscreen machines. "JS equipment is what we were calling it at the time," said Behler. "Junk sh*t."…..the machines were so badly designed that they hardly held together. "It's hard to track down a problem when you go out to your car and the first time it starts, the next time the headlights don't work, the next time you start it the brakes are out, and the next time you start it the door falls off," Behler said.
Fourteen years later, those same machines are still in use
….
Election activists are soldiering ahead. Marilyn Marks says they will continue their current litigation efforts in Georgia under the name Coalition for Good Governance. She expects to file for a second time against Georgia election officials over the weekend."