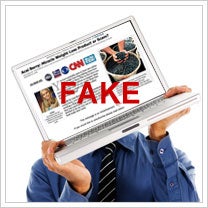 So the FTC Takes Aim at 'Fake News' Websites? Is it such a good thing, without consequence? Should we buy what the newly elected 'big brothers' are selling here?
(
Image
by
entrepreneur.com
)
Details
DMCA
"Proliferating fake news stories played a profound and sinister role in our just-concluded presidential election. In a Washington Post article,
the top Google search on the election results led users to a fake news site
. A
majority of Americans receive their news via Facebook
. "Trending stories" ( clickbait) are highlighted in the right-hand margin of your Facebook page. Facebook has already determined your political bias, these stories
play into each user's biases and fears
. We must all do our due diligence and evaluate every website we visit. We have many sources to help us, such as
who.is
, which allows us to search for the domain owner of every website. The very survival of our republic depends on an educated, engaged, and information-savvy populace. A way to do that is using what
Gettysburg College has termed the CRAAP Test
: Currency, Relevancy, Authority, Accuracy, and Purpose."