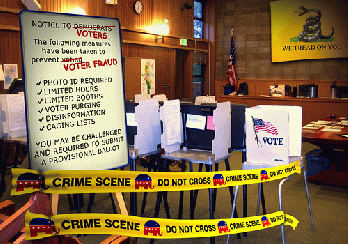 Voter Suppression Crime Scene - This does not even begin to capture the way 100s of thousands of votes are disguarded.
(
Image
by
DonkeyHotey
)
Details
DMCA
This is how Trump will win again in November, even if he loses the popular vote by more than he lost it in 2016.
According to an MIT study, a breathtaking 22% of all mail-in ballots are never counted. Mostly, absentee ballots don't get counted because they were never received in the first place or, as for Mr. Thomas, sent late.
However, the "un-count" is huge because some states are simply refusing absentee ballots to hundreds of thousands of registrants—or, not sending cards that allow the voter to ask for the mail-in ballot.