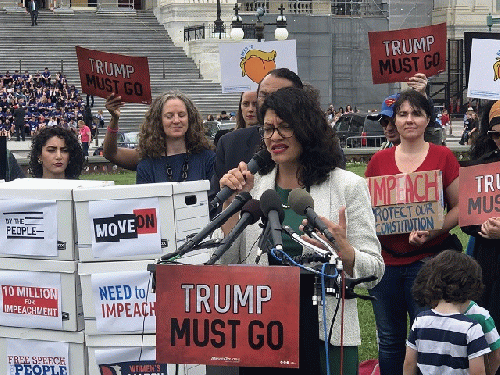 Rep Rashida Tlaib (D-MI) said Trump should be impeached because he violated the US Constitution Emoluments Clause which prohibits any elected US official from accepting any present Emolument Office or Title of any kind whatever from any King Prince
(
Image
by
MoveOn.org
)
Details
DMCA
A coalition of national advocacy groups on Thursday delivered 10 million signatures - what they are calling the biggest online petition campaign in U.S. history - urging the House of Representatives to begin impeachment proceedings against President Donald Trump.
'Impeachment is part of our constitutional responsibility. We have an obligation to investigate whether the President committed impeachable offenses including:
- Obstruction of Justice
- Violating the Emoluments Clause
- Collusion
- Abuse of power' - a Tweet @IlhanMN.