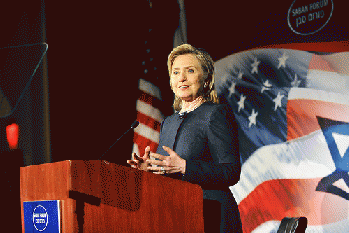 Secretary Clinton Delivers Remarks at the Saban Forum Gala Dinner
(
Image
by
U.S. Department of State
)
Details
DMCA
Extensive quotes from the former Secretary Clinton show a more nuanced and aware politician than the over-prepped soundbite-driven person who comes across in the debates. The bankers questions are less militarily aggressive than might have been assumed. However, the transcripts also show someone deep inside the political system with no idea how to do much more than respond to the current situation, without bold new ideas or even the desire to have them.
One thing that's clear: it costs a lot of money - $675k - to be able to ask Clinton questions directly and get developed answers. It makes you wonder why she has been trying to hide this.
Full speeches included.