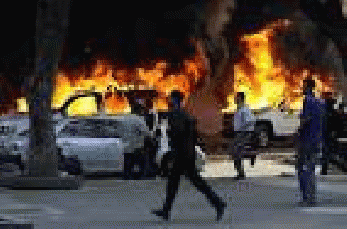 TOPSHOTS-VENEZUELA-DEMO-VIOLEN CE | TOPSHOTS. People run in f. | Flickr768 ├-- 511 - 106k - jpg
(
Image
by
flickr.com
)
Details
DMCA
We've had several articles about Venezuela on Op-Ed News recently. In some ways, I think all of them lacked the direct explanation contained in the Opinion Piece from Barbados - 1st published in the Jamaican Observer.

David Comissiong discusses the issues, while addressing the US Ambassador of Barbados and the Eastern Caribbean, Ms Taglialatela. She'd had the gall to lecture the peoples of the Caribbean on the evils of a Popularly Elected President of a neighboring Caribbean State, while ignoring the blatant intervention in Latin America by the US for the past 100 years.

This editorial has the advantage of being originally written in English, rather than having been translated from French or Spanish. The Author coolly eviscerates our newly appointed Ambassador,Ms Linda Taglialatela, in a way only an English Speaker with an Elite Education can...