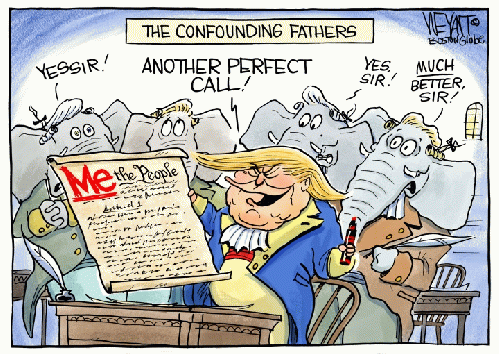 The Confounding Fathers
(
Image
by
2jc18v1irh0441xjkl3blrt4-wpengine.netdna-ssl.com/wp-content/uploads/2019/12/me-the-people-720.jpg
)
Details
DMCA
'What happens next? IF McConnell or a GOP Senator moves to dismiss the proceeding (the rules require only a majority to decide) it is likely that the proceedings will be over,
even though it would create a huge uproar
. However,
if they
try to get the trial dismissed before it even begins
, some GOP Senators (18 are up for re-election)
might object
and vote against dismissal, because
in an election year, and in the court of public opinion,
it might look
that they have a lot to hide and are not even able to put on a defense to the impeachment charges.
Another possibility (remote) is that evidence develops as a result of a Supreme Court order requiring Trump's tax returns and financial records to be turned over, or an order is issued requiring certain key witnesses to testify and incriminating documents to be produced, and a Nixonian turnaround occurs.'