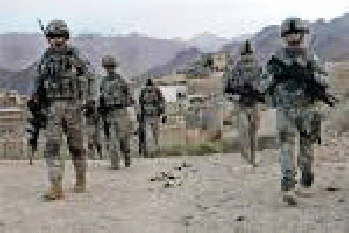 Afghanistan patrol | U.S. Soldiers depart Forward Operating . | Flickr1024 ├-- 683 - 447k - jpg
(
Image
by
flickr.com
)
Details
DMCA
Wonderful News! [irony and sarcasm alert] Some 25 years after the demise of the USSR - caused by the morass in Afghanistan - It appears we may follow in their footsteps. According to the NYT Review of Books, the US is rapidly falling down the same rabbit-hole that swallowed the Soviet Union when they decided to keep upping the ante in a losing War.

We've been officially sending troops to fight there for 17 years now - The longest War in US History. Of course it is no secret that the CIA was present and arming the Mujahedin in Afghanistan since the early 1980s - The same coalition of Muslim Radicals and Terrorists, now know as IS, or ISIS, or the Army of a Thousand Names.

Apparently, Trump thinks the only problem with Obama's failed strategy is not enough kids - both American and Afghani - have died yet...