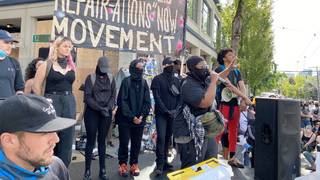 Seattle Activists Create Autonomous Zone Near Abandoned Police station.
(
Image
by
democracynow.org
)
Details
DMCA
What is it like when a city abandons a neighborhood and the police vanish? Business owners in Seattle and elsewhere describe a harrowing experience of calling for help and being left all alone.
The current and recent "occupations" are only superficially like previous occupations such as Occupy Wall Street. They are instead sometimes lawless thug takeovers with looting, assaults and questionable "private security" arrangements that seem more like extortion.