"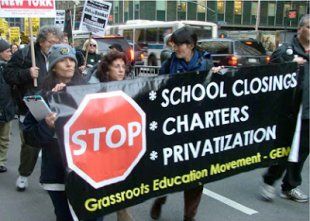 Big Education Ape: Charter Schools Increase Fraud, Corruption ...
(
Image
by
bigeducationape.blogspot.com
)
Details
DMCA
"The details are almost unbelievable!" It is worth your time to read the timeline of the state takeover of Philadelphia, which has been under the control of a "School Reform Commission" none of whom are educators! The state took over because the district's finances were in poor shape and its test scores are low -->16 years laters, its finances are in poor shape (due to state underfunding) and its test scores are lower. In years past, parents had the right to vote on whether to go charter. But that right was taken away because parents didn't always vote yes; the parents organized to fight off Mastery, which is run by a non-educator and which practices stern discipline, the "no-excuses" philosophy. Charter schools are not public schools. The charter industry is rapacious and greedy. It is never satisfied. It wants more. Betsy DeVos is its champion."