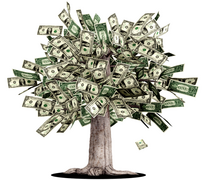 Properly understood, A monetarily sovereign government is like a Money Tree.
(
Image
by
formulastudent.de
)
Details
DMCA
Progressive political candidates are stymied by skepticism of "how will they pay for all the things they promise?" It turns out that it is not high taxes and reduced spending elsewhere that will make it possible - even though increasing taxes or cutting spending may be desirable in some cases, for other reasons - e.g. reducing inequality, ending wars, etc.
Modern Money shows that neither of these are the reasons progressive visions can be paid for. America can afford them because, first, it possesses abundant real resources—trained, educated, and creative labor, advanced technologies, water, forests, minerals, fertile soils and temperate growing seasons—and, second, because it possesses and manages a sovereign monetary system that enables us to pay ourselves whatever dollars are necessary to marshal those real resources for our collective benefit.