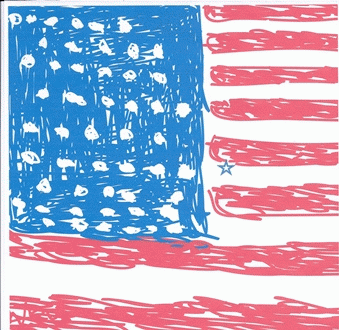 'Stripes and Stars'
(
Image
by
Marta Steele
)
Details
DMCA
Having watched the entire debate and some of the follow-up, I tried to comment on a relevant NY Times op-ed and they deleted my first attempt in midstream--quite frustrating. So I began again, expressing my gut reactions and they didn't print them, quite unusual.
First of all, I wasn't impressed by Hillary's stellar, steroidal performance. In comparison with Bernie, she was well rested and had had lots of time to rehearse while he is playing the dual role of senator and campaigner.
I'll never forget how awful Hill looked while working as SoS--haggard, exhausted, ultimately ill and ending her tenure with the Benghazi tragedy. There is the story of how she nodded off at at least one important conference.
And it's even more stressful to be POTUS.
Now take Bernie, caught in one senior moment when he was so fixated on the comment of another that he was startled when called upon and had to recover his wits. His gun attitude was publicized to the world along with wise and independent decision making and voting.
Both of these so-far campaign super-stars were taken apart for their goods and bads.
The other three didn't receive much time and were pretty much dismissed by the CNN team leading the proceedings. Favoritism was evident--power of the polls.
However, the camera work on Bernie revealed a tired old man. I'd have been exhausted if not dead from the ordeal and the position of POTUS is a disease that visibly ages even those youngsters who go sprinting and bounding into the White House. Witness Jimmy Carter and now Barack Obama of the graying hair, which he said was natural for someone his age.
Being POTUS is like being in a live 2.5 hour worldwide broadcast to millions of people--being put on the spot every day, 24/7.
I liked a lot of what I heard and was proud to be left rather than right of center and proud that a Jewish socialist had gotten so far. He's my favorite. But I don't think he can win. Power of the word "socialist" with its USSR associations, though North Korea's full name is the Democratic Republic of Korea, isn't it?
But beyond that, I think that both he and Hillary are too damned old to run.
Both have buckled under pressures less intense than the POTUS job, as I said above.
I think Democrats and alienated Republicans will have to select among the other three or others who emerge. No matter how much I favor Bernie and sympathize with Hillary's lifelong aim to be the first woman POTUS.
I know that SCOTUS justices have worked much farther into their old age than Hillary or Bernie would if elected to two terms. And the Pope is by definition aged and bent over with wisdom and holiness, stereotypically, anyway.
Experience is extremely valuable. But physical stamina is necessary. Issues are issues and I'll vote for the farthest left Democratic candidate with a chance to win.
Good luck to the lucky winner. S/he must be able to stand up to the 24/7 stress.
Good luck to all of us 99 percenters who stand to gain so much with the right person at the helm.