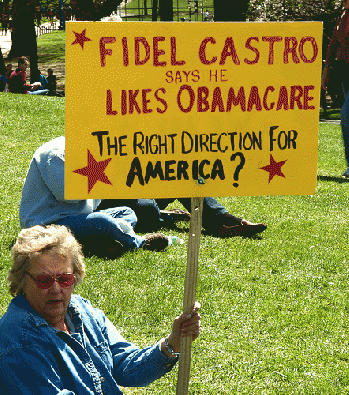 Does this Tea Party Republican know that infant mortality is lower in Cuba than it is in the US?
(
Image
by
Tim Pierce
)
Details
DMCA
Forget their guns. A Republican armed only with a vote is dangerous. Consider: After the stock market Crash of 2001, after 9/11, after the October 2004 finding that Iraq had no WMD, on Nov 4, 2004, Republicans voted for George Bush for a second term! These disasters were in all the news. Were Republicans asleep, do they have no standards for political performance, are they so short-sighted that they think Republicans can still be more favorable to their personal values (including mainly their income and wealth) or are they habitually stupidly loyal, or what?
More evidence: The struggle to extend health care insurance that resulted so far, in Obamacare, occurred in recognition of a careful Harvard Medical School statistical study that showed that when Americans are matched on all other statistics than possession of health insurance, about 45,000 uninsured per year die before the insured die.
If Republicans got their way and killed "socialized medicine", it should be assumed that there would be a return to 45,000 per year dying sooner, or with a weaker program than Obamacare, some number of the 45,000 will die sooner, too. (Republicans fought seat belts too, remember and seat belts have saved thousands of lives). The House Republicans that were elected have voted over 50 times to repeal Obamacare.
Healthcare is a human right.