Quotation by Albert Einstein:
It is the supreme art of the teacher to awaken joy in creative expression and knowledge.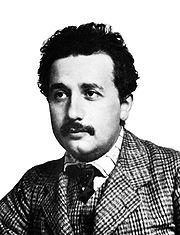 Albert Einstein (more by this author)
1879-1955 (Age at death: 76 approx.)

Albert Einstein (14 March 1879 - 18 April 1955) was a German-born theoretical physicist who developed the theory of general relativity, effecting a revolution in physics. For this achievement, Einstein is often regarded as the father of modern physics and one of the most prolific intellects in human history. He received the 1921 Nobel Prize in Physics "for his services to theoretical physics, and especially for his discovery of the law of the photoelectric effect". The latter was pivotal in establishing quantum theory within physics. Near the beginning of his career, Einstein thought that Newtonian mechanics was no longer enough to reconcile the laws of classical mechanics with the laws of the electromagnetic field. This led to the development of his special theory of relativity. He realized, however, that the principle of relativity could also be extended to gravitational fields, and with his subsequent theory of gravitation in 1916, he published a paper on the general theory of relativity. He continued to deal with problems of statistical mechanics and quantum theory, which led to his explanations of particle theory and the motion of molecules. He also investigated the thermal properties of light which laid the foundation of the photon theory of light. In 1917, Einstein applied the general theory of relativity to model the structure of the universe as a whole.

Author Information from Wikipedia

Country: United States


Rob Kall is executive editor, publisher and website architect of OpEdNews.com, Host of the Rob Kall Bottom Up Radio Show (WNJC 1360 AM), and publisher of Storycon.org, President of Futurehealth, Inc, and an inventor . He is also published regularly on the Huffingtonpost.com
Listen to over 200 of Rob's Podcast interviews here.
Rob is, with Opednews.com the first media winner of the Pillar Award for supporting Whistleblowers and the first amendment.

With his experience as architect and founder of a technorati top 100 blog, he is also a new media / social media consultant and trainer for corporations, non-profits, entrepreneurs and authors.

Rob is a frequent Speaker on the bottom-up revolution, politics, The art, science and power of story, heroes and the hero's journey and Positive Psychology. He is a campaign consultant specializing in tapping the power of stories for issue positioning, stump speeches and debates, and optimizing tapping the power of new media. Watch me speaking on Bottom up economics at the Occupy G8 Economic Summit, here.
See more Rob Kall articles here and, older ones, here.

To learn more about Rob and OpEdNews.com, check out
A Voice For Truth - ROB KALL | OM Times Magazine
and
this article.
For Rob's work in non-political realms mostly before 2000, see his
C.V..
And here's a
one hour radio interview
where I was a guest- on Envision This, on 10/23/13. And here is the
transcript.
And
Rob's quotes are here
.
To watch me on youtube, having a lively conversation with John Conyers, former Chair of the House Judiciary committee, click
here
Now, wouldn't you like to see me on the political news shows, representing progressives. If so, tell your favorite shows to bring me on and refer them to this youtube video.
Rob's radio show, The Rob Kall Bottom Up Radio Show, runs 9-10 PM EST Wednesday evenings, on AM 1360, WNJC and is archived at
www.opednews.com/podcasts
Or listen to it streaming, live at
www.wnjc1360.com
Rob also hosted a health/mind/body/heart/spirit radio show-- the Rob Kall Futurehealth radio show. Check out podcasts from it at
futurehealth.org/podcasts
Follow me on Twitter
A few declarations.
-My articles express my personal opinion, not the opinion of this website.
Press coverage in the Wall Street Journal:
Party's Left Pushes for a Seat at the Table
| | |
| --- | --- |
| The views expressed in this article are the sole responsibility of the author and do not necessarily reflect those of this website or its editors. | |

Want to post your own comment on this Quotation?

---