Quotation by Winston Churchill:
The truth is incontrovertible. Malice may attack it, ignorance may deride it, but in the end, there it is."
-- Winston Churchill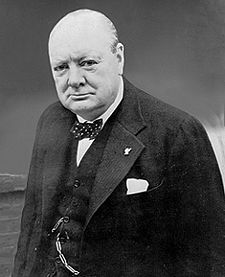 Winston Churchill (more by this author)
1874-1965 (Age at death: 91 approx.)

Sir Winston Leonard Spencer-Churchill (30 NOV 1874 - 24 JAN 1965) was a British politician known chiefly for his leadership during WW2, but he was also an artist, historian and writer. He served as Prime Minister from 1940-45, and from 1951-55. He had a speech impediment, which he overcame, for the most part, in adulthood. As a child, he did poorly in school, for which he was punished. Time magazine included him as one of the 100 most influential leaders in history. (from the wiki, accessed 03-16-10)

Country: England

Type: Prose
Context: Unknown

Environmental Scientist Recent Experience: Provided support for the resource management and construction group. Ecological and technical consulting including project planning, field work, permitting and implementation for the energy services group, (
more...
)
| | |
| --- | --- |
| The views expressed in this article are the sole responsibility of the author and do not necessarily reflect those of this website or its editors. | |

Want to post your own comment on this Quotation?

---