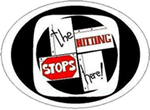 Organization: The Hitting Stops Here! - A campaign for teaching kindness and respect in schools everywhere.
Targeting: The President of the United States, The U.S. Senate and The U.S. House of Representatives
Petition Started by: Tony Brian
---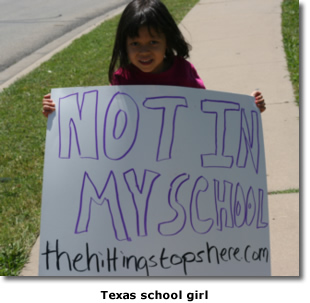 Currently, American school teachers and administrators are sanctioned to beat American school children with a wooden board on their buttocks as a form of punishment in 20 US states and its territories--a little known fact in America.

Primary targets are minorities, disabled and low-income students. These beatings occur during school hours within less than 22 seconds of each other in US paddling states when combining reported and non reported statistics.

If you choose to sign our petition, please tell others to do the same.
Thank you for supporting safe American schools for ALL of our children.

The Hitting Stops Here! A campaign for teaching kindness and respect in schools everywhere.

www.TheHittingStopsHere.com
info@thehittingstopshere.com

---
Letter:
Dear US Congressional Leader,
"We The People" petition ALL US Congressional Leaders to support NY Rep. Carolyn McCarthy's upcoming American School Corporal Punishment Bill.
Upon being passed, this bill will prohibit the use of corporal punishment by teachers and administrators in public, private and charter schools throughout the US and its territories.
The three most recent professional documents below are replete with cases of widespread abuse and fatalities occurring in American schools as a result of sanctioned corporal punishment:

1. A Violent Education: Investigative report on US student beatings
http://www.thehittingstopshere.com/docs/ACLU_2009.pdf
2. Government Accountability Office report: Selected Cases of Death and Abuse at Public and Private Schools and Treatment Centers:
http://www.thehittingstopshere.com/docs/GOA_2009.pdf
3. UC Davis Law Review: STATE ACTORS BEATING CHILDREN--A CALL FOR JUDICIAL RELIEF:
http://www.thehittingstopshere.com/docs/State%20Actors%20UC%20Dav.pdf
Keeping the practice of school beatings and other harmful forms of discipline sanctioned in our American schools contradicts everything that our US Governing Leaders say they stand for, regarding the "No Child Left Behind!" laws presently in place.
Supporting Rep. McCarthy's bill will be a true first step in improving the safety and academic conditions of our schools throughout the US and its territories.
---
Petition: