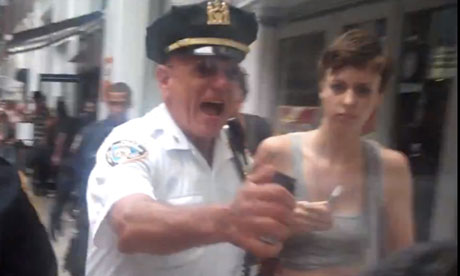 A still frame from video posted online shows Anthony Bologna, a New York police officer, firing pepper spray at retreating protesters on Saturday.
(image by Guardian UK) DMCA

NYPD officer Anthony Bologna faces two investigations as video emerges of a second pepper-spray incident The senior New York police officer at the centre of the Occupy Wall Street pepper spray controversy fired the gas at protesters a second time just moments later. After new video emerged on Wednesday showing the second incident, New York police commissioner Ray Kelly told reporters that the Civilian Complaint Review Board would investigate the officer, deputy inspector Anthony Bologna. The New York Police Department's own internal affairs bureau also plans to open an investigation, the New York Times reports. The investigations were announced after bloggers and activists drew attention to video posted online which showed that Bologna fired pepper spray on two occasions last Saturday as officers broke up a protest march through Greenwich Village.