Articles Listed By Date List By Popularity
Saturday, November 14, 2015 (15 comments)









Revolution? Did you say revolution? Will 'revolution' become the new 'LOL'? Will the profound need for radical transformation be trivialized and gutted of any substance by empty campaign rhetoric and fatuous sloganeering?
Sunday, November 8, 2015 (41 comments)









How Bernie Sanders Can Win and Turn America Around Here is a video of the announcement Bernie Sanders needs to make in order to win the presidency and turn the country around.
Wednesday, September 30, 2015 (67 comments)









Oratory as a Weapon of Mass Deception You can pretty much tape a copy of Obama's speech at the U.N. this week to the wall, throw darts at it, and end up 9 times out of 10 hitting a half-truth, outright lie, or manipulative mangling of reality. I won't even try to cover everything which puts this in the all-time Top 10 for gross misuse of oratorical gifts and abuse of the powerful platform he is accorded as president.
Saturday, July 4, 2015 (3 comments)









The Real Debt Ceiling THEY OWN! WE OWE! And that's how you get the worst wealth inequality in our history. Other than a handful of legislators __ Bernie Sanders and Elizabeth Warren certainly are talking about it __ there is no one in public life who is serious about addressing this threat to our existence as a nation. No one! Just about everyone in elected office __ to a man, to a woman __ needs to be replaced. Target date November 2016!
Monday, June 22, 2015 (8 comments)









The Race To A Vanishing Point The U.S. plunges the world toward World War III while Americans play on their smart phones and watch bad TV.
Saturday, May 30, 2015 (3 comments)









Bulging Waste Line What follows here is not an argument for reducing government. It is evidence that we need: Good government. Smart government. Honest government. Visionary government. Representative government. I am focusing here on profligate defense spending and pursuit of unnecessary war.
Thursday, May 28, 2015 (10 comments)









Joe Biden Authorizes Russian Military Bases in Cuba Vice-President Joe Biden established a new global foreign policy precedent. He announced st the Brookings Institute that the U.S. would not recognize any nation having a sphere of influence. This has some interesting implications, to be sure.
Tuesday, May 12, 2015 (10 comments)









The Horror and the Shame The ongoing campaign of Russia hating and demonizing of Vladimir Putin is a product of grotesque callousness, double standards, horrifying miscalculations, ignorance of history, and delusions of world conquest by psychopaths embedded in our foreign policy institutions, including many highly respected Beltway think tanks. This idiocy has the potential to terminate human life on the planet.
Saturday, May 9, 2015 (23 comments)









Freedom of the Press There is indeed freedom of the press in America. But it's not quite what I understood it to be. Now it's the freedom to keep Americans in the dark. It's the freedom cherry-pick from the vast array of newsworthy items and only publish those consistent with the preferred narrative of our government. It's the freedom to suppress anything which our government would find inconvenient or untimely.
Sunday, April 26, 2015 (9 comments)









Give Peace A Chance America thinks it can bluster and bluff and use color revolutions to nudge Putin out of office and install some bloated puppet in his place like they did with Poroshenko in Ukraine. Russia is not Zimbabwe, Iraq, or Yemen. It's not Grenada or Haiti. Russia is not going to be intimidated by a schoolyard bully. America's aggression and infantile games can only end badly. Time for it to reverse course and cut its losses.
Tuesday, April 14, 2015 (2 comments)









The Bully Pulpit vs. American Idol With the promotion of Hillary Brand now in full swing, maybe it's time to revisit what we are again being subjected to. Will we ever learn? When presidential elections are run as beauty pageants, or talent-contest spectacles like American Idol, we can only expect a president who struts and works the audience, plays the judges, gives crowd-pleasing performances, and soaks up the all the love he or she can get.
Tuesday, April 7, 2015 (11 comments)









Billionaire Club How much is a billion dollars? If you were to spend $10,000 a day, it would take 274 years to go through a billion dollars. There are more than 43 million Americans living below the poverty line. Wealth inequality as a vital issue seems to be being crowded out of the national conversation by the latest catastrophes du jour. Since it undermines the entire premise of our democracy, we must keep it in the forefront of public deba
Friday, April 3, 2015 (20 comments)









Isn't it Time to Stop America's Ugly Game of Thrones Business? The U.S. has become the most prolific sponsor of coups in history but I see that soon coming to an end with one last epic regime change. This one will be the ouster of the imperial lunatics in the current administration, an epic game-changer that will be the mother of all coups and will put the rest of the world at ease, at least for the foreseeable future.
Friday, April 3, 2015 (2 comments)









Moonwalking Now that Michael Jackson is sadly no longer with us, his phenomenal mastery and performance of the moonwalk has been replaced by the U.S. economy. While it looks like it's going forward, it's actually going backwards.
Sunday, March 29, 2015 (28 comments)









Obama Surrounds Himself With Neocons and Other Hawkish Lunatics Obama's foreign policy is a box of chocolates, except you always know what you're going to get __ more war, more bombing, more drone assassinations, more illegal regime change, more chaos and destruction. It's the company he keeps. He is surrounded by bloodthirsty, arguably mad, imperialist warmongers, megalomaniacs who see themselves as saviors of the Universe, chosen by destiny and blessed with infallibility.
Sunday, November 2, 2014 (28 comments)









Ten Commandments For A New American Century These arrived without my consulting a burning bush, or even having to leave the comfort of my home. People like rules. So here is a fresh set of commandments, a divine path for putting America on the straight and true.
Friday, August 15, 2014 (1 comments)









Militarizing The Police The police are not only being militarized with equipment but with a mentality that makes the average, peaceful, law-abiding citizen the enemy.
Tuesday, July 15, 2014 (6 comments)









From Bill To Hillary With Love The NSA picked up a cell phone conversation between Bill and Hillary. It is both amusing and instructive. Let's keep our heads screwed on straight about this woman.
Wednesday, May 28, 2014 (9 comments)









Why do "they" blame Nader? There are so-called good reasons for blaming Nader for 2000. But they spell bad news for -- perhaps the destruction of -- American democracy.
Friday, May 16, 2014 (21 comments)









We Know How This Will End It's up to us to demand a true and honest commitment to peace, not the simpleminded, hollow, meaningless blather that we're being fed as the trigger-fingers of our war mongers tingle and twitch, just waiting for the right moment to churn up more carnage, destruction, and hatred in the rest of the world. We can start right now by demanding the administration start working with Russia to calm the situation in the Ukraine.
Saturday, February 22, 2014 (18 comments)









"Throw the bums out!" Ultimately, the choice is ours. Either we rise up now in a bloodless coup at the polls or we rise up later in the streets. Revolution in the streets will not be bloodless and I suspect it won't end well. Kicking this can down the road is cowardly at best and suicidal at worst.
Monday, October 21, 2013 (2 comments)









Real News Wonder what you may have missed for the three weeks that the soap opera of the shutdown and debt ceiling crisis monopolized the news? Here are some clues. This is only a start but hopefully offers some perspective.
Monday, March 11, 2013 (4 comments)









Going Postal We can deliver enough nuclear weapons to destroy the world 25 times over with 12,000 active ICBMs, and fleets of nuclear submarines and long range bombers. BUT WE CAN'T DELIVER THE MAIL ON SATURDAY!
Monday, January 21, 2013 (7 comments)









"The Right To Bear Nuclear Arms" Guns don't kill people. People kill people! Since this is irrefutable logic, I began to wonder why it has been applied so narrowly. The truth is, guns are just one form of lethal entertainment. Thanks to the amazing advances in science and technology, there is a cornucopia of devices which fit the legal definition of "arms" as referred to in our Constitution.
Wednesday, January 2, 2013 (4 comments)









"Take me to your leader!" I personally believe the President, and members of the House and Senate, both Democrat and Republican, fail on all counts to provide anything resembling strong, visionary, decisive leadership. They have proven time and time again to be weak, evasive, cowardly, unimaginative, sometimes simple-minded, at a time in our history that demands much more.
Wednesday, October 31, 2012 (4 comments)









The Day That Changed The World The coming election will change nothing. The wars will go on. The plundering of our national wealth will continue. The waste of our valuable talents and energies through unemployment/underemployment will march forward. Social Security and Medicare will be chipped away until sometime in the future they are hollowed out. The rich will get richer and we will be grateful for the few scraps we get. But we can change the world.
Wednesday, September 19, 2012 (2 comments)









Maybe Islamic protesters have good reason to complain. Let's be honest with ourselves: America is not welcome in much of the world.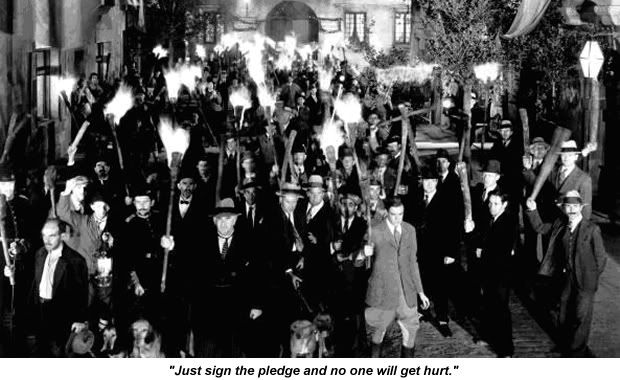 Tuesday, May 1, 2012 (2 comments)









Candidate Pledges: A Strategy For Jettisoning The Scoundrels and Restoring Representative Democracy This presents a clear and powerful strategy for targeting incumbent legislators who regularly defy the American public and their constituents and vote as they are instructed by their big money campaign contributors.
Sunday, April 29, 2012 (4 comments)









CANDIDATE PLEDGES: RESTORING REAL DEMOCRACY TO NATIONAL ELECTIONS or NAILING THE S.O.B.s ONE-AT-A-TIME This outlines a hard-ball offensive against incumbents who ignore the American public and their constituents to either get them back on track or remove them from office. It employs a deft combination of petitions and pledges to force the hand of legislators who have become the puppets of the rich and powerful.