Articles Listed By Date List By Popularity
Page 1 of 2 Next Back First Last View All
Thursday, June 19, 2014








Visualization of US lawmakers based on similarity of their voting records
(6 comments) The following images show US Senators and Representatives clustered according to the similarity of their voting records in 2013 and 2014. What's most notable is how different the Dems are from the Repugs. Please realize that the two dimensional images below are projections from a high-dimensional space of data, and so there is loss of information. The images represent approximate summaries.
Sunday, June 1, 2014








Bloomberg is intolerant of reasonable protests
(3 comments) Michael Bloomberg criticized cases in which liberal students prevented speakers from speaking at universities. "In each case, liberals silenced a voice -- and denied an honorary degree -- to individuals they deemed politically objectionable. This is an outrage." He compared students protests to the efforts of gun rights' advocates in Congress to prevent research into gun control. The comparison is unreasonable.
Wednesday, May 28, 2014








Hey, anti-war conservatives, can we work together to rein in military waste and destruction?
(1 comments) Can progressives and libertarians work together to reduce military waste and adventurism? It's happened in the past and it would be a groundbreaking breakthrough that would garner lots of interest and might have a big effect. The effort would require overcoming
Sunday, May 18, 2014








CredoMobile petition: Oppose Hillary Clinton for president: she's too hawkish and corporatist
(5 comments) Hillary Clinton is likely to be even more corporatist and militarist than Barack Obama. Oppose her nomination for as the Democratic candidate for the presidency in 2016.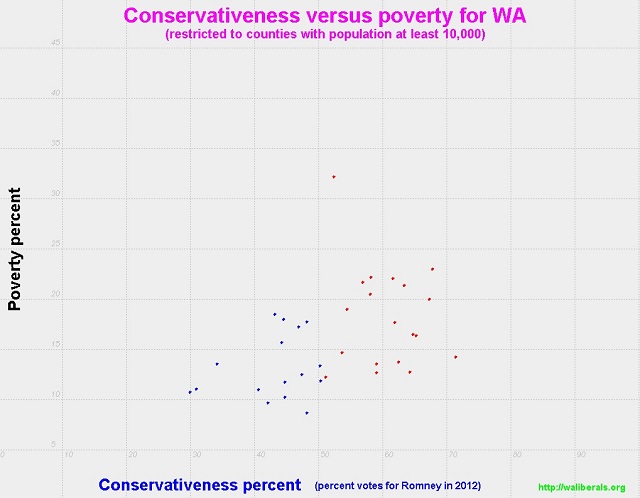 Sunday, April 20, 2014








Why in Oregon, Washington, and California (but not Texas or New York) did poorer counties vote for Romney?
(7 comments) Analysis of census data from 2010 and election data from 2012 indicates that in Washington State, Oregon, and California, high poverty counties tended to vote for Romney. On the other hand, in Texas and New York, it was the opposite: high poverty counties tended to vote for Obama? Why this difference?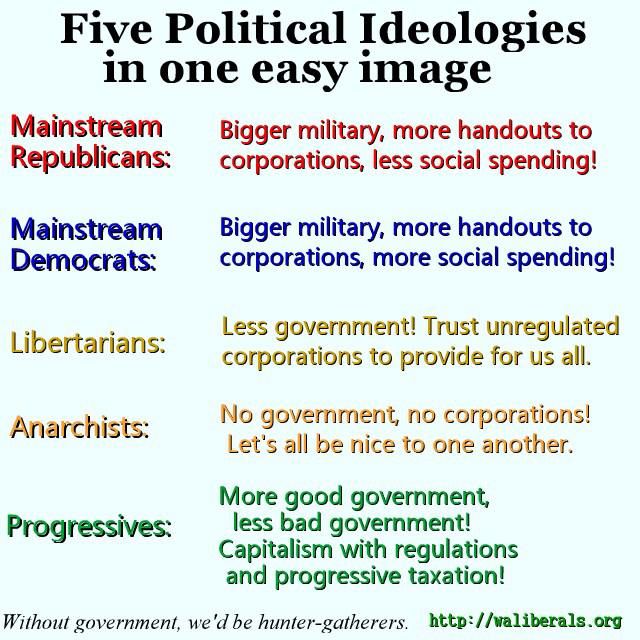 Wednesday, January 1, 2014








Size matters, but not as much as quality: More good government, less bad government, please!
(14 comments) The Big versus Small framing doesn't address the real issues we face. The problem isn't that we have too much government or too little government. The problem is that we have too much bad government and too little good government.
Friday, December 20, 2013








Five Political Ideologies, in one easy image
(29 comments) A concise image explaining the competing political ideologies in the US at this time.
Saturday, October 12, 2013








More GMO propaganda from Big Ag
Big Ag is spending big bucks to defeat a GMO labeling initiative in Washington State.
Friday, October 4, 2013








Anarchism, libertarianism, and the way forward
(95 comments) How does anarchism differ from libertarianism? How should a progressive liberal who supports government programs (such as Social Security, Medicare, public education, and public transportation) respond to libertarian and anarchist attacks on government? Finally, how do anarchists expect to defang corporations without government power?
Wednesday, August 7, 2013








Blame poverty, not public schools
(22 comments) Conservatives love to hate public schools and try to blame public schools for low educational outcomes compared to other countries. But a closer look shows that poverty, now public schools, are to blame for the problem.
Monday, June 24, 2013








About the war in Afghanistan, from "The Operators" by Michael Hastings
(2 comments) In March I wrote the following summary of Michael Hastings' book The Operators. Because of Hastings' untimely death, and because Hastings sent email about an FBI probe hours before his death, the following summary may be of interest to the readers
Sunday, February 3, 2013








Should we call gun nuts "gun nuts"?
(47 comments) Are gun nuts really nuts? Is it counter-productive to insult them? How can progressives win in the battle for the hearts and minds of Americans on this issue and other issues dear to us?
Thursday, December 27, 2012








Battle over the facts concerning Chuck Hagel
(11 comments) I have been engaged in an ongoing edit war concerning the Wikipedia article on Chuck Hagel, whose name is being mentioned as a possible nominee for Secretary of Defense. Hagel is coming under criticism from Republicans and neocons who are unhappy with Hagel's statements critical of defense spending.
Saturday, December 22, 2012








Image essay about blood soaked NRA
(33 comments) Powerful images that expose the blood-soaked stupidity and venality of the NRA.
Tuesday, December 18, 2012








Obama agrees to cut Social Security, largely spare the Pentagon, and retain many Bush era tax cuts
(20 comments) Obama recently said of himself, "My policies are so mainstream that if I had set the same policies " back in the 1980s, I would be considered a moderate Republican."
Wednesday, November 14, 2012








Right wing website Newsmax suppresses embarrassing survey results about Medicare
(1 comments) Right wing website Newsmax held a survey in which they asked whether to cut Medicare. Responders overwhelmingly responded, No, don't cut Medicare. So Newsmax removed those results and replaced them with a survey founded upon a lie.
Saturday, November 3, 2012








The Republicon con game, and why impeachment mattered
(7 comments) The Republicons are masters of propaganda. They construct vivid alternate universes, populated by imaginary demons who must be battled to the death. Republicons are able to convince tens of millions of Americans that their imagined worlds are real. Even when their ideas lead to disaster, they are able to blame their ideological opponents. The Democrats have not done a good job at holding them accountable or refuting them.
Saturday, September 15, 2012








Are anarchists in Occupy aiding Grover Norquist?
(63 comments) Like Tea Partiers, many Occupiers hate government. The Occupy movement has raised awareness about gross injustices in our political and economic system, but the anarchist tendencies perplex me. I explain why and solicit feedback from Occupiers about why they're attracted to anarchism.
Sunday, August 12, 2012








Government doesn't take away your freedoms; corrupt politicians, bureaucrats, and corporations do
(4 comments) If conservatives really believe that guns don't kill, then by the same reasoning, they should really believe that government doesn't waste their money and take away their freedoms; people do. Specifically, corrupt politicians, bureaucrats, and corporations subvert government and use it to enrich themselves.
Sunday, May 6, 2012








Rocky Anderson calls for rejection of "lesser-of-two-evils-ism'
(5 comments) Justice Party candidate and former Salt Lake City mayor Rocky Anderson speaks in Seattle on getting beyond lesser-of-two-evils thinking.
Tuesday, April 17, 2012








Is Washington State Dem Chair Dwight Pelz trying to help Republicans?
(9 comments) Washington State Democratic Chair Dwight Pelz has viciously ridiculed Dennis Kucinich, who is considering running for Congress in Washington State. Why is Pelz targeting a Democratic hero and alienating important constituencies?
Sunday, April 15, 2012








Breaking news: Kucinich seriously considering running for Congress in Washington State
(21 comments) Dennis Kucinich is seriously considering running for Congress in Washington State, where a group of progressive activists has set up a website and petition calling on him to run here.
Saturday, April 14, 2012








Amazon.com shareholder proposal for disclosure of political spending; company meeting
Amazon.com has come under criticism for working with ALEC, a corporate lobbying group that writes model legislation in favor of corporate and conservative causes. For consideration at the company's May 24 company meeting at the Seattle Art Museum, an investor has submitted a shareholder proposal that would force Amazon to disclose political spending. The company's May 24 shareholder meeting is a worthy protest target.
Wednesday, April 4, 2012








Conservatives love to hate Islam: evidence from a questionable Newsmax article
Evidence that conservative website Newsmax distorted the facts in an article critical of Muslims.
Monday, March 19, 2012








Draft Kucinich movement starts in Washington State
(10 comments) There's a movement underway to draft Dennis Kucinich to run for Congress in Washington State.
Friday, February 10, 2012








The myth that the Dems are as bad as the Repugs
(157 comments) Many leftists like to say that the Dems are as bad as the Republicans. Not so! As bad as the Dems often are, the Repugs are even worse. Here's why and some thoughts how we should react.
Saturday, December 31, 2011








The Mitt Romney Weather Vane
Buy the Mitt Romney Weather Vane. Tracks the winds of political expediency. Yours for only $399.99 (plus installation).
Sunday, November 27, 2011








On Occupying the Democratic Party
(51 comments) Can the further Left (Occupiers, anarchists, and Socialists) work, in some fashion, with the nearer Left (progressive Democrats, Labor, and groups like MoveOn.org)? Can the Occupy Movement find allies without getting co-opted?
Saturday, November 12, 2011








ExxonMobil & Goldman Sachs: a winning ticket for the GOP in 2012
Now that corporations are persons, there's an obvious choice of candidates for the Republican ticket in 2012: ExxonMobil and Goldman Sachs.
Wednesday, November 9, 2011








Occupy Denver Elects a Leader
(3 comments) In response to Denver Mayor Michael Hancock's insistence that Occupy Denver choose leadership to deal with City and State officials, and drawing inspiration from the notion that corporations are people, Occupy Denver's General Assembly has elected a leader: Shelby, a three year old Border Collie. "Shelby is closer to a person than any corporation: She can bleed, she can breed, and she can show emotion. Either Shelby is a pers
Saturday, October 15, 2011








Tea Party versus the Occupy Movement
(12 comments) Republicans were able to absorb, co-opt, and be transformed by the Tea Party movement. But it seems that many people in the Occupy Movement don't trust the Democratic Party and are suspicious of its support. Can this be fixed?
Friday, August 26, 2011








How to stop the Tea Party: a response to Sam Harris
(18 comments) To stop the Tea Party, progressives need to both take over the Democratic Party and market the ideas of good government and fair taxation. To win that argument, progressives need to frame the issues correctly.
Sunday, July 24, 2011








Kucinich, Ron Reagan, Jr, Randi Rhodes and others speak at forum, mostly defend Obama
(2 comments) On Saturday about a thousand people went to the Showare Center in Kent, WA to hear speeches and a panel discussion by Dennis Kucinich, Ron Reagan, Jr., Norman Goldman, Randi Rhodes, Stephanie Miller, Mike Malloy, and Mike Papantonio. They both criticized and defended President Obama and the Democrats.
Sunday, July 10, 2011








Dennis Kucinich looking for a political home, needs our help?
(16 comments) Dennis Kucinich has been holding speaking engagements in Washington State, apparently in an effort to test the waters about relocating here and running for Congress. But support for him is lukewarm. Should progressives be advocating for him?
Sunday, July 3, 2011








Scary reports from Bev Harris's Black Box Voting
(2 comments) Bev Harris' book Black Box Voting describes how electronic voting machines open up our electoral system to risks of error and fraud.
Monday, June 27, 2011








Coverups concerning former Republican Senator Chuck Hagel
(2 comments) There are credible allegations of a coverup concerning former Republican US Senator Chuck Hagel. He hid his ownership in AIS (a voting machine manufacturer), even though his machines counted the votes in the election that Hagel won in an upset. Someone removed this story from the wikipedia article about Hagel.
Tuesday, June 21, 2011








MoveOn's plan for a mass movement
(5 comments) MoveOn aims to build a mass movement. But they're always asking for money, and do they have the correct approach?
Sunday, June 12, 2011








Interactive 3D Visualizations of 111th Congress Voting Records
(3 comments) This interactive 3D visualization of US Senators' voting records is based on public voting records. The visualization allows you to navigate in 3D space to see individual senators' and representatives' positions.
Saturday, May 14, 2011








Horray for government! It's time to market government.
(1 comments) It's time for the left to celebrate and market government as a force of good.
Monday, February 28, 2011








Are conservatives mean, greedy, and stupid? A response to Lakoff
(3 comments) By insisting that conservatives are neither mean, greedy, or stupid, Lakoff too is enabling the right.
Sunday, February 20, 2011








Name-calling works, if you can make it stick
(8 comments) How can we prevent the slide into theocratic banana Republicanism?
Saturday, February 12, 2011








The Market for Progressive Groups and Websites
(11 comments) The sale of HuffPost to AOL raises questions about corporate ownership of progressive infrastructure. House Republicans' efforts to defund NPR and CPB further threaten the Left's ability to get its message out. How can the left build an effective media and political infrastructure outside the market system?
Saturday, January 15, 2011








Washington State's Unconstitutional Initiative: I-1053
(2 comments) Constitutions exist to protect the People from unjust laws and initiatives. The Washington State Constitution specifies that a bill becomes law if a majority of legislators support it. Hence I-1053 (the voter initiative requiring 2/3 majorities of legislators to approve tax increases) would appear to be unconstitutional, as would many or all of Tim Eyman's similar initiatives.
Friday, December 24, 2010








Thoughts on Bob Woodward's book "Obama's Wars"
(1 comments) Bob Woodward's book "Obama's Wars" concerns not just the war in Afghanistan but also the ideological war in the White House between hawks and doves, as well as the war that occurred inside the President's head.
Thursday, December 9, 2010








The straw that breaks, or strengthens, the Donkey's back
(3 comments) Is President Obama's compromise on the Bush tax cuts for the super-rich the final straw, the one that breaks the Donkey's back? In fact, it's a great opportunity for progressives to revitalize the Democratic Party. Will the Party allow progressives to share some power? Will progressives flee to a third party?
Thursday, December 2, 2010








Democrats and Progressives Need Each Other
(2 comments) Angry conservatives take over the GOP. Angry progressives join a third party or an advocacy group.
Thursday, November 18, 2010








The Reagan Revolution Redux
(6 comments) The Right Wing plan to drown government in a bathtub is coming to fruition right before our eyes, especially here in Washington State. Here's how conservatives did it, with help from the feckless Democrats.
Wednesday, November 17, 2010








How the Left can better market its message
(17 comments) The disappointing outcome of the 2010 general election was a result of various factors: the Citizens United Supreme Court decision, an influx of corporate cash into the elections, superior organization and party discipline on the Right, and weak leadership, messaging, and media access on the Left. We can ameliorate the problem locally, in various states: adopt standard, shared, community-owned websites.
Sunday, October 24, 2010








Why do believers pray?
(16 comments) If God is all-knowing and all-loving, why should believers need to pray to Him for results?
Saturday, October 16, 2010








US Congressman Dave Reichert doesn't know what the Glass-Steagall Act is
(5 comments) At a candidates' forum in Washington State, US Congressman Dave Reichert admitted that he's not familiar with the Glass-Steagall Act.
Wednesday, October 6, 2010








On Punishing the Dems
(18 comments) Many progressives want to "punish the Dems" by refusing to vote, or by voting for a third party candidate this November. I can respect such progressives, because I too am upset with Obama. But I wonder: have these hardcore progressives really thought through the costs of their choice? Moreover, are they willing to respect other progressives who choose not to follow their (risky) st
Wednesday, September 29, 2010








Blame conservatives and Obama, not all the Dems
(18 comments) Can progressives punish Obama and defend their honor without helping the Republicans?
Friday, September 24, 2010








The Battle over I-1098 in Washington State
(4 comments) In Washington State there's a fierce battle underway between supporters and opponents of ballot Initiative 1098. I-1098 will establish an income tax on the wealthiest 1.2% of Washingtonians, while lowering taxes for the middle class and for small businesses. Recently newspapers, blogs, and the airwaves have been filled with pleas for and against I-1098.
Sunday, September 19, 2010








A conservative's plea for low taxes and small government
Will the middle class figure out that conservative talking points about big government and low taxes do not reflect their interests? Conservatives WANT government to be corrupt and WANT government to fail.
Sunday, September 12, 2010








President Obama's emergency speech to the American people
(7 comments) Text of President Obama's historic speech to the nation.
Tuesday, September 7, 2010








President Obama is looking forward -- to a Republican-controlled Congress
(7 comments) Are the Dems gonna stand up and defend themselves or not? Apparently not. President Obama is looking forward ---- to a GOP-controlled Congress. He's gotta look back and tell the Americans what happened!
Monday, August 23, 2010








Why Obama can't blame the GOP for his inability to pass progressive legislation
(61 comments) President Obama and the Democratic leadership blame their inability to effect progressive change on the recalcitrance of the conservative opposition. This effort to deflect blame is belied by one salient fact: had Obama and the Democratic leadership prosecuted the Republicans for their numerous serious criminal acts, then the GOP would no longer be in a position to mount an effective resurgence.
Saturday, August 14, 2010








Undividing the Left: Hard-core and Soft-core progressives
(13 comments) The animosity between soft-core and medium hard-core progressives is kinda silly. Both factions share the same goals and values (economic justice, civil rights, women's rights, gay rights, environmentalism, unionism, an end to militarism, and justice & accountability). They just disagree on techniques.
Saturday, August 7, 2010








Are the Democrats as bad as the Republicans? Should progressives form their own party?
(28 comments) Common sense thoughts about how progressives should deal with evil Republicans, mixed Dems, and a mysteriously wimpy President Obama.
Sunday, June 27, 2010








Report on the 2010 Washington State Democratic Convention
(2 comments) On the weekend of June 25 I attended the Washington State Democratic Convention, in Vancouver, WA. Here's a report of some of what I observed and learned.