Articles Listed By Date List By Popularity
Page 1 of 2 First Back Next 2 View All
Tuesday, August 16, 2011 (1 comments)









Bernanke Pledges to Screw Your Grandmother for at Least Another Two Years The utter failure of QE2, hollow Congressional spending "cuts" that will keep the National Debt on track towards $23 trillion by 2021, S&P downgrade, and recent plunge in the stock market are the first cracks in the façade of the great American Empire.
Sunday, August 7, 2011









BREAD, CIRCUSES, SPENDING CUTS, UNICORNS & THE APPEARANCE OF WEALTH As the political theater of the absurd played out last week in Washington DC, it became clear to me the ruling class has no intention of changing our path. Politicians will keep spending and central bankers will keep printing more money.
Saturday, July 30, 2011 (10 comments)









WHO ARE THE EXTREMISTS? It is clear the establishment of both parties in Washington DC have no plan to cut anything. The good news is the national debt will never reach $23 trillion because our economic system will implode long before we approach that figure.
Sunday, July 24, 2011 (3 comments)









PEACOCK SYNDROME - AMERICA'S FATAL DISEASE The United States has experienced a four decade long "expenditure cascade". An expenditure cascade occurs when the rapid income growth of top earners fuels additional spending by the lower earner wannabes.
Thursday, June 16, 2011









PEAK OIL - THE LONG & THE SHORT A barrel of Brent Crude (the truest indicator of worldwide oil scarcity) sits at $118, up from $75 per barrel in July 2010 -- a 57% increase in eleven months. In the U.S., the average price of gasoline is $3.69 per gallon this week, up 37% in the last year and up 100% in the last 30 months.
Sunday, June 12, 2011 (1 comments)









IT'S THE DEBT, DUMMY The government solutions jammed down our throats since 2008 have added $7 trillion of debt to the national balance sheet. The only thing keeping this house of cards from collapsing immediately has been the extremely low interest rates put in place by the Federal Reserve.
Friday, June 10, 2011 (2 comments)









QE2 - THE BERNANKE CHRONICLES Anyone impartially assessing the success of QE2 would have to conclude that it has been an unmitigated failure and has put the country on the road to perdition. In three weeks, the Federal Reserve will stop pumping heroin into the veins of Wall Street. The markets are already reacting negatively, as the S&P 500 has fallen 6% and interest rates have begun to fall.
Tuesday, May 17, 2011









THE GOOD, THE BAD AND THE UGLY The Federal Reserve in collaboration with the giant banks has created the greatest financial crisis the world has ever seen. The foolish notion that unlimited amounts of money and credit created out of thin air can provide sustainable economic growth has delivered this crisis to us.
Wednesday, May 4, 2011 (1 comments)









FISTFUL OF DOLLARS - PART TWO It is not easy to destroy the greatest empire in the history of mankind. The 20th Century was the American Century, but the combination of hubris, monetary debasement, imperial overreach and delusional overconfidence have set in motion the inevitable downfall of the American Empire. The policies, decisions, beliefs, and institutions implemented over decades have led the country to the threshold of financial
Thursday, April 28, 2011 (1 comments)









For a Few Dollars More - Part One As long as Baby Boomers can make the lease payment on their Escalade, use one of their 15 credit cards at the Mall, be entertained by 600 cable TV stations, play with the latest iSomething, live in their McMansion for two years without making a mortgage payment and consume massive quantities of fast food, then any thoughts of future generations or civic duty are unnecessary.
Wednesday, April 20, 2011 (2 comments)









Years of the Modern Fourth Turning Based upon a review of the foreseeable issues confronting our society it is clear to me that a worse financial implosion will strike before the 2012 presidential election. It may be triggered by a debt ceiling confrontation, the ending of QE2, a panic out of the USD, hyperinflation, a surge in oil prices, or some combination of these possibilities.
Wednesday, April 6, 2011









EXTEND & PRETEND IS WALL STREET'S FRIEND It is amazing that an industry that was effectively insolvent in October 2008 has made such a spectacular miraculous recovery. The truth is recovery is simple when you control the politicians and regulators, and own the organization that prints the money.
Thursday, March 24, 2011









LAND OF THE SETTING SUN The great earthquake/tsunami/nuclear meltdown of 2011 will result in more quantitative easing in Japan and the U.S. This will result in even more inflation than we are experiencing today. Once the inflation genie is out of the bottle, the race to the bottom will accelerate.
Saturday, March 19, 2011 (1 comments)









The Gathering Storm Many people understand that you cannot solve a debt problem by issuing more debt. They understand that an individual or a country cannot borrow their way to prosperity. The U.S. government is essentially bankrupt and dependent upon Ben Bernanke's printing press to keep up the appearance of solvency.
Monday, March 7, 2011 (2 comments)









THERE ARE NO GOOD OUTCOMES There are no good outcomes, only bad, really bad, and catastrophic. Take your pick. Could gas prices drop below $3.00 per gallon if the world sinks back into recession? Yes. But it would only be momentary. The easy to access supply is dwindling. The medium and long term direction of gas at the pump is up. There is nothing that can be done in the next five years to prevent significantly higher oil prices.
Tuesday, February 15, 2011 (2 comments)









GRAPES OF WRATH - 2011 The rich use their wealth to buy influence in Washington DC, rigging the game in their favor. The working middle class foot the bill. They are bamboozled into believing they can live like the rich by a financial industry willing to lie, obfuscate and defraud them. Corporate superstar CEOs outsourced their good paying middle class jobs to foreign lands, boosting EPS, their stock price and their mega-million bonuses.
Saturday, February 5, 2011









SMOOT- HAWLEY REDUX The Chinese have pegged their currency to the USD since 1995. For a decade, the U.S. was just fine with the peg, as American consumers got cheap goods, American corporations reaped huge profits from outsourcing, and banks raked in billions by lending money to everyone. Now that we have entered the Greater Depression, the finger pointing and accusations have begun.
Monday, January 31, 2011









AMERICAN EULOGY Every generation born in this country had an excellent chance to live a better life than their parents. Relentless progress was the American way. I have three teenage sons. Based on the actions of this country's ruling oligarchy, I doubt that my sons will live a richer and fuller life than myself. The debts are too extreme, the military overreach too excessive, the looting by the financial class too great, the political corru
Friday, January 21, 2011 (7 comments)









THE FOURTH AMERICAN REVOLUTION History offers no guarantees. If America plunges into an era of depression or violence which by then has not lifted, we will likely look back on the 1990s as the decade when we valued all the wrong things and made all the wrong choices.
Sunday, January 16, 2011 (10 comments)









HOW MANY SENATORS DOES IT TAKE TO SCREW A TAXPAYER? Every time you fill up your car this winter you are participating in the biggest taxpayer swindle in history. Forcing consumers to use domestically produced ethanol is one of the single biggest boondoggles ever committed by the corrupt brainless twits in Washington DC.
Monday, January 10, 2011 (1 comments)









V FOR VENDETTA - 2011 Cruelty and injustice, intolerance and oppression, and where once you had the freedom to object, to think and speak as you saw fit, you now have censors and systems of surveillance coercing your conformity and soliciting your submission? If you're looking for the guilty, you need only look into a mirror.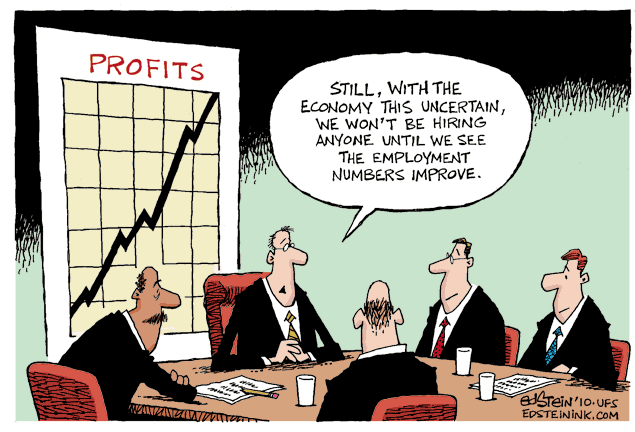 Sunday, January 2, 2011









2011 - The year of Catch-22 The United States and its leaders are stuck in their own Catch 22. They need the economy to improve in order to generate jobs, but the economy can only improve if people have jobs. They need the economy to recover in order to improve our deficit situation, but if the economy really recovers long term interest rates will increase.
Friday, December 31, 2010 (1 comments)









DUDE, WHERE'S MY JOB? The storyline being sold to the American public by the White House and the corporate mainstream media is that the economy is growing, jobs are being created, corporations are generating record profits, consumers are spending and all will be well in 2011. The 2% payroll tax cut, stolen from future generations to be spent in 2011, will jumpstart a sound economic recovery. Joseph Goebbels would be proud.
Wednesday, December 15, 2010 (1 comments)









WHO'S LYING? I hate to be a wet blanket during this festive holiday season, but the truth is that there is no self sustaining recovery happening. The powers that be, with the help of their lackeys in the mainstream media are desperately trying to convince you that everything is alright. It is not alright. The only people spending are Lloyd Blankfein and his ilk, while middle class Americans sink further into despair and debt.
Saturday, December 11, 2010 (2 comments)









BERNANKE IS 100% SURE Mr. Bernanke thinks that the sheeple will just believe him because he is the Federal Reserve Chairman. The truth is that only two things are deflating: middle class wages and home prices. Bernanke certainly has chutzpah when blatantly lying to the American public about inflation. I'm sure none of you drive cars, heat your homes, eat food, or wear clothes.
Saturday, December 11, 2010 (1 comments)









WILL 2012 BE AS CRITICAL AS 1860? The devastating combination of a currency collapse, oil supply shortages, and the draining war on terror will either unify the country behind the Prophet leader in their effort to save the country or it could result in the country's fabric tearing apart with the Federal government losing control of sections of the country.
Saturday, December 11, 2010









Lies Across America Americans are so committed to their automobiles, hyper-consumerism, oversized McMansions, and suburban sprawl existence that they will never willingly prepare in advance for a future by scaling back, downsizing, or thinking. Our culture is built upon consumption, debt, cheap oil and illusion.
Friday, November 19, 2010 (3 comments)









AS THINGS FELL APART, NO ONE PAID MUCH ATTENTION The American way of life --" which is now virtually synonymous with suburbia --" can run only on reliable supplies of dependably cheap oil and gas. Even mild to moderate deviations in either price or supply will crush our economy and make the logistics of daily life impossible.
Thursday, November 4, 2010 (4 comments)









SUICIDE IS PAINLESS It is no coincidence that after Richard Nixon closed the gold window in 1971 and allowed the Federal Reserve to "manage" our economy that total debt outstanding in the US surged from $2 trillion to over $50 trillion. GDP has risen by 1,300% since 1971, while total US debt has risen by 2,600%. Now for the kicker. Real GDP has only gone up by 292% since 1971. This means that 1,000% of the increase in GDP was from Federal Reserve
Sunday, October 24, 2010 (8 comments)









DEPRESSION WITHIN THE DEPRESSION Today's politicians and monetary authorities have learned the wrong lessons from the Great Depression. The result will be a second, Greater Depression and more pain for the middle class.
Thursday, October 21, 2010









iDepression 2.0 Our society took 40 years to dig this hole. It is now so deep, there is no way out. But, look at the bright side. At least we don't have to watch bread lines stretching down the block when we are watching our 52 inch HDTV, holed up in our 5,000 sq ft McMansions, ignoring the monthly mortgage payment bill, and waiting for our unemployment funds to be direct deposited into our bank accounts.
Saturday, October 16, 2010 (1 comments)









IS AMERICA ON A BURNING PLATFORM? David Walker has presented a case for inter-generational sacrifice. Are today's generations willing to keep robbing future generations of Americans by being fiscally irresponsible today? Every borrowed dollar spent today is a tax on future generations. Are we selfish enough to leave our children and grandchildren with an un-payable burden so that we can live well today?
Thursday, October 7, 2010 (1 comments)









CONSUMER DELEVERAGING = COMMERCIAL REAL ESTATE COLLAPSE The facts are that hundreds of billions in commercial loans are coming due, with a peak not being reached until 2013. If banks were to properly account for the true value of these loans, hundreds of regional banks would be forced to fail. This is unacceptable to government authorities. They will insist that the fantasy continue. Banks and real estate developers will pretend to be solvent.
Friday, October 1, 2010









10% SAVINGS RATE + CONSUMER SPENDING AT 65% OF GDP = RETAIL DISASTER Same store sales growth is gone. New market growth is gone. The upper management of every retailer in America better pull out their little models and plug in declining consumer spending for the next decade. This will reveal the stores that won't cut it. Will this be done? Absolutely not. The hotshot CEOs will think a better advertising campaign will do the trick. Delusions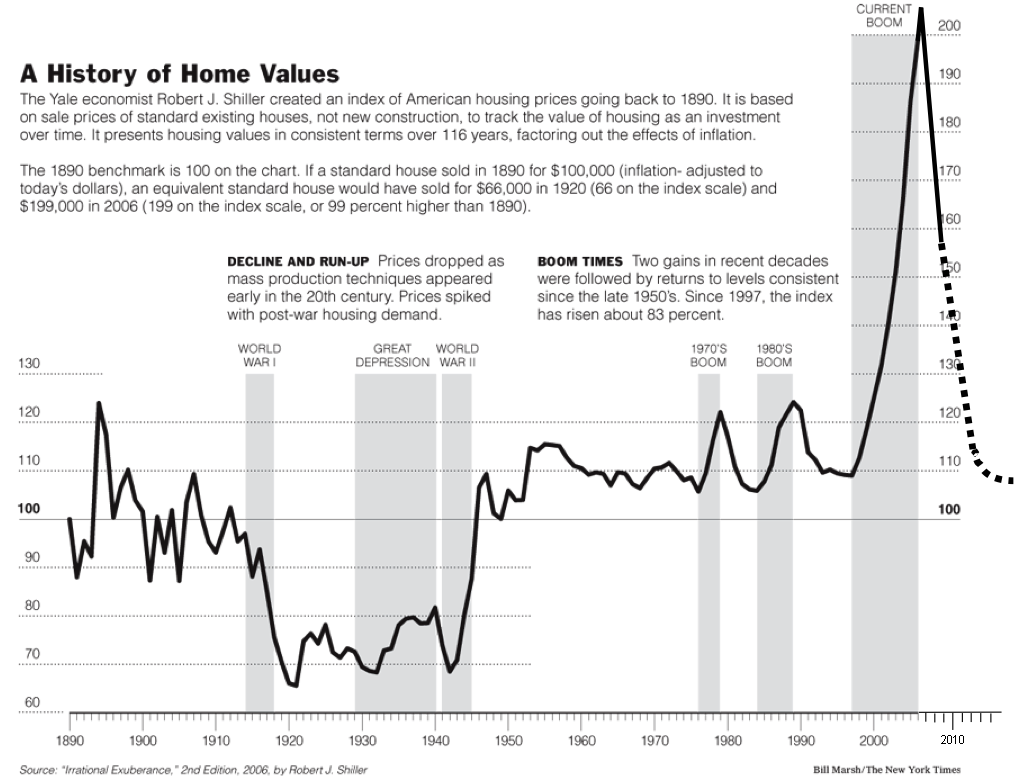 Friday, September 24, 2010 (3 comments)









THE BASTARD CHILD OF THE MOTHER OF ALL BUBBLES A tipping point is reached when the government debt exceeds 90% of GDP. US government debt is currently at 93% of GDP. One year from now it will exceed 100% of GDP. The bastard child of the mother of all bubbles has jumped out a window on the hundredth floor of a NYC mega bank. As he passes the 50th floor, Paul Krugman asks him how is he doing? He says great, SO FAR. We all know what happens next. SPLAT!!!!
Tuesday, September 21, 2010 (5 comments)









THOSE WHO DON'T BUILD MUST BURN There are few builders left, while millions of burners lurk behind every bush. First it will be Korans and Mosques. Then it will be bibles and churches. Then it will be libraries. Eventually it will be your house. America was built by those who cherished liberty, freedom, responsibility, knowledge, and truth. A fog of complacency and malaise settled over America in the last six decades.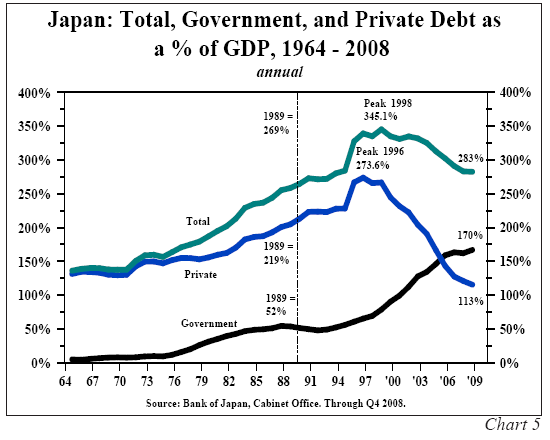 Saturday, September 18, 2010









When Japan Collapses It's hard to imagine how any realistic economist could look at the following two charts and conclude that the Japanese Government failed to revive the Japanese economy over the last twenty years because they spent far too little on fiscal stimulus. Japanese government debt as a percentage of GDP was 52% in 1989, prior to their real estate and stock market crash.
Saturday, September 11, 2010 (14 comments)









9/11 - A FOURTH TURNING PERSPECTIVE Fourth Turnings always sweep away the old order and replace it with a new order. There is no guarantee that the new order will be better. It could be far worse. As we honor those who lost their lives on September 11, 2001 we need to brace ourselves for the storm ahead. The clouds are gathering and the time of great sacrifice is approaching.
Thursday, September 9, 2010









RETAILERS - REALITY CHECK TIME Lowes, Wal-Mart, Target, and Kohl's have yet to recognize their predicament. They are still blinded by their hubris. The point of recognition will occur within the next year. Each of these retailers will be closing hundreds of underperforming stores in the next two years. Time for a reality check.
Friday, September 3, 2010 (1 comments)









Peak Denial about Peak Oil The myopic view of the world by politicians, the mainstream media and the American public in general is breathtaking to behold. Despite the facts slapping them across the face, Americans believe cheap oil is here to stay. It is their right to have an endless supply of cheap oil. The American way of life has been granted by God. We are the chosen people.
Wednesday, September 1, 2010 (26 comments)









The Fourth Turning - Skies Darkening Thus might the next Fourth Turning end in apocalypse --" or glory. The nation could be ruined, its democracy destroyed, and millions of people scattered or killed. Or America could enter a new golden age, triumphantly applying shared values to improve the human condition. The rhythms of history do not reveal the outcome of the coming Crisis; all they suggest is the timing and dimension.
Monday, August 30, 2010 (3 comments)









THE AGE OF MAMMON Never have so few, done so little, and made so much, while screwing so many. The disgustingly rich Wall Street wheeler dealers who live in Greenwich CT and NYC and summer in the Hamptons have created nothing. Their immense wealth has been created through draining the economic system of its lifeblood. Their financial innovations have created no lasting benefit for our society.
Friday, August 27, 2010









THE GREAT DELEVERAGING LIE The Big Lie will eventually lose out to the grim truth. America's economy is built on a debt based foundation of sand and the tide of reality is relentlessly eating away at that foundation of debt. Collapse is just a matter of time.
Tuesday, August 17, 2010 (15 comments)









MASS DELUSION - AMERICAN STYLE The American herd has gone mad. A few people have regained their senses, but the vast majority still exhibits the behavior of sheep being led to slaughter. The ruling oligarchs have utter contempt for the average American, but they fear the masses.
Wednesday, August 11, 2010 (5 comments)









DEPLOY THE SLIDE Our country is bankrupt. It is economically bankrupt and it is morally bankrupt. We are a train hurtling down the track at 80 mph and just around the bend is a stalled train. It's as if the train engineer (Obama) has received a radio message that there is a stalled train around ther bend and his solution is to speed up the train to 100 mph. Can't anyone see the disaster that awaits this country, just around the bend?
Monday, August 9, 2010 (1 comments)









THE MOTHER OF ALL BUBBLES The Chinese authorities can hide the truth for a period of time, but the bad debt caused by the Chinese stimulus and malinvested in office buildings, condos, malls, and cities will eventually lead to a monumental collapse in the Chinese real estate market. This will result in a stock market crash and a dramatic slowing in economic growth.
Saturday, August 7, 2010 (5 comments)









A WEALTHY STIMULUS NEEDED Unless we can stimulate the wealthy to keep spending we are all doomed to a double dip recession. The plight of the wealthy should be at the forefront of anything we do. Since the top 1% wealthiest Americans own 43% of the financial assets in the country, they were particularly hard hit by the stock market crash. These poor souls were quite disillusioned by their losses.
Thursday, August 5, 2010 (2 comments)









THE RULING ELITE CALLED Here is the message from the ruling elite to you ignorant masses: Debt got us into this mess and it sure as hell is going to get us out. They have convinced the mainstream media that the reason the economy is sputtering is because the average Joe is not doing their part. This crazy concept of saving for a rainy day seems to be catching on. This is very dangerous.
Thursday, August 5, 2010 (1 comments)









JOHN PAULSON WILL BE WRONG THIS TIME Reversion to the mean cannot be circumvented. It can be delayed, but it will not be denied. The combination of expiring tax credits, the failure of HAMP, the conclusion of the Fed buying dodgy MBS, the growing shadow inventory of foreclosures, Option ARM and Alt-A resets, and rising interest rates will result in a further fall in home prices of at least 20% in the next two years.
Saturday, July 31, 2010









PLAN FOR AMERICA "I love the man that can smile in trouble, that can gather strength from distress, and grow brave by reflection. "Tis the business of little minds to shrink, but he whose heart is firm, and whose conscience approves his conduct, will pursue his principles unto death." --" Thomas Paine
Sunday, July 25, 2010 (1 comments)









Welfare & Warfare The real tragedy is that because of the fiscal irresponsibility of politicians and the Boomer generation, future generations of Americans will for the first time in U.S. history have a lower standard of living than their parents. The wealth of the nation has been frittered away by statists and war mongers. The current fiscal path of the country is unsustainable.
Wednesday, June 23, 2010 (3 comments)









Too Small To Matter After watching our corrupt government decide that the biggest baddest banks on the planet were too big to fail over the last two years and giving my children's and their children's money to these behemoth criminal enterprises, I was not surprised to see poor working class Americans treated like dirt by these same corrupt politicians.
Monday, June 14, 2010 (1 comments)









TWO DECADES OF GREED - THE UNRAVELING We are currently in the midst of a Fourth Turning. This twenty year Crisis began during the 2005 --" 2008 timeframe with the collapse of the housing bubble and subsequent repercussions on the worldwide financial system. It is progressing as expected, with the financial crisis deepening and leading to tensions across the world. It will eventually morph into military conflict, as all prior Fourth Turnings have.
Wednesday, May 12, 2010









PRINT BABY PRINT Hypothetical telephone conversation between Ben Bernanke and Jean Claude Trichet this past weekend
Wednesday, May 12, 2010









THE BIG SHORT - HOW WALL STREET SCREWED MAIN STREET Everyone has claimed that they were not responsible in any way for the disaster. They blame once in a lifetime circumstances that no one could have anticipated. It was a perfect storm and they had no way of knowing. These Wall Street geniuses, who collected compensation in excess of $100 million before the collapse, had no idea what was going on within their firms. Ignorance and stupidity is no excuse for losing $1 trillion.
Tuesday, May 4, 2010 (6 comments)









Is China's Recovery a Fraud? Combined with a real estate collapse, the Chinese miracle will reveal itself to be another debt-induced fraud. This will be another step towards the Greater Depression. The investment implications are that worldwide stock markets are likely to retest their 2009 lows by the end of 2010.
Tuesday, April 6, 2010 (1 comments)









SUNDAY BLOODY SUNDAY The intellectually bankrupt MSM, Wall Street fat cats, and corrupt DC politicians are right to fear the Tea Party movement. The mood of the country will not be reversed. The storm will not subside. The existing institutions will fall in the next 10 to 15 years. There will be blood. The Federal government will not voluntarily get smaller. The entitled class will be angry when the spigot of benefits and privileges is shut off.
Monday, March 22, 2010 (5 comments)









IT WAS A WONDERFUL LIFE The average family of 2.5 Americans huddles in their 3,500 square foot brick and vinyl castle on - acre of chemical treated land during the week and crosses the drawbridge on the weekends in their $60,000 leased Mercedes SUV chariot to venture out to the jousting matches at the local mall, charging the entertainment on a 4 inch sliver of plastic.
Wednesday, February 24, 2010









21st CENTURY BREAKDOWN Thus might the next Fourth Turning end in apocalypse --" or glory. The nation could be ruined, its democracy destroyed, and millions of people scattered or killed. Or America could enter a new golden age, triumphantly applying shared values to improve the human condition. The rhythms of history do not reveal the outcome of the coming Crisis; all they suggest is the timing and dimension.
Thursday, February 18, 2010 (1 comments)









GENERATION ZERO Review of a must see movie.