Articles Listed By Date List By Popularity
Friday, October 16, 2009 (4 comments)









A Trail of Failed Policies and Lost Battles Obama brought the 'AfPak', doctrine with him to the White House, ostensibly with the intention of securing Afghanistan, neutralizing Al-Qaeda, bringing peace to Afghanistan. Such urbane jargon did much to soothe the ears of the news viewers in the US but in reality all such slogans were as hollow as the dark hole that the US finds itself in in Afghanistan.
Friday, August 28, 2009 (2 comments)









Pakistanis Want US Declared 'Hostile State' poll conducted by pkkh shows most pakistanis are not happy with US foreign policy viz a viz pakistan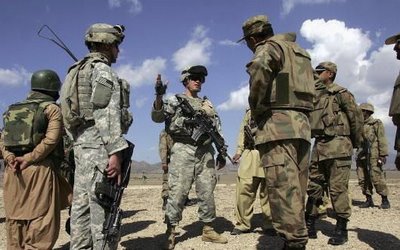 Wednesday, August 26, 2009









Pakistan: Interviewing Relief Workers Inside the IDP Camps interview of two volunteers to went to Northern Pakistan to distribute aid to IDP camps
Tuesday, July 21, 2009









Dismantling Pakistan, a Quagmire of Imperial Slavery current situation in pakistan. political changes going on in pakistan.
Monday, June 29, 2009









The Regional Fallout of Iranian Turmoil The regional implications of the ongoing Iranian political conflict.
Friday, May 29, 2009 (3 comments)









Tales of U.S. Hegemony and Pakistani Government Betrayals Current war going on in Swat area of Pakistan
Saturday, April 25, 2009 (1 comments)









Finding Clarity in the Baluchistan Conundrum current turmoil in Balochistan, Pakistan is a great game for the control of Oil and Energy rescources
Sunday, April 5, 2009 (1 comments)









Cornering the Nuclear-Pawed Cat Present turmoil in Pakistan and the US involvement in Pakistan
Saturday, March 14, 2009









fast moving political turmoil in the world's new hotspot, Pakistan Article on political turmoil in Pakistan.
Tuesday, March 3, 2009 (1 comments)









Achieving Peace Inside Pakistan Against All Odds update of the situation in Swat, Pakistan. this article will be followed by a more updated article
Sunday, February 8, 2009 (1 comments)









Now or Never!! Pakistan must change its position on the "war on terror". Current situation of Swat, Pakistan
Monday, January 12, 2009









Brutal Silence of Western and Arab Governments on carnage in Gaza Gaza War
Wednesday, December 31, 2008 (2 comments)









U.S backed Israeli aggression on Gaza is self-defeating Israel-Palestine conflict
Sunday, December 28, 2008 (3 comments)









Playing with Fire in Pakistan How the US is viewed by the Muslim world during tension between India and Pakistan, and the consequences of US Neo-Con policies.
Thursday, October 9, 2008









From Musharraf to Zardari Article is about Pakistan's current political situation