Articles Listed By Date List By Popularity
Friday, July 22, 2016 (31 comments)









Beware the Lesser-Evil-Choice Canard There is the proposition that we must choose the lesser-evil in 2016. Yes, both are bad. We must now prepare to never allow this again.
Monday, June 20, 2016 (36 comments)









Hillary Insufficiently Lesser-Evil The secrets that Hillary shares with the banksters are too expensive for us meager voters to learn. Will you trust her with your vote? Not this liberal!
Friday, May 6, 2016









America: Democracy or Oligarchy? Is our nation the democracy we were taught it is in school?
Saturday, April 30, 2016 (5 comments)









The Mass Atrocities We Allow and Pay For The question is: Why do we the citizens allow and pay for the war and the atrocities our military has committed in the Middle East for the past 15 years, a hemisphere and two seas from our beaches?
Saturday, August 2, 2014 (11 comments)









"LIZ: Do Not Run !" WHAT !!! There is a recent piece cruising the WEB with statements from contributors to Elizabeth Warren's senatorial campaign stating these same contributors would not support Warren but Hillary Clinton for the Democratic presidential nomination. What's this really all about?
Thursday, July 31, 2014 (2 comments)









Looking Amerika Politika in the Eye America is -- make that Americans are -- in trouble both here and around the world. But few are interested in our real problems, their actual causes and their effective, just and (dare I say it?) moral correction once the electioneering begins anew.
Tuesday, July 1, 2014 (7 comments)









Wake Up Dim Demwits ! Progressives are catching on to the Democrat cadre's dodgy misrepresentation on the best interests of us "common" people. That includes the middle class as well as the less advantaged, of which, more of us have become more of them with every election of the past 34 years.
Friday, May 30, 2014









Amerika, Heal Thyself ! An activist friend advises we should beseech John Kerry to intercede to stop the US government from manipulating development aid to promote the interests of Big Agra at the expense of poor El Salvador farmers and the millions of families they support. This can't happen in El Salvador or anyplace else until we clean up our own house in the USA. The election of 2016 is an opportunity for finally a start in such direction.
Friday, May 16, 2014 (3 comments)









Neglecting Jefferson, the Adams Boys, and Pogo Rest secure, my historical friends, we have not totally forgotten your wisdom, and with the more neglect and abuse surely to come upon us, we may yet rise again to merit your instruction.
Friday, April 25, 2014 (21 comments)









"Run, Hillary, Run!" How long will it be before Hillary actually announces her candidacy? No doubt she'll run, but her plan is to await the time when the lines of partisanship and psychology join in apex on her strategy chart, which should not be too long after the tactic of the "Run, Hillary, Run!" chant is implemented -- sort of a make-me-do-it strategy, however plastic and obvious.
Thursday, January 2, 2014 (2 comments)









Our Unaffordable Bill of Rights Having reaped their mountain of lucre and gained unassailability from the laws of the land, our masters can no longer afford the threat posed by our Bill of Rights to protect the best interests of the mere citizens.
Tuesday, December 10, 2013 (8 comments)









A Diminished "America" One can hardly recognize today the "America" we were taught in school and so highly respected.
Saturday, November 30, 2013 (8 comments)









The Fallacy of "Lesser-Evil" Choice Yet three years from the next national election, there is already the voicing of liberals (?) that we cannot chance supporting such as Elizabeth Warren or Bernie Sanders lest we lose, therefore we must choose a "winner" rather than someone who actually exemplifies our ideals.
Wednesday, October 30, 2013









Political Remediation, Revolution, or Foreign Invasion? Well, certainly change there will be, but by what means?
Wednesday, October 23, 2013 (2 comments)









Zomboid Partisans vs Intelligence, Decency and Survival Both of America's major political parties share in the guilt of the American treachery around the world and in the shredding of our Bill of Rights at home. American voters need to shed the leaden boots of partisan loyalty and get on to decent government unbeholden to greed meisters and their demands for atrocious means to self-serving ends.
Tuesday, August 20, 2013









Can America Survive Electioneering Propaganda? If there is yet any possible way to survive America's past thirty-odd years of its bought-and-paid-for governnent and its wretched impact abroad, then we must wake up to the treacherous tactics of the politicos to persuade our support and even to encourage our indifference.
Tuesday, February 19, 2013









Two Major Parties -- One Wretched Government With the Democrat elected representation's progressive -- make that unprogressive -- drift to the right, it seems to matter less and less which political party wins elections only to represent big-money advantages at the expense of the people's best interests.
Wednesday, September 5, 2012 (9 comments)









How Do We Get People Into the Streets? A people will revolt but only when their condition becomes absolutely intolerable. That intolerability will become our salvation.
Monday, August 27, 2012









Bipartisan Campaign Unmentionables We preach apple pie and flag worship. We practice slaughter and whore its means.
Thursday, August 16, 2012 (5 comments)









Bailing Out the "Bailout" There's a new message on the WEB: "The Must Read Book of 2012: Bailout". The author's gist is that fervent partisanship will not save the "republic" from a government bipartisanly indentured to greed interests.
Sunday, July 29, 2012









Indentured Democrats are Hardly the Champions of the People ! On the rare and precious occasions when the real questions of War and Peace and of our ravaged Economy are asked of our government in such forums as the U.S. Senate, they seem to disappear into the mist that pervades the dome above a Democrat Senate-majority and the corridors of the Democrat Administration. And that appears to be just fine with the Dem boosters at the state and precinct levels.
Thursday, July 26, 2012 (6 comments)









Democrat and Republican "Reality Shows" Television's moronic song and dance extravaganzas, although quite silly, lack the potential to inflict serious damage anywhere near that of their political equivalents.
Wednesday, July 18, 2012 (2 comments)









"We Have Met the Enemy, and It is Wal-Mart!" Serious questions here that America is unable to influence companies that exploit children and violate the basic human rights of their workers. What! In the world's most powerful nation! Who's kidding who? And why?
Thursday, March 29, 2012 (1 comments)









Why the U.S. Postal Service will Fall USPS blindly and suicidally flies in the face of the real American Way, and -- as is the case with a decent single-payer medical program vs the combined forces of the AMA and the Insurance cartel -- is bound for public execution.
Sunday, January 1, 2012 (1 comments)









Enough Feckless Nattering -- Obama IS Our Next President What with the chronic partisan Democrats, both obtuse and aware, and the "lesser-evil" masochistically persuaded, along with voters seeking some degree of sanity fleeing from the Republican nominative buffoonery, Obama is in.
Saturday, December 24, 2011









Relief for New Orleans -- Benevolent Military Occupation Finally a decent and intelligent solution is offered for the rampaging crime afflicting the poor blacks of New Orleans: Send in the troops! Occupy them for their own benefit!
Saturday, December 17, 2011









Pathetic Partisan Persuasion and Other Stupid Stuff American voters in the main cast for more-or-less their partisan persuasion, that is Democrat or Republican. But still quite a few offended by both will insist to vote for their choice of the "lesser-evil" major candidate. We must do better than this.
Friday, December 9, 2011









The Yellow Brick Road to Wealth in America is by Inheritance Recent news has six heirs to the Wal-Mart fortune enjoying more wealth than a thirty percent slice of the entire population of the United States.
Monday, December 5, 2011









America's Bipartisan Disaster and the Opportunity for Correction The Republican presidential candidates are doing well at trashing each others candidacy, which would be a good thing for America if it did not favor the same ilk in Democrat-sheep's clothing.
Sunday, November 27, 2011 (1 comments)









Military to Police American Civilians!? The ACLU has advised that this week: "The Senate will be voting on a bill that will direct American military resources not at an enemy shooting at our military in a war zone, but at American citizens and other civilians far from any battlefield -- even people in the United States itself."
Tuesday, November 22, 2011 (1 comments)









Michael Bloomberg Saves New York from Another 911 as well as from OWS! Mayor Bloomberg in an appearance on CNN Sunday night, advises how he and his team stopped a terrorist attack on New York City.
Wednesday, October 26, 2011









Obama's Iraq Duplicity Obama said of Iraq, that it's over. Yogi Berra said of everything, that "It ain't over till it's over." Which do you believe?
Friday, October 21, 2011









An Alternative To The One-Puppeteer System America has been going down the track of indecent governance and treacherous war for too many years, under either or both of the two major partisan persuasions. It's high time for us good people to change the engineers.
Monday, October 17, 2011 (4 comments)









Facts or Fiction on the Wall Street Occupation With all my respect and profound appreciation for the authentic Occupy Wall Street people, there is evidence that some others would exploit this initiative for perverted interests of their own. It is important that the authentic allies of this movement share the truth with each other that is not available in the captive media.
Sunday, October 16, 2011 (3 comments)









At Least PRIMARY the Imposter of Hope, Change and Integrity We were promised HOPE and CHANGE. Well we're still hoping, but that's not going to turn the ongoing tide that's drowning "the 99 percent." It's high time for Democrats to step up to their ideals, and at the very least to PRIMARY the imposter of those ideals.
Tuesday, October 4, 2011 (2 comments)









Not a Two-Party System, but One Two-Headed Monster Over the last 31 years, the differences between Democrats and Republicans -- not so much in their words but certainly in their actions -- have just about disappeared, leaving us with an administration, under either party label, indentured to greed interests at the expense of the vast majority of the citizens.
Wednesday, September 28, 2011 (1 comments)









Desperation for Decent Leadership Honest folks know things have not gone well for working or would-be working people for too long. It's high time we looked into America's mirror of truth, appraised our sad leadership for what it is, and rejected the temptation to once again be persuaded by the "lesser-evil" choice.
Monday, September 19, 2011 (13 comments)









Republican-Democrat Inc. vs the People Obama promised "Change!" We got it, the change that is, while Greed Inc. got the bailout dollars, Weapons Inc. got the profits, and the Republicans neutered the Democrats. In fourteen months we'll get another chance. We "ordinary" people need to see where we've gone wrong, then make a better choice for our own best interests, a choice other than the false promises of Mr. Hope and Change.
Friday, August 26, 2011 (7 comments)









Going to the October Event in the District of Corruption? The word is out on the big protest against everlasting war and indecent governance in D.C. in October. An impressive number of activist luminaries are committed. But he nagging question remains: Will this make any substantial difference in the treacherous course our government is set upon, or will this be -- however noble and moral -- just another message to find its way into the Capitol's refuse bin?
Friday, August 19, 2011 (1 comments)









US vs S&P: It's About Time, But... The Justice Department is investigating whether the nation's largest credit ratings agency, Standard & Poor's, improperly rated dozens of mortgage securities in the years leading up to the financial crisis. Why has this taken so long? What happens next?
Monday, August 15, 2011 (5 comments)









Any Decent Dem Candidates Available for 2012? With it all -- now get a grip -- there are some few decent Democrat candidates, actually intelligent too, and who possess the courage of their convictions.
Friday, August 12, 2011









Republican Cover Girl Newsweek magazine caught a lot of flak from Republicans who claimed that its recent cover featuring Michelle Bachmann's face "made her look crazy." Are they saying the camera lies?
Thursday, August 11, 2011 (2 comments)









Pathetic Presidential Platitudes Prompt Primary In such times as these, the call for a president's compelling example of courage, integrity and leadership is essential. We aren't getting it.
Tuesday, August 9, 2011 (1 comments)









America's Death Spiral It started thirty years ago under a Republican president with little more than attitude and platitudes between his eyebrows and his pompadour, a posturing class "B" actor somehow engineered into the most powerful position in the world, served by an obeisant electorate who should have known better but performed to the ringmaster's cue. And over the next thirty years the house that Roosevelt built comes a-tumblin' down.
Saturday, August 6, 2011 (2 comments)









In Praise of Anger The lamentable common cop-out is that anger accomplishes nothing. This of course is beyond nonsense -- it is pandering to plastic morality in its most obeisant and moronic form. Anger is not only beneficial to worthy causes but the necessary stimulus to correction of institutionalized abuse.
Monday, August 1, 2011









The Lesser-Evil Choice Invites Self-Defeat Isn't lesser-evil a sucker's ploy? Rather than to cop-out, why not stand up for something actually good, something that reflects our values? We have them, values that is, don't we?
Thursday, March 3, 2011









Indignity Testing The news headline read: "Passengers Searched After Exiting Train." The public's reaction to this ranged from "Oh. well" to "What possible purpose could that serve?" But indeed, intrusive searching of citizens AFTER they get OFF a train DOES have a purpose.
Thursday, February 17, 2011









America's Enemies in America Who are the enemies of Peace, the American People and Humanity? Pogo knew: "We have met the enemy and he is us."
Sunday, January 23, 2011









Bipartisan Disaster Pending There is a now faint Voice escaping from the narrowing crack between the blatherings of America's two major political representations, a whispering that America is headed for a nightmare of profound proportions.
Thursday, January 20, 2011









Be Afraid What's it to be in the face of the next inevitable treacherous initiative of the war masters? Again to join in lustily to "Support Our Troops," or to rise in sufficiently large numbers and stubborn resolve to prevent the carnage otherwise to follow. Would even having the good sense simply to be afraid in fact help us to band together in common cause in sufficient numbers to muster the determination to put down the treachery?
Friday, January 14, 2011









That Hopey-Changey Thing Despite criticism to the contrary, Obama did not campaign on a platform of "Hope and Change." It seems that we heard what we wanted to hear, and stumbled on that little old middle word: "AND." What he actually said was: "Hope FOR change". And, hey, now that we finally got the message, we're really hoping as hard as we can.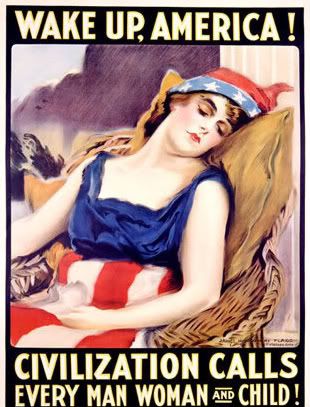 Tuesday, December 7, 2010









Wake Up, America!  Get Straight!  And Let Us Know! It is high time to open our eyes and ears to the propaganda of both major political parties, to stop the lies, the wars and dominance of the greed interests, to get beyond the "lesser-evil choice," and to move on to a government that truly represents the best interests of the American people and human decency.
Tuesday, September 7, 2010









Dems and Repubs Steering Us toward Disaster? There is a Voice ascending in the crack between the blatherings of the two major political persuasions, a voice that says America is headed for a nightmare of disastrous proportions.