Articles Listed By Date List By Popularity
Page 1 of 2 Next Back First Last View All
Tuesday, December 10, 2013








Couric's anti-vaccination segment a symptom of wider scientific illiteracy
(1 comments) Because Katie Couric did a show giving voice to meritless anti-vaccine forces, people are going to die. You really can't get around that; the deaths may be decades from now, and the links from here to there may never be recognized even by the people around whom the threads are tied, but somewhere in the Katie Couric audience there are going to be people who are not going to vaccinate their children against a deadly disease
Saturday, December 7, 2013








'Christian values' Hobby Lobby purchases its products from #1 'family planning' nation China
(10 comments) 'Christian values' Hobby Lobby purchases its products from #1 'family planning' nation China
Sunday, December 1, 2013








Ending the criminal insanity of the concept of corporations as people
(5 comments) if corporations are going to be viewed as people in the rights department, then let them be people elsewise, too. No special protections, for example, from the death penalty. When their crimes warrant such punishment the way an actual individual's would, end their existence by tearing up their charter and turning them into non-entities.
Saturday, November 30, 2013








A Progressive Pope is Driving the Wingnuts Batty
(19 comments) As Pope Francis comes more and more out of the Progressive Closet he begins to gain more and more pushback from the Rightwing who have long claimed that their Unrepentant Greed was Godly.
Monday, November 25, 2013








Christian Militia Claims "Authority" To Shoot And Kill Obama
(13 comments) So now, Right-Wing "Christian" extremists are making death threats against President Obama, and on Facebook. The administrator, "Everest," for the Facebook group Christian American Patriots Militia begins his post on November 19th, with: "We now have the authority to shoot Obama, i.e., to kill him." Well, it's a federal crime, i.e., a felony to make threats against any president.
Wednesday, November 20, 2013








Obamacare enrollments surging, HealthCare.gov working better
(2 comments) The people will come. They're not freaked out over what most people perceive as inevitable: a problematic new government program. They're not abandoning support for the program in droves. They're not calling for an end to the program. They're patient enough to give it time to work, even if Republicans and the traditional media are not.
Monday, November 18, 2013








This Is How The Middle Class Dies
(6 comments) While the media's talking heads rent their garments in phony outrage, Republicans crowed with delight, and so-called Democrats wrung their hands and pointed fingers about the troubled launch of the Affordable Care Act, a starker example of our country's frightening economic trajectory manifested itself in Seattle this week.
Wednesday, November 6, 2013








Absolutely Unimaginable This Could Happen In America
(17 comments) David Eckert finished shopping at the Wal-Mart in Deming. According to a federal lawsuit, Eckert didn't make a complete stop at a stop sign coming out of the parking lot and was immediately stopped by law enforcement. Eckert was then subjected to repeated and humiliating forced medical procedures.
Tuesday, October 22, 2013








Retirees could face pension cuts under plan being considered by Congress
(8 comments) Continuing to attack pensions and thereby promoting these vastly inadequate personal accounts that are speeding the U.S. toward a generation of elders living in dire poverty, is a disaster waiting to happen. Unfortunately, if Congress weakens pensions, the disaster may not have to wait that long.
Thursday, October 10, 2013








In pouting op-ed, Eric Cantor complains the mean black man is not giving Republicans enough respect
(5 comments) The party of white southern men has got a monumental bug up their ass about how they are not being respected by the first non-white president ever given the ability to make executive nominations and waivers and rules and by their God, they are not going to reopen this government until he learns his place.
Sunday, October 6, 2013








The Return of the 19th Century
(9 comments) A friend once told me that the wealthy elite didn't want to just "roll back" the New Deal, they wanted to roll back the entire 20th Century. His point was that all the social gains of the 20th Century were granted to us in order to combat global communism, and that with the collapse of communism the wealthy elite are going it take it all back.
Wednesday, September 18, 2013








Under Republican plan, 3.8 million would lose food stamps in 2014
Taking $90 out of a Supplemental Nutrition Assistance Program allotment that already only lasts most families two and a half weeks is in itself cruel -- and, from the most coldly financial perspective, shortsighted -- since forcing people to eat more cheaply means increased risk of diabetes and other chronic conditions that will raise health-care costs for the nation.
Sunday, September 15, 2013








The New New Left Is Coming
(19 comments) If the state of things has gotten you down, this may pick you up.
Sunday, September 15, 2013








Update: Is there a media blackout on the fracking flood disaster in Colorado?
Oil and gas wells drilled in a flood plain are under water and leaking in Weld County Colorado. There is at least one pipeline that broke as the dirt supporting it was washed away. Hydrocarbons and no telling what else are leaking into the flood waters yet the media is silent.
Sunday, September 1, 2013








Obama does right in going to Congress; Congress must do right
(2 comments) President Obama deserves kudos for going to Congress, to seek approval for military strikes against Syria. This country has a long, bloody history of military actions that were not authorized by Congress. But Congress must do the right thing, and tell him "no."
Saturday, August 31, 2013








Daily Kos: Fox News ignores elephant in the room: Wonders what's happening to Florida's beaches
(4 comments) Fox News ignores elephant in the room: Wonders what's happening to Florida's beaches
Saturday, August 24, 2013








Underneath the Tip of the NSA's "Iceberg" (Part I of II): WSJ Confirms Whistleblowers' Reports
(1 comments) Daily Kos: Underneath the Tip of the NSA's "Iceberg" (Part I of II): WSJ Confirms Whistleblowers' Reports
Monday, August 19, 2013








The King No Longer Walks Among His People
(6 comments) A craft project, a kitchen injury, mass school closings: three incidents with a surprising common theme.
Tuesday, August 13, 2013








The real reason for the GOP's all-out war on Obamacare
(9 comments) At its core, the Republicans' scorched-earth opposition to Obamacare has never been so much about "freedom" or "limited government" or any other right-wing ideological buzzword as it has been about political power, pure and simple. Now as for the past 20 years, Republicans have feared not that health care reform would fail the American people, but that it would succeed.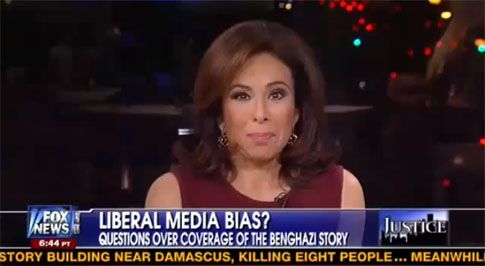 Friday, August 9, 2013








15 things everyone would know if there were a liberal media
(2 comments) as a liberal, I'd like to go on record and state that the media isn't focusing on issues I care about. They seem to be far more focused on entertainment and making money. Don't believe me?
Thursday, August 8, 2013








CNN's Dr. Sanjay Gupta does an about-face on marijuana
(10 comments) It's not often you see someone as high profile as Dr. Sanjay Gupta change their mind on such a polarizing topic as marijuana. Back in 2009, he penned an op-ed for Time Magazine declaring he had researched the effectiveness of medical marijuana, listened to both sides of the debate, and decided he would vote no on pot (Time Magazine paywall). This morning he's apologizing and announcing he's completely changed his mind.
Thursday, August 1, 2013








Montana Experiment Brings NHS-Style Health Care to USA; Saves State Millions, Patients Delighted
(1 comments) Daily Kos: Montana Experiment Brings NHS-Style Health Care to USA; Saves State Millions, Patients Delighted
Tuesday, July 23, 2013








No place for principled lefties
(6 comments) The victory represented by the election of Barack Obama was also a tragedy, as it turns out. The sellout was predictable, perhaps inevitable but was surprising in its swiftness and completeness. From day one it was clear that we'd been had. The 1% neocon/neoliberal cabal wasted no time asserting itself through their new spokesperson. President Obama, as presidents do, made his loyalty to the empire evident.
Friday, July 19, 2013








Obama's Endorsement of (NYC Police Commissioner) Ray Kelly (as next DHS Head) Is Stunningly Tone Deaf and Troubling
(4 comments) Earlier this week, President Obama endorsed New York City police commissioner (and stop-and-frisk champion) Ray Kelly as a worthy candidate to succeed Janet Napolitano as head of the Department of Homeland Security. given the racial profiling which Kelly so cherishes of black and Latino citizens, Obama's endorsement of Kelly is strangely "tone deaf" and troubling.
Sunday, July 14, 2013








Republicans spur progressive movement in Texas
Republicans have done a humongous favor to the progressive movement in Texas. There have always been progressives in Texas, from President Lyndon Johnson to Gov. Ann Richards. Rick Perry and his Republican cohorts overreaching will be seen going forward as the rebirth of the progressive movement in Texas.
Sunday, July 14, 2013








Walking While "Tan:" 16 yo Son Trailed
(6 comments) After partial recovery from a sports injury, the writer's son's doctor told him to exercise, so he decided to take a walk in his neighborhood. It was his place in the whole wide world, with all the happy, warm, and secure feelings a child attaches to their home . However, on this day as he walking through his neighborhood, he noticed that whereever he went, a woman in Mercedes seemed to be whereever he was.
Sunday, July 7, 2013








Here's what happens when someone wants to use your "public" info to intimidate you. (Updated)
(17 comments) Daily Kos: Here's what happens when someone wants to use your "public" info to intimidate you. (Updated)
Tuesday, July 2, 2013








The Voting Rights Act Decision may be the worst Thing Ever - For Conservatives
(2 comments) As we all know the GOP is demographically doomed, and that their efforts at outreach to minority constituents are pathetic and laughable. But here's the thing. One of the biggest motivations for minority turnout in the last election wasn't just the fact that Barack Obama was again on the ballot - it was also in defiance of the outrageous attempts to disenfranchise people from the Vote
Monday, July 1, 2013








Ed Snowden Reveals His Nuclear Option
(4 comments) It seems that Ed Snowden has guaranteed that he will not be silenced - or, rather, that the information he gathered on the NSA's (constitutionally-questionable) spying activities will not be buried. No matter what happens to him, the info will be made public.
Sunday, June 23, 2013








German magazine Spiegel says "Obama's Soft Totalitarianism: Europe Must Protect Itself from America"
(14 comments) Quote from Der Spiegel: "Is Barack Obama a friend? Revelations about his government's vast spying program call that assumption into doubt. The European Union must protect the Continent from America's reach for omnipotence."
Friday, May 24, 2013








It's Elizabeth Warren 2016, or the Same Old sh*t
(4 comments) recently fierce consumer advocate and needler of banks Sen. Elizabeth Warren (D-Mass.) called out Wall Street regulators for their habit of giving tepid punishments to misbehaving banks, and asked the agencies to justify their policy of settling with the wrongdoers out of court.
Wednesday, May 15, 2013








No, Facebook is Really Not Your "Friend"
(1 comments) The wonders a concerned billionaire can work in a mere month! It seems like only yesterday (March, exactly) that the Facebook wunderkind was hosting fundraisers for Chris Christie and musing about dipping his toes into the warm, inviting political waters to which all billionaires are drawn, if only by their consciences and an acute understanding of their own importance.
Saturday, May 4, 2013








Democratic party corruption and marijuana legalization
(3 comments) How is it that it was Democrats all squeamish in Kentucky recently over fricking hemp legalization? Because police and other traditional Democratic special interests own them of course.
Monday, April 29, 2013








The Reinhart and Rogoff Errors Discredit the Obama Administration and Austerity
(5 comments) ...a statement that bugs me a lot lately and that statement is that this was the go to analysis for the Republicans as if Democrats have never referred to it in any way. I'm here to say that is complete BS and we know this now. The Sequester created by the WH and passed in a bipartisan way, was based on Reinhart and Rogoff's BS analysis about scary long term debt to GDP ratios like their offer to cut Social Security
Sunday, April 7, 2013








In the time it took Adam Lanza to reload, 11 children escaped.
(11 comments) "We learned, the way that no other parents should learn, that the most dangerous, dangerous part of an assault weapon is the magazine," Nicole Hockley, whose son Dylan, 6, was killed Dec. 14, said at a press conference with other parents at the Capitol Monday morning.
Tuesday, February 26, 2013








The Dizzying Ways the Sequester Will Screw Us Over
(3 comments) The potential impact of the sequester is dizzying, taken state by state or nationally. From federal workers losing as much as 20 percent of their pay to travelers facing airport delays, the sequester's effects will be felt far and wide if Republicans keep holding the economy hostage to keep tax loopholes for wealthy people and corporations wide open.
Monday, February 18, 2013








Boomers vs. Millennials... and the economy
You're starting to see a lot of ink getting spilled on the pages of magazines about the generational conflict. Generally the articles are so vague they are useless. However, there is one common thread they all talk about: the economy and who has it tougher.
Monday, February 4, 2013








Karl Rove takes on the Tea Party with new Super PAC
(3 comments) The Country Club wing of the Republican Party is fed up with the antics of Tea Party. Tea Party candidates are winning primaries, knocking off incumbents, and then going on to lose disastrously in the general election to Democrats. This has cost the GOP dearly... Karl Rove has stepped forward to undermine the Tea Party's out-sized leverage within the Republican Party and over elected officials.
Saturday, February 2, 2013








Implosion at the Vatican - One Can Only Hope
(2 comments) Two Vatican experts have used the word "implosion" to describe the current state of affairs at the Holy See: Robert Mickens, Vatican correspondent for The Tablet published in Britain, and Massimo Franco, a veteran political writer for Corriere della Sera, Italy's most prestigious daily newspaper, who said there are "conflicts within the Vatican "worthy of the epoch of the Borgias'". There's a palpable sense of fin du régime
Thursday, December 27, 2012








David Koch fights Sandy relief
(7 comments) David Koch is competing with Wayne LaPierre for being the craziest Scrooge this holiday season. Koch's crusade is denying Sandy victims any emergency relief. Any relief. All relief. Suck it up, victims. That's easy for one of the world's richest men to say.
Sunday, December 16, 2012








I have been a gun owner for more than 30 years...
(17 comments) I hunt. Much of the meat that my family eats during the year comes from local wild game and I derive great satisfaction from the experience of hunting and the ability to feed my family locally sourced, organic, environmentally friendly game that I procure, butcher, and prepare myself. I have never joined the NRA. I have been invited many times but I was initially turned off by their absolutist position on gun regulation...
Friday, November 23, 2012








German reporter goes underground at Fundamentalist Christian Madrassa Patrick Henry College
(4 comments) Amrai Coen, a writer for the German weekly Die Zeit, wanted to visit Patrick Henry College, but the college administration refused her visit since the school had "bad experiences with foreign journalists." Undeterred, Amrai posed as a prospective student and showed up on campus on "Visitor's Day". Her piece on her experience that day provides a rare inside glimpse of life at America's Madrassa
Sunday, November 18, 2012








The Rush Limbaugh advertiser backlash is knocking down the radio networks
(39 comments) On Friday, November 16, Dial Global took a huge financial hit, resulting in the company voluntarily de-listing from NASDAQ. Dial Global's stock dropped by nearly 77 percent. The company identified three causes for its troubles, including "advertisers' response to controversial statements by a certain nationally syndicated talk radio personality in MARCH 2012."
Thursday, October 11, 2012








A Devastating Expose of Mitt Romney's Mistreatment of Mormon Women Emerges
(3 comments) a devastating expose of Mitt Romney's pattern of behavior of callous and disrespectful treatment of women, as well as Romney's use of psychological intimidation and bullying in his role as a Bishop of the Church of Jesus Christ of Latter-day Saints,
Tuesday, October 9, 2012








Devastating Cross Tabs Destroy the Pew Poll Favoring Romney Over Obama
(7 comments) the composition of the people polled in the PEW poll that shows Romney ahead by four points is VERY far from reality.
Thursday, October 4, 2012








Mitt Romney: Lying to victory
(16 comments) The results of Wednesday night's first presidential debate are in and it's official: Mitt Romney won round one. He was aggressive, he was decisive, he delivered. Of course he also lied through his teeth for most of the debate. Romney lied:
Wednesday, September 26, 2012








UC Davis Settles Pepper Spray Lawsuit with Personal Apology From Katehi... and $1,000,000.
(3 comments) Each of the 21 student plaintiffs hit by pepper spray from Lt. Pike and his pepperkateers will be receiving $30,000, while other students will be able to receive up to $20,000. And $250,000 is to be paid out in legal fees, some to the ACLU which led the case.
Sunday, September 23, 2012








Craig Romney: My Dad Cheats And "That's What We Need in the White House."
(1 comments) Mitt and Ann Romney have raised their kids to believe that "severely" lying and cheating is equal to, as Craig Romney said: "hard work" and according to the Romney family, cheating and pathologically lying is the "type of determination, that we need in the White House."
Wednesday, September 5, 2012








Video: A Real Democrat Gives One of the Best, Most Kick-A** Political Speeches I've Ever Seen!
(1 comments) Andy Schmookler, a long time contributor to Opednews.com, is running in the 6th Congressional District of Virginia, a solidly "red" district currently MISrepresented by the abysmal Bob Goodlatte - or as I call him BADlatte. No, this race isn't on the DCCC target list or anything, but Andy's a great guy and this speech totally rocks!
Monday, August 20, 2012








Remember Phila's racist swim club? Here's how the story ends.
(1 comments) remember the story of Valley Swim Club, in the Philadelphia suburbs. Having contracted with a local summer program to let its campers use the pool one day a week in 2009, it rescinded the contract after the Black and Hispanic kids' first visit. As one camper recounted, "I heard a white lady say, 'What are all these black kids doing here? They might do something to my child,'" The wheels of justice ground slowly but well.
Sunday, August 12, 2012








How Occupy has defined the election
(2 comments) The Occupy Movement is quickly becoming an essential component of the progressive Village. But it takes more than a grassroots movement. It takes electoral activism and, yes, responsive politicians. Enter the Occupy Movement. The makings of a functional progressive village seems to be, possibly, in our future.
Sunday, July 15, 2012








Unions focus on grassroots organizing, not helping the Democratic National Convention make ends meet
For some unions, refusing to give in 2012, let alone at the levels they did in 2008, is in response to the DNC's location in anti-union North Carolina. It represents a desire to shift resources away from Democratic Party support and into grassroots organizing, including promoting a "Second Bill of Rights" and a rally in Philadelphia on August 11.
Saturday, June 9, 2012








Obama: 'Congress Must Act to Keep our Teachers on the Job'
Continuing to call on Congress to pass the jobs bill he proposed last September, this week President Obama focuses on what his bill would mean for teachers. He asks Republicans to do the impossible: the right thing.
Monday, May 28, 2012








The stunning truth about healthcare pricing
(1 comments) Healthcare costs are neither realistic nor consistent. Americans purchase insurance with the expectation of getting reduced out-of-pocket healthcare costs, but instead pay more than they would if they just paid cash -- sometimes, much, much more.
Saturday, May 19, 2012








Catholic bishops threaten to sue for their right to hate lady parts
(4 comments) The bishops got their puppets in Congress to introduce bills on their behalf -- which the American people overwhelmingly opposed. They even got themselves invited to the boys-only congressional hearing on birth control -- because who understands birth control better than a bunch of supposedly celibate men?
Thursday, May 17, 2012








James O'Keefe's 'dead' North Carolina voter not dead yet
You'd think at this point James O'Keefe would have been burned enough to either do his homework better, or leave out the stuff that it's so easy to catch him lying about. Of course, if he were actually committed to telling the truth, I guess there wouldn't be anything to put in any of his videos. Because, outside of his stunts, voter fraud doesn't really happen.
Friday, April 20, 2012








Zimmerman's Wife Admits Z Used Self-Defense Excuse Years Ago
(18 comments) Testimony by Zimmerman and his wife reveal deception and confirm previous alibis in play.
Thursday, April 19, 2012








ALEC Sends Out an SOS to Breitbart Bloggers
(2 comments) Shortly after issuing a press release announcing that it was disbanding its "Public Safety and Elections Task Force" after 30 years, theAmerican Legislative Exchange Council (ALEC) held a training for the right-wing blogosphere.
Thursday, April 19, 2012








A Tea Partier Just Called Me "Communist." Watch My SLAM DUNK Response
(12 comments) So I'm working this morning, like I do everyday, trying to come up with ways to promote my film, when I get this email from a guy who used to call my radio show over in Jackonville. His name is Rod, and here's what he sent. Rep. Allen West states that 81 Democratic House members are communists. A CPUSA official is outraged & I agree. Isn't every Democrat a communist? I wasn't getting a whole lot done, so I figured..
Wednesday, March 21, 2012








Bloomberg Bans Food Donations to Homeless Shelters
The Bloomberg administration is taking the term "food police" to new depths, blocking food donations to all government-run facilities that serve the homeless. The Department of Homeless Services recently started enforcing new nutritional rules for food served at city shelters. Since DHS can't assess the content of donated food, shelters have to turn away good Samaritans...
Monday, March 19, 2012








Groups backing reproductive freedom, including candidate-backer EMILY's List, see funding surge
The increased visibility of the right-wing war on women's reproductive rights is generating significant increases in funding, according to leaders of organizations such as EMILY's List and Planned Parenthood. The 27-year-old EMILY's List is dedicated to electing pro-choice Democratic women to office
Wednesday, March 7, 2012








Republicans losing lady voters. Gee, no one saw that coming!
(7 comments) After spending a solid year trying to pass laws to ban women's health care, redefine rape, protect the "religious liberty" of hospitals that would prefer to let women die rather than provide necessary health care to them, Republicans weren't certain they'd made it clear just how anti-woman the party is. So they decided to turn the dial to 11 by attacking basic health care as a violation of their "religious liberty."
Thursday, March 1, 2012








Fannie Mae Slaps The SEC
Fannie Mae's latest financial disclosures belie the SEC's allegations against former company executives. The government lawsuit claims that the company understated its "true," holdings in subprime and Alt-A mortgages back in 2007-2008. Yet four years later, Fannie still refuses to change the way that it calculates and reports its exposure to subprime and Alt-A mortgages.
Thursday, March 1, 2012








"Americans For Prosperity" Co-opts "Occupy" Name
(3 comments) Koch Brothers' Americans for Prosperity plans fake "Occupy" event. Occupy NH is not amused and plans to Occupy the fake Occupiers.
Wednesday, February 29, 2012








Santorum's attack on college education is no joke
When Mitt Romney attacks "liberals" for questioning his many homes and cars as showing they are "jealous of success," and Romney, Santorum and many others attack the Occupy Wall Street movement for questioning what the 1 percent has done to America, they are making it clear they like the way things are and they intend to keep it that way.
Thursday, February 23, 2012








Huzzah! Virginia puts 'personhood' bill on hold until next year
Two happy surprises in two days. First the requirement for pre-abortion transvaginal ultrasound gets shot down and now this: Personhood bill dead in 2012.
Saturday, February 11, 2012








An open letter to Occupy Wall Street, lose the masks
(3 comments) I am asking you to lose the masks. When we put our faces out in the world we put a face on human suffering and economic exploitation. The issues can not have a human face if the people fighting for those issues hide behind masks. When we take off our masks we are stronger. The violence that has plagued Occupy Wall Street can not be ignored. That violence has largely been committed by people in masks.
Thursday, February 2, 2012








Anonymous Finds Ron Paul under Supremacist Rock
(14 comments) Twitter is a atwitter this evening with the news that the hacker group Anonymous mounted an attack against a series of White Supremacist groups, generally smashing, exposing, and defacing the sites. That in itself is at a minimum, worthy of note, but the kicker is what they found at one of the sites.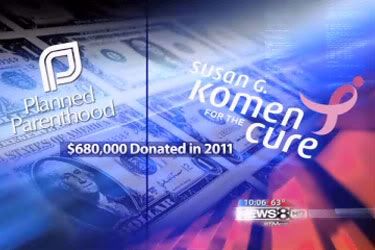 Thursday, February 2, 2012








The Cancerous Politics and Ideology of the Susan G. Komen Foundation
(1 comments) This week it became clear there are things more important to the Susan G. Komen Foundation--the fundraising giant that each year during breast cancer awareness month virtually swathes the United States in pink, a la Christo--than ensuring women are able to access exams for early detection of breast cancer. In a word: Politics.
Wednesday, February 1, 2012








Susan G. Komen for the Cure caves to anti-choicers, stops funding Planned Parenthood
(2 comments) For many low-income women, Planned Parenthood is their only source of health care. By caving to the anti-choice extremists who are determined to put Planned Parenthood out of business, Susan G. Komen for the Cure is essentially telling low-income women they're better off dying of cancer than having access to the screening and prevention that saves lives.
Tuesday, January 24, 2012








Why You Should Care About What is Going on in Tucson
(1 comments) Look. America cannot make the best of the 21st century and reach whatever potential might be there to reach by 2100 unless as a country, we learn to face reality. We have issues. The business of getting it together and trying to progress is the business of seeing clearly...
Saturday, January 21, 2012








RNC Decides to Finish Destroying Democracy - Citizens United on Steroids
(5 comments) Republican National Committee Files Brief Seeking To Allow Corporations To Donate Directly To Campaigns. This law would mean that a corporation like Citibank could write a check to Mitt Romney or Newt Gingrich for $5 billion and no one could do anything about it. This is Citizens United on steroids.
Friday, January 20, 2012








16 year old girl threatened by Christians with beatings and worse
(11 comments) In Cranston, Rhode Island, 16 year old Jessica Ahlquist, a student at Cranston High School West, filed suit back in April along with the American Civil Liberties Union objecting on First Amendment grounds to a prayer banner hung in that school's auditorium.
Thursday, January 19, 2012








Hedge Funds Have Human Rights Too
(2 comments) Hedge funds have been known to use hardball tactics to make money. Now they have come up with a new one: suing Greece in a human rights court to make good on its bond payments. The novel approach would have the funds arguing in the European Court of Human Rights that Greece had violated bondholder rights[.]
Wednesday, January 18, 2012








New Polls: Economy Still Bush's Fault, GOP Responsible For Gridlock
(2 comments) We've written for quite some time that the longer Obama is in office (and the longer Bush is out of it), the more likely it is that blame for the economy would shift toward him. But, these numbers suggest -- gasp! -- we were wrong.
Wednesday, January 18, 2012








NSA buŸllshitt: Refusing to Return Whistleblowers' Computers
(1 comments) You'd think after the malicious classification chicanery in the Drake case, the Justice Department and NSA would have learned their lesson. They didn't...
Tuesday, January 17, 2012








Billionaire Funds Santorum Run; Call Koch Brothers A "National Treasure"
(1 comments) I for one am delighted to have our elections decided by people with ungodly amounts of wealth. That way I don't have to worry about which candidates are successful and which are not.
Tuesday, January 17, 2012








Wisconsin Gov. Scott Walker Begs New Yorkers To Protect Him From Out-Of-State Forces
Walker has repeatedly slammed the influence of out-of-state money in the recall effort against him, and also repeatedly claimed that his "reforms" are helping the Wisconsin economy. So, naturally, on the day that one million recall signatures are filed against him, he is in New York City collecting money from the founder of the Wall Street group that played a key role in crashing the worldwide economy.
Sunday, January 15, 2012








Overton Window on Mortgage Walk Away Moving, Banks Scared
(5 comments) the percent of mortgage defaults by folks who could afford their payments rose from 22% to 30 percent.
Friday, January 13, 2012








Occupy Wall Street and the Scent of Revolution
(8 comments) Loss of patience by the masses means the force of change has been unchained; there is no longer the weight of mass disapproval damping down the protests. When the power elite see the masses slip away from them, they know they are down to their own resources: police and army.
Sunday, January 8, 2012








Meet Foster Friess, Billionaire who Bought Iowa for Santorum
(9 comments) Foster Friess. The Wyoming born-again billionaire mutual fund manager has been lauded by the Koch brothers at their 2011 secret shindig for giving more than $1M to Koch-friendly causes. Never heard of him? That's the way he's wanted it. After Rick Santorum's huge pop in Iowa, though, a flashlight into the cockroach-infested giving of the SuperPACs to Santorum's campaign flushed him out of the shadows.
Saturday, January 7, 2012








UH-OH! The Tea Party + OWS alliance that the banksters were $hitting themselves over has arrived
(2 comments) Remember that memo that leaked out of Wall Street a while ago where they said the thing banksters fear more than anything else was an alliance between the Tea Party and Occupy Wall Street? Well, it is happening, and it is going to turn into the perfect storm, and that perfect storm is headed straight for a Wall Street Millionaires' yacht, The S.S. Mittens.
Thursday, January 5, 2012








Republicans continue Richard Cordray appointment hissy fits, with one exception
If you need any evidence to demonstrate what a baldly political sham the Republican fight against Cordray -- against all of Obama's nominees -- is, it's this defection by Brown. Because it's not really a defection; his leadership is absolutely allowing it, because they want to keep that seat. Pretending like he, too, cares about working families is his only hope.
Tuesday, January 3, 2012








Rick Ungar: More Proof Big-Profit Insurers Doomed; Single Payer Coming Sooner Rather Than Later
(6 comments) As many of you who follow health care issues are probably aware, Forbes Columnist Rick Ungar recently garnered national attention for his argument that the Affordable Care Act MLR rules will lead to the death of the for-profit, bloodsucking, health insurance industry sooner rather than later. Well, today, he's back with some more evidence, and let's hope he's correct:
Saturday, December 31, 2011








Got AIDs? Your fault, says Ron Paul. Boss can't keep his hands off you? Switch jobs, says Ron Paul
(20 comments) Only by ignoring all his other odious points of view, offensive, disgusting, hate-filled points of view, can Ron Paul be defended. To ignore those is to condone racism, homophobia, anti-semitism, 1%erism, anti-environmentalism, victim-blaming, social safety net-shredding and conspiracy-mongering.
Monday, December 19, 2011








Ron Paul takes lead In Iowa, Newt Gingrich falls off cliff
(49 comments) PPP's tracking poll finds a new leader in Iowa: And Nate Silver's model now forecasts a Ron Paul victory:
Sunday, December 18, 2011








How the GOP stole America
(23 comments) If you listen to the news, you might think we went on a spending spree. You might think we shoved fresh billions into social programs, or gave fat pay raises to government workers, or that there's been some huge expansion of the government bureaucracy. That's not quite what happened.
Thursday, December 1, 2011








Eric Cantor Trying to Negotiate Year-end Trigger Bargain
(1 comments) This is really nothing more than an effort by Republicans to change the subject from taxes. They're sustaining some real damage from their insistence on protecting the rich from tax hikes, and are looking for any way to divert attention from that issue and to change the narrative.
Thursday, December 1, 2011








Nests of Snakes Revealed: A Story of Fear, Intimidation and Threat in Walker's Wisconsin
(15 comments) Though I had never met Mary before, I messaged her when I saw that some rightwing Walker support groups had published her home address and phone number on Facebook. They've posted her private info five times since summer, and have relentlessly harassed her. What follows is a chilling story of bullying, implicit physical threat, and coordinated intimidation.
Friday, November 18, 2011








Unions and progressive groups launching 'Occupy Congress'
(4 comments) The occupy movement is morphing and changing in creative, powerful ways. A coalition of unions and progressive groups including the SEIU, the Communications Workers of America (CWA), the Center for Community Change and others is launching "Occupy Congress": "Thousands of people have signed up to come to Capitol Hill during the first week in December,"
Tuesday, November 15, 2011








Breaking: Homeland Security, FBI, Others Advise Coordinated Occupy Crackdowns
(8 comments) Over the past ten days, more than a dozen cities have moved to evict "Occupy" protesters from city parks and other public spaces. As was the case in last night's move in New York City, each of the police actions shares a number of characteristics. And according to one Justice official, each of those actions was coordinated with help from Homeland Security, the FBI and other federal police agencies.
Monday, November 14, 2011








Denial of Service Attack Takes Down United Wisconsin's Recall Walker Website! Updatex2=Recall Polka
(1 comments) The source of this attack is not fully known. However, we are reporting this to the FBI and Wisconsin Attorney General, and taking all the steps we can to ensure this does not happen again.
Monday, October 24, 2011








Republican's Score On Job Creation Is...zero!
Stonewalling the President's program, and offering none of their own, gives Republicans a zero score on job creation legislation. And America is the loser.
Thursday, October 20, 2011








Tsa Arrests Me For Using The Fourth Amendment As A Weapon (Tales From The Edge Of A Revolution #2)
(2 comments) I wonder what will happen if I read the Constitution next week when I have to come back. I wonder, briefly, what Ben Franklin or Thomas Jefferson would say, if they knew it was a sign of terrorism to recite the Bill of Rights.
Thursday, September 22, 2011








House Republican leadership scrambling after yesterday's budget defeat
(3 comments) The stunning defeat yesterday of the Republican House leadership's continuing resolution has made for a sticky wicket for Speaker John Boehner. To recap: the government will run out of operating money at the end of September, so this continuing resolution has to be passed, and next week Congress is supposed to be out in order to accommodate the Jewish high holidays.
Sunday, September 11, 2011








Wisconsin official tells DMV employees to 'refrain from offering' information on free voter IDs
What the state of Wisconsin is doing here is, at best, very close to instituting a poll tax. Wisconsin officials are effectively trying to trick citizens into thinking they must pay a fee to the state in order to vote.
Saturday, August 13, 2011








Republicans directly to blame for S&P credit downgrade
(9 comments) It is now becoming readily apparent that yes, rational policy makers, economists, and business leaders do very much resent the moronic stances of the current Republican Party, and have no particular interest in seeing them continue.
Thursday, July 28, 2011








The Power and Failure of Coercion
(2 comments) When my daughter Jessica entered the same school system where I had spent my career as a teacher--my hometown school system as well--I was faced with the challenge of how to balance my role as her father with being a colleague of the teachers she encountered over twelve years
Tuesday, July 26, 2011








VIDEO: WI DMV Tells Boy His Bank Account Doesn't Show Enough "Activity" To Get a Voter ID
A video has surfaced of a boy trying to get one of the new Wisconsin Voter ID's that were ushered in by the signing of new a voting law in the state. Shot by the boy's mother with the clear intention of indicting the process, the video shows the pair going from station to station at the DMV, asking all of the right questions as to why there are so many hurdles to acquiring this constitutionally guaranteed ID card.
Monday, July 18, 2011








Fmr. Fox News Executive: Americans' Phones Were Hacked
(4 comments) "Has Roger Ailes been keeping tabs on your phone calls?" That's how Portfolio.com began a post back in 2008, when a former Fox News executive charged that Ailes had outfitted a highly secured "brain room" in Fox's New York headquarters for "counterintelligence" and may have used it to hack into private phone records.