Articles Listed By Date List By Popularity
Page 1 of 2 First Back Next 2 View All
Sunday, June 21, 2015 (2 comments)









A Fitting "Life Penalty" for the Charleston Murderer The cries for the death of the Charleston murderer are already mounting. But we can do better.
Sunday, June 7, 2015









'San Andreas' Blockbuster Has Huge Radioactive Omissions Acknowledgement that the actual San Andreas could turn Diablo Canyon nukes into a seething heap of radioactive rubble could have been mentioned in the blockbuster San Andreas
Monday, April 13, 2015 (2 comments)









Randy Hayes: 9 Planetary Boundaries to Ensure a Healthy Planet Nine great Planetary Boundaries. If we work hard enough, they just might help us survive "
Wednesday, April 1, 2015 (1 comments)









How Ohio's Energy Economy Became a Radioactive 19th Century Relic Today Ohio's fossil-fueled, landlocked capital city is the western world's largest with neither internal commuter light rail nor access by passenger train service from anywhere else. After being at the cusp of major solar & wind power advances, the state has all but killed the prospects for any large new green energy projects. The state may now miss one of history's biggest and most profitable technological transformations
Sunday, March 29, 2015 (4 comments)









36 Years of Three Mile Island's Lethal Lies ...and Still Counting The lies that killed people at Three Mile Island 36 years ago on March 28, 1979 are still being told at Chernobyl, Fukushima, Diablo Canyon, Davis-Besse " and at TMI itself. As the first major reactor accident that was made known to the public is sadly commemorated, and as the global nuclear industry collapses, let's count just 36 tip-of-the iceberg ways the nuclear industry's radioactive legacy continues to fester:
Tuesday, February 24, 2015 (1 comments)









Landmark Federal Court Decision: Will It Speed Diablo Nuke's Demise? In a rare move, Washington DC's Federal U.S. Court of Appeals will hear a landmark challenge to their continued operation.
Tuesday, January 20, 2015 (2 comments)









Ohio's Anti-Green Suicide The Ohio Public Utilities Commission may soon gouge the public for $3 billion to subsidize two coal burners and America's most dangerous nuke
Tuesday, January 13, 2015 (4 comments)









Terror Attack on Charlie Hebdo Ignites Fear of Global Nuclear Disaster - EcoWatch The terror attack on the French magazine Charlie Hebdo must now face a terrifying reality: It's a horrible thing when an organ of free speech is assaulted and journalists die.
Monday, December 29, 2014









Activists Permanently Shut Down Vermont Yankee Nuke Plant Today Throughout the world, nukes once sold as generating juice "too cheap to meter" comprise a global financial disaster. Even with their capital costs long-ago stuck to the public, these radioactive junk heaps have no place in today's economy--except as illegitimate magnets for massive handouts.
Saturday, December 6, 2014 (28 comments)









The Brown/Garner Killings are about a Larger State of Official Terror we are all in the shoes of Michael Brown and Eric Garner. Those who think themselves somehow above it all by virtue of race or class are simply not paying attention.
Wednesday, November 5, 2014 (5 comments)









An Election---and a Nation---Lost in Afghanistan & Vietnam The GOP/corporate coup d'etat is nearly complete. The Republicans now control the major media, the Supreme Court, the Congress and soon the presidency. Think Jeb Bush in 2016.
Tuesday, September 23, 2014 (11 comments)









Gorgeous global march shows how to win the climate fight The magic of today's New York minute was its upbeat diversity, sheer brilliance and relentless charm.
Thursday, September 18, 2014 (19 comments)









Corporate Personhood Is the Ebola Virus of Climate Chaos But nothing truly lasting will happen until we eradicate the virus that's killing us all--the unrestrained corporate power over our lives and planet. The core engine of our economy must at last be made directly accountable to humankind and our Mother Earth.
Saturday, September 13, 2014 (2 comments)









Let's Bury King C.O.N.G. at People's Climate March The corporate beast that's killing us all draws its power from a lethal mutation with no basis in law or sanity. Without a free and open internet to bring it down, our struggle to survive is in serious jeopardy. We can win. But to do so we must preserve net neutrality, transform the corporation and bury King C.O.N.G. in the Solartopian compost heap.
Monday, July 21, 2014 (4 comments)









Fukushima's Children are Dying Some 39 months after the multiple explosions at Fukushima, thyroid cancer rates among nearby children have skyrocketed to more than forty times (40x) normal.
Tuesday, June 3, 2014 (3 comments)









News Flash: Fukushima Is Still a Disaster The corporate media silence on Fukushima has been deafening even though the melted-down nuclear power plant's seaborne radiation is now washing up on American beaches.
Wednesday, April 9, 2014









Fighting Our Fossil-Nuke Extinction Our choice is not between nuclear power and fossil fuels. Either is sufficient to kill us outright or strand us alone on a dead planet. We can no more survive on a planet burned and poisoned by fossil fuels than we can on one mutated and heated by atomic energy. Time is short and the two movements must make their peace. We have the means. Now we need the will.
Tuesday, April 1, 2014 (5 comments)









The Nuclear Omnicide Burning coal spews still more radiation into our air, along with mercury and other lethal pollutants. Fracking for gas draws toxins up from the earth's crust. Industry apologists say reactors can moderate the climate chaos caused by burning those fossil fuels. But fighting global weirding with atomic power is like trying to cure a fever with a lethal dose of X-ray. The larger biospheric clock is ticking. We need to act.
Thursday, March 6, 2014 (2 comments)









The USS Reagan Is Fukushima's Unlucky Dragon Fifty-seven years before the USS Ronald Reagan was swept with radiation from the Fukushima meltdown, a similar, terrible fate befell the crew of a small Japanese fishing boat called the "Lucky Dragon." - 2014/03/04
Thursday, February 27, 2014 (5 comments)









Documents Say Navy Knew Fukushima Dangerously Contaminated the USS Reagan A stunning new report indicates the U.S. Navy knew that sailors from the nuclear-powered USS Ronald Reagan took major radiation hits from the Fukushima atomic power plant after its meltdowns and explosions nearly three years ago.
Thursday, February 20, 2014 (6 comments)









Obama's Nuke-Powered Drone Strike on America's Fiscal Sanity So the "all the above" energy strategy now deems we dump another $6.5 billion in bogus loan guarantees down the atomic drain. Energy Secretary Ernest Moniz has announced finalization of hotly contested taxpayer handouts for the two Vogtle reactors being built in Georgia. Another $1.8 billion waits to be pulled out of your pocket and poured down the radioactive sink hole. A nuke-powered drone strike on fiscal sanity.
Monday, February 3, 2014 (8 comments)









50 Reasons We Should Fear the Worst from Fukushima This "see no evil, pay no damages" mindset dates from the Bombing of Hiroshima to Fukushima to the disaster coming next … which could be happening as you read this. Here are 50 preliminary reasons why this radioactive legacy demands we prepare for the worst for our oceans, our planet, our economy … ourselves.
Saturday, January 11, 2014 (20 comments)









Toll of U.S. Sailors Devastated by Fukushima Radiation Continues to Climb The roll call of U.S. sailors who say their health was devastated when they were irradiated while delivering humanitarian help near the stricken Fukushima nuke is continuing to soar. So many have come forward that the progress of their federal class action lawsuit has been delayed.
Monday, November 4, 2013 (9 comments)









Pro-Nuke Scientists Should Go To Fukushima The four scientists who have advocated more nuclear power as a solution to global warming should go to Fukushima. Atomic energy is a failed technology & the radiation now constantly gushing from that stricken site is already harming us all. The Tokyo Electric Power Company is incapable of handling this worsening crisis. The Japanese government must turn the site over to a global task force of the world's best scientists
Monday, October 28, 2013 (1 comments)









Robert Stone must film Fukushima now, before Japanese Censorship Kicks In We are in desperate need of documentary filmmakers at Fukushima. The Japanese government is about to pass a national censorship law clearly meant to make it impossible to know what's going on there.
Friday, October 18, 2013 (5 comments)









Thousands of Nuclear Regulators Sent Home During Shutdown All of this has hurt the nuclear industry. A long, drawn-out shutdown would have gone further, killing the re-licensing process and the endless flow of rubber-stamped regulatory exceptions on which the industry thrives. An unmanageable accident in the midst of this shorthanded mess would have been another chime in a chorus of death knells.
Wednesday, October 2, 2013 (3 comments)









The demand for a global take-over at Fukushima has hit critical mass The petitions circulating through the Internet ask that the United Nations take over. They ask the world scientific and engineering communities to step in. The signatures are pouring in from all over the world. By November, they will be delivered to the United Nations. The corporate media has blacked out meaningful coverage of the most critical threat to global health and safety in decades. The Rootsaction petition also ask
Saturday, September 21, 2013 (17 comments)









Humankind's Most Dangerous Moment: Fukushima Fuel Pool at Unit 4. "This is an Issue of Human Survival." Overall, more than 11,000 fuel assemblies are scattered around the Fukushima site. According to long-time expert and former Department of Energy official Robert Alvarez, there is more than 85 times as much lethal cesium on site as was released at Chernobyl.
Friday, September 13, 2013 (4 comments)









Five Ways a Wider Syrian War Could Go Nuclear Should DU weaponry be used yet again, this time in Syria, the contamination would be widespread and irreversible. Many thousands of innocent people -- including the countless unborn -- would suffer greatly. As with all radioactive fallout, the lethal effects will stretch through the generations.
Wednesday, August 28, 2013 (2 comments)









Dr. Hansen, We Need You at Fukushima and Diablo Canyon When you draw a line from Three Mile Island through Chernobyl and Fukushima, what comes next? At the very least -- before anyone spends time and money on still more atomic pipe dreams -- we need a unified global scientific community to put an end to the escalating radioactive horror that's with us now.
Friday, June 7, 2013 (3 comments)









Massive Grassroots Activism Victory: San Onofre Is Dead & So Is Nuclear Power From his California beach house at San Clemente, Richard Nixon once watched three reactors rise at nearby San Onofre. As of June 7, 2013 , all three are permanently shut.
Thursday, May 16, 2013 (2 comments)









Grassroots Activism Brings San Onofre to the No Nukes Brink In January, it seemed the restart of San Onofre Unit 2 would be a corporate cake walk. With its massive money & clout, Southern California Edison was ready to ram through a license exception for a reactor whose botched $770 million steam generator fix had kept it shut for a year. But a funny thing has happened: a No Nukes groundswell has turned this routine rubber stamping into an epic battle the grassroots might win
Monday, April 29, 2013 (1 comments)









Los Angeles to San Onofre: 'Not So Fast!' There is a deep-rooted public opposition to resumed operations at reactors perched in a tsunami zone near earthquake faults that threaten all of southern California & much of the Southwest.
Sunday, March 10, 2013 (12 comments)









Fukushima is already harming our children Thyroid abnormalities have now been confirmed among tens of thousands of children downwind from Fukushima. They are the first clear sign of an unfolding radioactive tragedy that demands this industry be buried forever.
Friday, February 15, 2013 (2 comments)









Our Atomic Dominoes Are Falling Every promise the nuclear energy industry has made---from "too cheap to meter" to "reactors don't explode" to "radiation is good for you"---has turned toxic. Green technology can save us from all this.
Monday, November 12, 2012 (1 comments)









An Election Protection Agenda for 2016 Winning all this will require the usual blood, sweat and tears of a long, hard national grassroots campaign. Since Florida 2000 and Ohio 2004, this movement has made great strides in exposing the corrupt nature of an all-too-vulnerable electoral system. But the hard work has just begun. If we are to live in a democracy, we have no choice but to win. So let's do it!
Friday, November 9, 2012 (1 comments)









Romney would have won if it had all come down to Ohio Had this election been closer,your media days would now be filled with breathless bloviators perched here in Columbus,searching for hanging electronic chads.We would be in the throes of yet another losing Constitutional crisis,courtesy of an Electoral College whose roots are in slavery,and electronic registration and voting systems that should have been abolished long ago.If any of that is still in place in 2016,shame on us.
Saturday, November 3, 2012 (2 comments)









Will America's 2012 Election Be Stolen? National Press Club, Monday, November 5 Press conference will focus on the ownership, programming, operation and management of America's electronic vote count, an on-going threat to the verifiability of our national vote count. Lisagor Room, National Press Club, 12:00 PM on Monday, November 5, 2012. With Green Party Presidential Candidate Jill Stein and authors of WILL THE GOP STEAL AMERICA'S 2012 ELECTION, Bob Fitrakis and Harvey Wasserman
Thursday, November 1, 2012 (3 comments)









Why we fight to prevent stolen elections in 2012 and beyond Pay very close attention to what happens in this election, following with a powerful social movement that will deliver real democracy to this country.Which candidate gets your vote is not our concern here.As Americans,we agree on one thing: all citizens must have their right to a ballot and to have it counted.In the long run,our one best hope for a sustainable future is the power of a fully enfranchised people.
Monday, September 24, 2012 (3 comments)









Will 9 GOP governors put Romney in the White House? Republican governors of the nine key swing states above have the power to flip the election without significant public recourse. Except for exit polls there is no established way to check how the official electronic vote count might square with the actual intent of the electorate. And there is no legal method by which an electronic vote count can be effectively challenged.
Thursday, September 6, 2012 (5 comments)









Will the GOP steal America's 2012 election? For those working on the 2012 election, and for democracy in general, it will take an extraordinary commitment to protecting the registered status of millions of Americans, getting them to the polls, guaranteeing their right to vote once there, and making sure there is an accurate vote count -- electronic and otherwise -- once those votes are cast.
Wednesday, August 29, 2012 (3 comments)









Murdoch's Journal pushes tragic Fukushima flim-flam No verbal contortions can ever cleanse what Forbes Magazine long ago branded "the largest managerial disaster in American history." No error-filled whitewash will ever convince our bodies that radiation is good for us. While Rupert Murdoch helps paint a happy face on a dying industry, we continue to pay with our money and our lives.
Friday, August 24, 2012 (28 comments)









Four Ways Ohio Republicans are Already Stealing the 2012 Election By purging registration lists, limiting voting times, messing with voter ID requirements and controlling electronic voting machines, the GOP has a huge leg up on winning what has often been America's key swing state. Clearly the Ohio GOP is once again geared up to deny the vote -- and vote count -- to as many Democrats as it can. If it succeeds, as it did in 2004, Barack Obama stands little chance of being re-elected.
Tuesday, August 7, 2012 (1 comments)









The devil STILL has us death dancing at Fukushima Our lives still hang by a Devil's thread at Fukushima. The molten cores at Units 1, 2 & 3 have threatened all life on Earth. The flood of liquid radiation has poisoned the Pacific. Fukushima's cesium and other airborne emissions have already dwarfed Three Mile Island, Chernobyl and all nuclear explosions including Hiroshima and Nagasaki.
Wednesday, August 1, 2012 (2 comments)









A Transcendant CSN (Crosby Stills and Nash) The power of music is one of the great unknowns in the human saga. For reasons we don't quite understand (yet) its vibrations can lift us to great heights, drop us down into deep depression, liberate us, make us joyous, help us grieve, and so much more. Thus its practitioners---the best of them---can rise to shaman status. They can speak to higher realities, lead us on political issues, arouse our spirits, calm our souls.
Monday, May 7, 2012 (3 comments)









The Nuclear Industry Has Melted in Japan and France Japan's stunning reality is that its gargantuan capital investment in more than 50 commercial reactors is now dead in the water. Likewise the demise of Nikolas Sarkozy: allies at France's nuclear-commited utility have been Europe's primary pushers of the "Peaceful Atom." Now his Socialist rival is running the country, backed by a constituency largely supportive of a green conversion to parallel the one in neighboring Germany.
Thursday, April 19, 2012 (8 comments)









Obama's Atomic Solyndra The future of nuclear power now hangs on a single decision by President Obama---and us. His Office of Management & Budget could cave to the unsustainable demands of reactor builders who cannot handle the standard terms of a loan agreement. Or he could defend basic financial procedures and stand up for the future of the American economy. There are virtually no private investors willing to back new reactor construction.
Friday, March 16, 2012 (5 comments)









Nuclear power's green mountain grassroots demise Signs of a popular uprising against rampant pollution---including nuclear reactors---indicate growing public opposition. But here in the US, we are at the fall-off-the-cliff moment for atomic energy, new and old. Entergy, has been "blinded by its arrogance and contempt for the state of Vermont." The company, she says, "is attempting to establish that corporations are more powerful than the states t hey operate in.
Tuesday, January 24, 2012 (7 comments)









Court to Vermont: "Drop Dead" In practical terms,this could mean that any corporation can bust any public trust on even the flimsiest pretext.Let the corporate lawyers find some pale excuse and the company can skirt its contractual obligations. In the hands of the supremely corporatist Roberts Court, this case could join Citizens United in a devastating one-two punch for the unrestrained power of the private corporation.It would also put the reactor beyond
Tuesday, January 3, 2012









2012 is the Year to Finally Bury Nuke Power The year 2012 has opened with news that Fukushima's radioactive cloud may already have killed some 14,000 Americans, according to a major study just published in the International Journal of Health Services. Germany and Japan, the world's third and fourth largest economies, along with numerous others countries, have definitively turned away from the "Peaceful Atom." But it hasn't yet been buried. That's up to us.
Sunday, November 6, 2011 (3 comments)









Will The 1% Steal Ohio's Labor Rights Referendum? Greg Moore, head of the NAACP's voting rights campaign, has said that Ohio's Issue 2 may be the most important vote in the entire US this year. He also points out that in 2004 the right wing used a vote against gay marriage to attract conservative voters to the polls. This year the Republicans have put a symbolic anti-Obamacare Issue 3 on the ballot to draw out the same reactionary elements.
Thursday, August 4, 2011 (1 comments)









Green Music Again Confronts Atomic Power Amidst a life-and-death struggle to finally shut the nuclear energy industry,the power of green music flows again this Sunday.It's also pouring over the Internet, as the historic all-day MUSE2 gathering is staged at the Shoreline Amphitheatre south of San Francisco,re-uniting Bonnie Raitt,Jackson Browne,Crosby-Stills-Nash, the Doobie Brothers,John Hall,Sweet Honey in the Rock and many more who'll sing to benefit Fukushima.
Thursday, July 28, 2011 (1 comments)









Don't Nuke the Budget! America's budget crisis has the world economy at the brink.Social Security, Medicare, aid for needy children, environmental protection & much more are being chopped.Yet Congress and the White House may still want to use our money to fund atomic power.Specifically, $36 billion in loan guarantees may still be on the table for building new nukes.Millions more are slated for "small modular reactors" and other atomic boondoggle.
Wednesday, June 29, 2011 (33 comments)









Fukushima Spews, Los Alamos Burns, Vermont Rages & We've Almost Lost Nebraska Humankind is now threatened by the simultaneous implosion, explosion, incineration, courtroom contempt and drowning of its most lethal industry. We know only two things for certain: worse is yet to come, and those in charge are lying about it---at least to the extent of what they actually know, which is nowhere near enough.
Wednesday, June 15, 2011 (4 comments)









Are We on the Brink of Burying Nuke Power Forever? The dream of a Solartopian future has become the capitalist present.Germany and Japan would not be committing to a green-powered future if its large corporations-Siemans, Enercon, Mitsubishi, Sharp-whose CEOs have run the numbers and decided nukes are a loser.And that the real profit center for the long-term energy biz is in green power.The $36 billion in loan guarantees Obama wants in the 2012 budget must come out.
Thursday, May 26, 2011 (7 comments)









Is Fukushima now ten Chernobyls into the sea? Fukushima is much closer to the ocean than Chernobyl,so more intense contamination might be expected.The high radiation levels being measured indicate Fukushima's most important impacts may be on marine life.The US has ceased measuring contamination in Pacific seafood.But for centuries to come,at least some radioactive materials dumped into the sea will find their way into the creatures of the sea & humans who depend on them.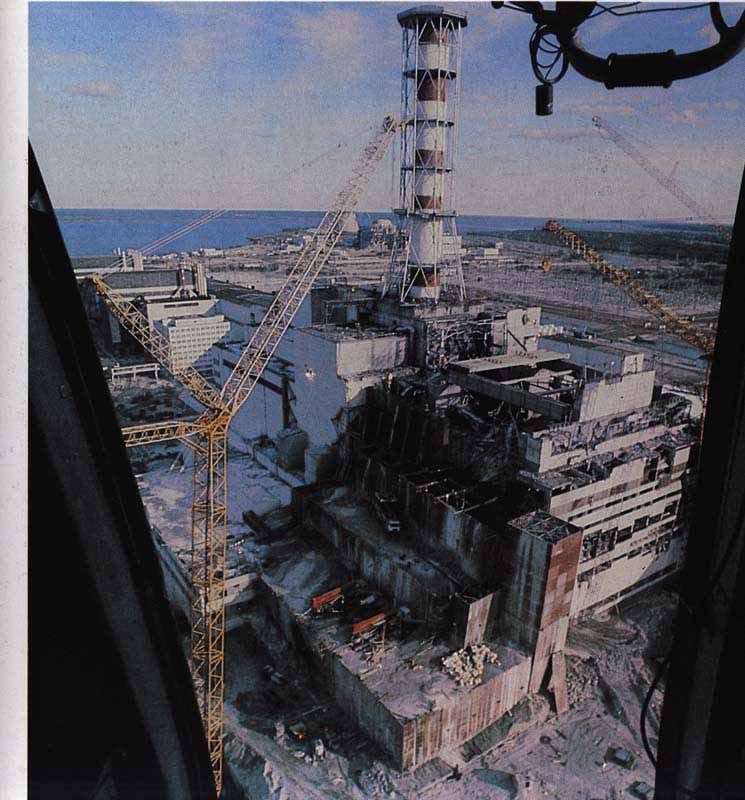 Thursday, May 26, 2011 (1 comments)









Is Fukushima now ten Chernobyls into the sea? Grim news: New readings show levels of radioisotopes found up to 30 kilometers offshore from the on-going crisis at Fukushima are ten times higher than those measured in the Baltic and Black Seas during Chernobyl.
Monday, May 23, 2011 (7 comments)









Fukushima's Apocalyptic Threat Demands Immediate Global Action Radiation pouring into the sea has begun to spread worldwide. Japan and Germany have had the good survival sense to abandon future reactor construction, and to shut some existing sites. But here, the corporate media blackout is virtually complete. Out of sight, out of mind seems the strategy for an industry desperate for federal loan guarantees and continued operation of a rickety fleet of decaying old reactors.
Wednesday, May 18, 2011









From Bonnie Raitt, Jackson Browne & Graham Nash: "We Are on the Brink" It's time we scrap the failed atomic power experiment.
Saturday, April 30, 2011









Will the Nuclear Power Industry Melt Down? A critical moment is coming soon, when Obama goes to Congress to request an additional $36 billion in loan guarantees for new nukes in his 2012 budget. With them, America's atomic industry has a chance to build a few more reactors. Without them, a green-powered Earth is within our grasp.