Articles Listed By Date List By Popularity
Page 1 of 2 First Back Next 2 View All
Friday, March 13, 2015 (1 comments)









Hillary Clinton, US Mining Thievery and the Female Butchers of Haiti Hillary and Bill Clinton "opened Haiti" as their private asset to liquidate. They used the State Department, USAID, the UN, the Private Military Security Contractors (PMSC), the US military, and the Fed's passport and visa issuance capabilities. They got kickbacks called "donations," from anyone who wished to buy their influence. Hillary's brother sat on the board of VSC mining that got a rare contract to mine Haiti gold.
Monday, March 2, 2015 (26 comments)









10,000 Haitians protest DR mistreatment and lynching Dominicans publicly beating a Haitian bound to a street pole, cars go by. No one helps. This sort of community barbarity is why Haiti had a revolution to abolish slavery. The savagery against Haitians is led by the United Nations and US-Euro. 10,000 Haitians protest DR mistreatment and lynching. militaries occupying Haiti by force for over 11-years. They embolden these depravities. They embolden these depravities.
Friday, May 2, 2014 (5 comments)









Bring Back Our Girls: Rescue the 234 schoolgirls kidnapped by Boko Haram gunmen Unbelievable. 234 teenage girls are kidnapped from boarding school,put up for sale as sex-slaves for $12 each. No words are big enough to express this terrible outrage. If you're in New York, please join the rally to raise awareness, push for the rescue of these 234 schoolgirls in Nigeria. The missing Malaysian plane & racist Donald Sterling gossip drew more media attention than this urgent need to rescue & #BringBackOurGirls
Sunday, March 2, 2014 (3 comments)









Tourism is not development, Haiti Liberate Yourself! Tourism, an export economy, sweatshops & privatization of pubic assets to benefit the rich,are not development for Haiti. Local Ile a Vache residents say they want schools better roads, clean water, hospitals. Tourists resorts are fine but not if it means they'll be homeless, without food sovereignty or possibilities to build wealth.Tourist jobs don't bring wealth. Ile a Vache urgently call for world help to stop repression
Saturday, August 24, 2013 (2 comments)









In the Age of Obama: The Truth You Won't Hear at 50th Anniversary March on Washington Black Agenda TV-Glen Ford/Bruce Dixon: Discuss urgent issues of the day that will be truncated at the 50th anniversary March on Washington
Sunday, July 28, 2013 (84 comments)









George Zimmerman and How White Supremacy Works Zimmerman had benefits, privileges & choices of race- presumed "Americanism" Trayvon Martin could never have. Zimmerman "passed" as white for the benefits that provides in America's injustice system. The family dropped the identification with being part African-Peruvian. This strategy to uphold white gun- toting self-defense, along with the law allowing white fear to justify killing Black, let Zimmerman kill with impunity
Saturday, July 20, 2013 (17 comments)









For Trayvon: Obama a day late and a dollar short Obama's identification with Trayvon is good but falls short of the action circumstances demand.A child committing no crime was shot dead, then his corpse put on trial. The killer released. No Black woman's child is safe. Ezili Danto reMEMBERS Trayvon Martin, beloved native son flowing in the timeless power of the blood of the slaughtered African. Helpful links for undoing racism & four articles by whites to whites highlighted.
Monday, July 1, 2013 (2 comments)









US occupiers stealthily privatizing Haiti water: HLLN on Haiti cholera case against the occupiers The US overthrew Haiti's gov. in 2004 & Washington proclaimed the invasion a "humanitarian" enterprise. This,to cover up that Haiti's earth and waters are filled with gold and oil. The U.S.-controlled World Bank has volunteered to help rewrite the Haitian constitution to allow easier access for foreign extraction corporations.UN poisoned Haiti water now theirs stealthily privatizing it. Haitians must look out for themselves.
Sunday, February 24, 2013 (5 comments)









UN claims to be above the law, says its legal to kill 8000 Haitians with impunity With this announcement of absolute immunity, the UN and thus its employer, the US, has made legal history with "the Haiti exception" to international and national established laws. Basically saying it is legal to kill 8,000 and infect over 620,000 Haitians. That Haitians have no recourse to legal redress as a matter of UN and thus US "politics and policy?!"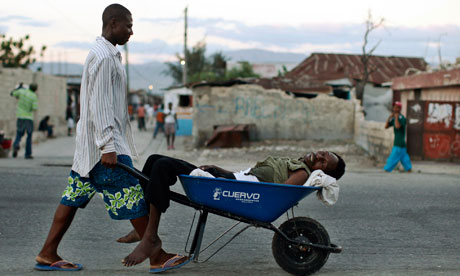 Saturday, December 22, 2012 (1 comments)









UN Capitalizing on Cholera in Haiti: playing the arsonists and the firemen The UN plays the role of both arsonist and firemen in Haiti's cholera epidemic. UN announces a rehashed 10-year plan for clean water that is unfunded.Kristof's white savior bridge characters, filled with conflicts of interests, declare cautious success.They help throttle justice for Haitians, put bandages on plunder, help prolong Black and indigenous world suffering. UN plans for Haiti are not solutions. The UN is the problem.
Tuesday, October 30, 2012 (5 comments)









Haiti: Brandt Busted as Clintons with Hollywood celebrate sweatshop Obama Sec. of State,Hillary Clinton & Bill Clinton with Hollywood celebrities, celebrate sweatshop opening in Haiti.Sad, exploited but dressed-up Haitians frame the Avatar Crew's feet at bottom. The privilege few projects its corruption, int'l crimes,environmental assaults on poor. For Clintons & their smiling Hollywood veneers,the utterly inadequate Caracol hoax is the grand height of "new & better reconstruction for Haiti."
Wednesday, July 4, 2012 (3 comments)









Haiti: If I could reach CNN's audience on the 4th of July Haiti sees capitalism/imperialism in all its nakedness.It's extreme of ugliness,filth&disease.On July 4th,if HLLN could reach CNN audience, we'd explain how slavery continues for most of global south through unfettered capitalism, humanitarian aid & wars to bring democracy & help.US occupation under UN guns brought deregulation/ privatization guru, Bill Clinton, as humanitarian to privatize (open) Haiti for big oil.
Thursday, May 31, 2012 (2 comments)









Washington Post cholera editorial wants more Haiti monies: What happened to $6 billion? Before Washington Post ask more money for Haiti relief go to NGOs, why not investigate where $6 billion collected donation dollars went? This push for nationwide inoculations barely a month after start of experimental vaccination is rash, dangerous, expressed without examining information on Shanchol side effects & efficacy.Vaccines detract from real solution,take monies away that should be use for clean water infrastructure.
Friday, May 18, 2012 (2 comments)









Haiti: The soul of Africa, not for sale There is less violence in Haiti than in Washington D.C., Brazil, Mexico, Columbia, Bahamas, Jamaica, Dominican Republic, Trinidad and Tobago, Honduras. Than in most of the countries in the Western Hemisphere.What's a Chapter 7, peace enforcement UN mission doing in Haiti?The longer the foreigners are in Haiti, the more the hunger, poverty, disease, violence. Trench town "development" is Obama/Clinton tourist hopes for Haiti.
Tuesday, May 15, 2012 (9 comments)









Not voting for Obama: We're not even buying a voting ticket to the show It's simply unforgivable on so many levels that Barack Obama went further than George W. Bush in denying human rights and social justice to US and world peoples. Ezili's HLLN will not be supporting Obama's reelection. We suggest conscious folks nix the political theater of the Republicans and Democrats, concentrate on local self-reliance, local community building, local people empowerment...
Wednesday, April 4, 2012 (2 comments)









HLLN analysis of Times' cholera article HLLN analysis of Times' cholera article.If New York Times applied the "follow the money" journalistic adage, the picture effortless falls into place. The Haiti truth, the names and credentials of who benefits from letting cholera ravage Haiti.As much as we see the effort for non-bias reporting, NYT still could not transcend what animates the Left-Right game of neutral imperialism and philanthropic white supremacy.
Wednesday, March 28, 2012 (2 comments)









Haiti: A time bomb which must be defused immediately The World bank & IMF contain the poor in war, poverty, disease so to save them with Paul Farmer pharmaceuticals, USAID tied-aid, the Clintons' subsidized Arkansas rice & Monsanto GMOs-hybrid seeds. No one wants to hear this when this is the age where Barrack Obama nominates Paul Farmer's partner, Jim Yom Kim, co-founder of what some from Haiti call "Partners in Death", to head the World Bankers fleecing Black & poor worldwide.
Tuesday, March 20, 2012 (2 comments)









Bill Clinton admits UN brought cholera, Haiti raped again Bill Clinton admits UN brought cholera to Haiti. Sidesteps UN accountability, blaming the disease on Haiti. Haiti raped again. It went from zero cholera cases to highest cholera rate in the world as the "charitable" foreign NGOs flourish behind guarded high gates. Poverty pimps living off the blood, gore and suffering. Lol, lol, lol -- they laugh on. Almost every other week, there's a report of a UN rep sodomizing Haiti boys.
Wednesday, January 4, 2012 (3 comments)









Haiti: Jan 1, 2012 Another Independence Day Under Occupation Jan 1, 2012 marks 208 years since Haiti abolished European enslavement, the Triangular Trade, forced assimilation/ethnic cleansing, direct colonialism & became an independent Black nation. Haitians have been stigmatized, forced to pay with their lives and freedom for that achievement ever since. How should Haitians mark this anniversary? Who should we confer with about our awesome burden, our plight, long struggle?
Wednesday, October 26, 2011 (1 comments)









Paul Farmer Relieves Himself On Haiti's Dying Cholera Victims Paul Farmer deflects UN responsibility for contaminating Haiti's water with cholera. Insist cholera vaccines purchases is answer to "eradicating" cholera in Haiti. Farmer, a total sellout continues to protect interests of the financial elite while posing as ultimate humanitarian. Tracy Kidder writes his press and PR in books. This essays points out vaccines are not Haiti's top health priority. Clean water and sanitation is
Monday, October 10, 2011 (3 comments)









Bill Clinton has more power in Haiti than Haiti's president: The holocaust continues Bill Clinton has more power in Haiti than Haiti's president: The holocaust continues...Too many have jobs, egos, power and prestige invested in the profit-over-people system to see that the current saviors of Haiti extend mostly the same narcissistic, cultural blindness and denials as the initial "missionaries/humanitarians" brought to Haiti in 1492.
Friday, September 9, 2011 (2 comments)









UN, Uruguay, and the Literal and Systemic Rape of Haiti The literal and systemic rape of Haiti. Deportation and MINUSTAH withdrawal is NOT enough. Innocent Haitians have a human right to a court hearing, trial & reparations for these gross and depraved UN injustices. UN cannot be above the law. The UN was not conceived & established as a colonizing power or a proxy for enslavers with blanket immunity & impunity for rape, spread of contaminable diseases and crimes against humanity..
Tuesday, May 17, 2011 (2 comments)









Haiti: Time to remember Kandyo, the Malfini and Mongoose US/UN False Benevolence in Haiti.Farmer was running for the Executive Director position at USAID that Rajiv Shah now holds. As the head of USAID, Shah, is being blasted about USAID 's failures. If Shah is a failure in Haiti, so is Farmer as Deputy UN Envoy - the consolation prize given by the Clinton/Obama Administration to Farmer when his nomination to head USAID did not fly.
Wednesday, May 11, 2011 (2 comments)









UN Responsibility to Haiti for Importing Cholera UN tear-gassed & shot dead Haitians accusing UN of bringing cholera killing people. Corporate media reported UN's side of story, called Haiti grievers "insurgents" demonstrating against UN to destabilize Haiti for political reasons. When world experts said cholera strain was South Asian, not Haitian, UN investigated itself & admit it brought cholera to vulnerable Haiti, but is not responsible for lives lost. Haitians disagree.
Thursday, March 24, 2011 (1 comments)









Haiti: The media blackout on Aristide's historic and triumphant return to a celebrity welcome Lack of media coverage of Aristide's return as opposed to dictator Duvaliers return is highlighted in this essay.
Saturday, March 19, 2011 (1 comments)









Haiti beating back the elite's rabid rage: Against all odds Aristide returns Despite Barack Obama & UN Ban-Ki Moon's pressures against return of president Aristide, South Africa provided a plane & flew Haiti's first democratically elected president back to Haiti to the exuberant welcome of the poor majority. Beating back the elite's rabid rage, against all odds Aristide returns to Haiti. Ezili's HLLN marks the momentous occasion, remembers the fallen, the legacy to reach, the endless struggle ahead.
Sunday, January 16, 2011 (3 comments)









Obama's change in Haiti: the Return of Dictator, Jean Claude Duvalier Air France returned bloody dictator, Jean Claude Duvalier to Haiti.If Air-France wanted to bring in Osama bin Laden into Haiti, how could Haitians stop it? Still, we-Haitians will be blamed, as usual, for all the outrageous acts the wealthy powers-that-be do in Haiti. The "Friends of Haiti" continue with their macabre plan to further destabilize and exacerbate Haiti's already agonizing sufferings.
Wednesday, January 12, 2011 (1 comments)









Haiti Year of Agony: Ezili HLLN's Bouquet of Flowers and Light Jan. 12, 2011 marks the one-year anniversary of the Haiti quake, Ezili HLLN re-member the lives lost and suffering agony of those left behind with: A bouquet of Tears by Michel Sanon (in English & French), a Crosstalk interview and Light by Daniel Beaubrun.
Wednesday, December 22, 2010 (1 comments)









Justice for Haiti prevailed: Perlitz going away for long time Perlitz sentenced to 19 years 7 months, followed by 10 years of supervised release. Ezili's HLLN went before Judge Arterton to take back Venerable Pierre Toussaint's name, lift up his shining legacy & ask judge to give maximum sentence to validate the children's dignity, assuage their soul-destroying wounds & send a deterrence message to other such predators in Haiti right now doing same horrid deeds. Thanks to all who helped
Tuesday, December 14, 2010 (1 comments)









Shameless Douglas Perlitz tries to deny Haiti boys full measure of justice Douglas Perlitz has filed a motion to reduce sentence claiming he was a victim of an abusive relationship with a Jesuit priest at Fairfield University. Help Haiti's voiceless and abused children. Action Requested: Demand maximum sentence and fines be imposed against pedophile Haiti charity worker, Douglas Perlitz. Sample letter to judge provided.
Saturday, December 11, 2010 (1 comments)









Haiti: Breaking the news lockdown - Direct testimonies from the streets It pains me to give voice to what I'm hearing - The alternative if the fraudulent elections in Haiti are not annulled. Revolution has been reduced to "anything is better than Preval." The US and its international partners pay for the conflict and now they are on their way to "restore order" as Haitians continue to die.
Friday, December 10, 2010 (1 comments)









Haiti message to US Embassy in Haiti: The Will of the People I write this note, to pran devan - get ahead - of the international double-speak, outline for the US Embassy the obvious "will of the Haitian people." This essay explores the most likely scenario to be played out in these disaster Haiti elections; the US Embassy Statement, Haiti Wikileaks, US hypocrisy and imported UN cholera.
Friday, December 10, 2010 (1 comments)









Haiti Action Requested: Demand maximum sentence for pedophile Douglas Perlitz Haiti charity worker, pedophile Douglas Perlitz sexually abused up to 13 homeless boys in Haiti. Dec. 21 is sentencing. Support children. If you can, attend the hearing. Also HLLN is asking that you send a letter (sample provided) ask judge to impose the most severe sentence, fines & restitution allowable under law. Mr. Perlitz & others like him must be deterred from preying on such helpless Haiti victims.
Sunday, December 5, 2010 (2 comments)









Haiti Elections-HLLN to Edmond Mulet on behalf of people of Haiti: Goodbye UN! The morning after the sham elections, even before the vote counting for these foreign-imposed, non-inclusive elections had begun, AlJazeera reports , the UN went to two of the more recognized presidential candidates and told each, they were in the lead. Both Mirland Manigat and Michel Martelly stopped calling for the annulment of the UN-supported elections after that powerful, if blatantly contemptible foreign intervention.
Saturday, November 27, 2010 (2 comments)









Haiti elections neither free nor fair Obama denounced the recent "elections" in Burma as "neither free nor fair." The November 28 sham elections are neither free nor fair, denies Haitians the right to self-determination, will not provide legitimate leaders respected by the people of Haiti and the insidious international community is only adding to its human right failures, indecencies and injustices in Haiti.
Friday, November 19, 2010 (1 comments)









Avatar Haiti: November 18, 2010 Vertieres Rememberances and Interview with Ezili Dantò Stop the media lies and UN spin that the protests in Haiti are "political." The facts support the Haitian accusations that the cholera is imported and not from Haiti. The CDC has confirmed this. The island people have a long memory of US/Euro abuses at the hands of the "more civilized." Haitians are the Tainos, the Comanches, the Cherokees and Cholera is small pox in a blanket. The accused UN cannot investigate itself.
Thursday, October 28, 2010 (3 comments)









Haiti's case against the UN for possibly importing cholera epidemic The UN investigating the UN to see if the UN brought cholera to Haiti is not very assuring to Haitians being helped to death by the various "humanitarian aid" units in Haiti since the democratically elected president was deported back to Africa by Bush the son. There ought to be an independent investigation on behalf of the people of Haiti by epidemiologist entities with no vested interests in the current international crimes.
Wednesday, October 27, 2010 (1 comments)









Is Haiti's deadly cholera outbreak an imported disease? Cholera has never before been found in Haiti & was most likely imported. Contrary to news reports, no evidence Artibonite River is source of the disease. Even Red Cross routinely delivers contaminated water to the camp refugees. No one knows for sure yet how cholera got to Haiti. But it's certain donation monies are collecting interests for thousands of NGOs instead of providing permanent clean drinking water to save lives.
Monday, October 4, 2010 (4 comments)









Haiti: I Can't Stand the Rain It's been raining for days and days with no significant let-up. The rain drops feel like tears. The sobbing of 300,000 Haitians gone in 33 seconds on January 12, 2010. A storm hit Haiti last week. At least 6 earthquake survivors living in the streets were killed. It destroyed about 8,000 tents. They same one US Senator is holding up reconstruction relief to Haiti. The lies. I can't stand the rain. So much lost. Needless lost.
Friday, August 20, 2010 (2 comments)









Douglas Perlitz admits to sexually abusing homeless Haiti boys Douglas Perlitz pleads guilty, admitted he sexually abused at least eight homeless Haiti boys who he'd recruited into the Pierre Toussaint Project school he founded in Haiti for almost a decade. Ezili's HLLN thanks the prosecuting team and urges pursuit of restitution from Perlitz on behalf of the victims.
Tuesday, August 10, 2010 (3 comments)









Sean Penn and Wyclef Jean: Hollywood, Hip Hop and Haiti Wyclef Jean is running for President of Haiti. Sean Penn criticizes Wyclef because he saw him with a large entourage in Haiti & fears Wyclef's support for corporate interests, notably assembly plant owners who pay sweatshop wages. Penn's entourage in Haiti is US/UN military & their role IS to protect US corporate interests. Penn is patronizing but if criticizing Wyclef for this, he must also the Clintons, Obama, UN,US military
Thursday, July 15, 2010 (1 comments)









Fake Website says France will pay Haiti back Independence Debt it extorted at gun-point Clinton, Bush & now France. How lucky can Haiti be? Clinton apologized, Bush co-chairs earthquake relief & France, well France will - cough, cough- pay Haiti the Independence Debt back! It this wasn't a hoax, it would be good news. An ADMISSION France is in error, owes Haiti a debt of $21billion as of 2004. Still, a big "Thank You!" goes to Pres. Aristide, only Haiti Pres. to ask France for the Independence Debt back.
Saturday, July 10, 2010 (3 comments)









Who is Rajiv Shah, What are Haiti concerns about Shah and USAID Article examines Rajiv Shah connections to agribusiness, Monsanto, the spread of GMOs and US foreign policy to depopulate Black nations. It focuses on a recent report that maintains a USAID-supported Bio tech firm develop HIV tainted GM corn and that HIV Infection Rates Increase with eating US Corn in Sub Sahara Africa. These are relevant as Monsanto just gave Haiti a gift of corn & USAID continues to dump food aid into Haiti

Thursday, July 8, 2010 (5 comments)









Haiti: Shocking video of the work of soldiers in the days following the earthquake Shocking video of the work of our saviors in the days following the earthquake. A slice of what was happening in Port au Prince down town during the days after the earthquake. See it NOW before it's REMOVED by the UN!
Thursday, July 8, 2010 (1 comments)









Dread Wilme, Haiti's warrior assassinated by UN/US occupiers On the occasion of the fifth anniversary of the July 6, 2005 assassination of Emmanuel Dread Wilme (in Kreyòl - "Drèd Wilmè"), Ezili's HLLN re-member his struggle that continues and honor his life and sacrifices.
Thursday, July 8, 2010 (1 comments)









Haiti: Vodun Jazzoetry-Ezili Danto's Red, Black & Moonlight (Videos) The RBM series written & performed by Ezili Dantò document the often tragic journey of Haitians in the US and abroad for human justice, the monologues cover Vodun cosmology, Haitian history, culture and US humanitarian imperialism in Haiti. It's a musical memoir full of coming of age stories of a woman raised African-American-Haitian in the US, who returns to her parents' homeland and cannot undo the U-turn.
Friday, May 28, 2010 (2 comments)









Haiti's Voiceless Speaks to New York Times: Where's the call for investigation into UN Slaughters in Haiti? The Times is calling for investigation of the slaughters at Les Cayes prison. That's all well & good. But where was the Times' coverage & call for investigation when the UN was slaughtering unarmed civilians in Haiti from 2004 to the present? For the July 6, 2005 massacre by UN? New York Times is helping better facilitate the old failed standard of giving aid monies directly to UN/USAID/NGOs but never directly to Haiti's gov.
Saturday, May 22, 2010 (2 comments)









Haiti: The Poverty Pimps' Masturbating on Black Pain - Their silent violence and corruption Monsanto joins the poverty pimps in Haiti. Their silent violence & corruption in Haiti, Africa, Asia are structural, not perpetrated just by large NGOS, charity organizations, the corportocracy and imperialist powers that backs them up. No. It's as structural as white privilege. The majority of humanity continues to be enslaved by a dominant system that thrives on poverty. No paradigm change may come about if this is ignored.
Wednesday, May 5, 2010 (1 comments)









Vision of Plantation Haiti - A White Pearl, Again! Haiti for sale - The vision is for Haiti to end up a colonial enterprise, like the Dominican Republic and the rest of the Caribbean islands where mostly Eurocentric-black overseers manage their Black and brown populations for the benefit of the white superpower nations. And where the Island peoples are set off as props in their own homeland - maids, butlers, prostitutes, gardeners, entertainers and housekeepers...
Tuesday, April 6, 2010 (1 comments)









The Plantation called Haiti: Feudal Pillage Masking as Humanitarian Aid While the champaign bottles were popping at the UN for the pledging session's success - $5billion, 10 billion pledged for the future. Whose future? ...The West dreams of riding the world economic recession and political dangers for themselves on the backs of Haiti's dead to the tune of the $5.3, $10 billion do-gooder image they've siphoned off for themselves. Meanwhile, the subjects of their pledges suffer and die in droves.
Friday, March 19, 2010 (1 comments)









Tell the Truth About Haiti Forum with Ezili Dantò of HLLN A HAITI FORUM - On Haiti Riches, Sovereignty and Mobilizing Earthquake Relief/Rebuilding with human rights, Healing and Dignity. No one breaks down the mystery and outline Haiti's central facts to defend Haiti's voiceless against the most powerful nations, World Relief Organization/NGOs and mainstream media on earth in the thorough and well documented manner of the Haitian-led, Ezili Network.
Tuesday, February 23, 2010









Update from Croix Des Bouquet: I Survived and I'm Back From Haiti How the Ezili Network, Op ed news, Gorilla Radio with Chris Cook and others helped promote Carl's call for help in Haiti. Update on the community at Lila Voix Croix Des Bouquet, Haiti that the HLLNetwork is helping. Photos of Carl Thelemaque's return to New York and his artwork fund raising: I Survived and I'm Back From Haiti
Wednesday, February 17, 2010 (2 comments)









Sarkozy's visit to Haiti, The Independence Debt and Haiti's Sovereignty Sarkozy's visit to Haiti: A Buzzard Looking For a Free Meal? But Haitians claim Haiti's sovereignty, demand France pay back $22 billion Independence Debt. What can you do to stand in solidarity with Haiti's excluded majority, send letter to France, sign the petition demanding repayment. Support and use Ezili/HLLN's 14-points on Conscious Relief with human rights and dignity.
Wednesday, February 10, 2010









Haiti has its own rebuilding plans: The US/UN Must Stop blocking Haitian Relief US must STOP blocking Haitian relief : 80% of Haiti's population live OUTSIDE of Port-au-Prince: Haiti is not the Republic of Port-au-Prince where the internationals congregate. Haiti already has its own REBUILDING plans. If Obama could reach across party lines to invite Clinton and Bush to work for Haiti during this crisis, then why can't Preval do the same by inviting Aristide to return?
Monday, February 8, 2010









A call for humanitarian help from Croix-des-Bouquets, Haiti Action Alert: A call for help from Croix-des-Bouquets at zone Li Lavoix, Haiti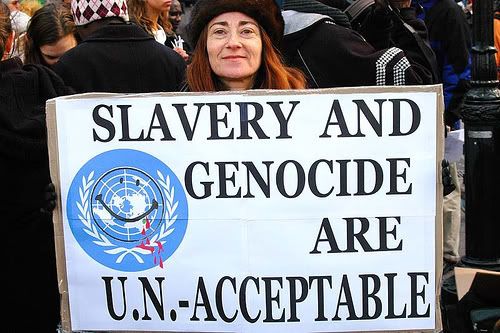 Sunday, February 7, 2010 (1 comments)









Ratcheting up the genocide in Haiti: Blocking Aid Delivery Ratcheting up the genocide in Haiti by blocking aid delivery. Before earthquake the killing was by UN bullets, exclusion, NGO false benevolence, US false charity and cruel immigration laws. After Jan 12 it's all those PLUS our people are allowed to die of critical earthquake injuries, starvation, suffering, trauma and thirst.
Monday, February 1, 2010









Ezili Dantò's Message to Paul Farmer, Senate Foreign Rel. Committee, Dobbins and Francois Message to Paul Farmer, Senate Foreign Relations Committee, James Dobbins & Ronny Francois: Actions we are mobilizing for the world at Ezili's HLLN. Haiti's consent to legitimize the US take over/occupation cannot be manufactured through coup d'etat Haitians living in Diaspora, nor imposed in this time of disaster. Haiti is a sovereign nation. The majority in Haiti and abroad want emergency help not military/civil occupation.
Sunday, January 31, 2010









We are the Haitians: From the womb to the tomb our lives are about struggle We are the Haitians: From the womb to the tomb our lives are about struggle, The Haitian struggle is the greatest David vs. Goliath battle being played out on this planet. The essay examines the current situation in Haiti. The adoption of earthquake orphans from Haiti, USAID/NGOs false aid, false benevolence, how Haitians refuse Bourgeois Freedom and will not accept occupation. Support HLLN's Nou La Relief Fund.
Friday, January 29, 2010









Oil in Haiti - Economic Reasons for the US occupation, part I Oil in Haiti is the economic reason for the US occupation.
Friday, January 29, 2010 (1 comments)









Oil in Haiti, reasons for the US occupation, Part 2 An oil company man comes forward in Businessweek to say, suddenly and seemingly unprompted that the Haiti earthquake "may have left clues to Haiti's petroleum reservoirs." HLLN has been documenting for years the reason behind the removal of Pres. Aristide was fear he would nationalize Haiti oil, gas, iridium, gold, uranium, copper, diamond and other resources to elevate the people's living standards.