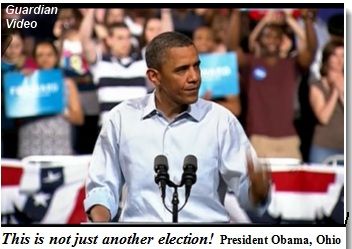 When you take the right side, style trumps substance every time in politics. President Obama was on fire Saturday in Columbus, Ohio, hammering home populist themes that will define his campaign. This was his campaign kick-off. He couldn't have done a better job of stating his case as the candidate of the people, while painting Romney as the darling of The Money Party (Wall Street, big banks).

PRESIDENT OBAMA: The problem with our economy isn't that the American people aren't productive enough -- you've been working harder than ever. The challenge we face right now -- the challenge we faced for over a decade is that harder work hasn't led to higher incomes. It's that bigger profits haven't led to better jobs. President Obama (Full text of Obama's remarks, Columbus, Ohio, May 5, 2012)

It's not your fault the president tells us, which happens to be absolutely correct. Then he nailed Romney:

PRESIDENT OBAMA: Governor Romney doesn't seem to get that. He doesn't seem to understand that maximizing profits by whatever means necessary -- whether through layoffs or outsourcing or tax avoidance or union-busting -- might not always be good for the average American or for the American economy. Pres. Obama May 5

See the video from the Guardian. It will show you just how focused Obama is at this point. This is classic populism and well done at that. Based on his record, I doubt this but that's not the point here. Obama is showing that he's an all-time big game player in the same league as Bob Gibson, Kenny Stabler, Magic Johnson, and Larry Bird. This is when it counts and Obama is in outstanding form.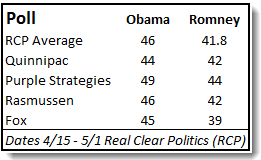 His choice of Ohio is apt. It is a critical state, it was hammered by the recession/depression, and thanks to the auto bailout, some plants have double and triple shifts manufacturing cars and parts. Obama spoke at Ohio State University, home to a constituency besieged by Republican plans to unleash student loan interest rates. Obama is leading in Ohio (45-42%, RCP average) and can only expand that lead as he reminds people, over and over, that Romney opposed the bailout. Nice move Mitt. Obama's advantages are considerable. The rural Red Republican base will remain at 13-15% of the total, way down from the 23% in 2000. The 15% or so of Latinos who support Romney may defect to the point where Romney approaches single digits. (It certainly won't improve.) The suburban vote may split. Then it's the cities like Columbus and the big cities like Los Angeles and New York that come in. This has to be the case since the voter identification movement might remove five million people from the polling places, according to the Brennan Center. That's impressive by racist voter suppression standards but not enough to give Mitt a real shot at winning. Watch for cries of class warfare and remember, it is class warfare, always has been - the ultra-rich against the rest of us. More Obama passages from the speech and preview of the president's message (full text this link):

-----------------

Corporations aren't people. People are people. Pres. Obama, Columbus, Ohio May 5, 2012

-----------------

When some wanted to let Detroit go bankrupt, we made a bet on American workers, on the ingenuity of American companies. And today, our auto industry is back on top of the world. Manufacturers started investing again, adding jobs for the first time since the 1990s. Businesses got back to the basics, exports surged. And over four million jobs were created in the last two years -- more than one million of those in the last six months alone. Are we satisfied? Pres. Obama, Columbus, Ohio May 5, 2012

-----------------

PRESIDENT OBAMA: But to borrow a line from my friend, Bill Clinton, now their agenda is on steroids. This time, they want even bigger tax cuts for the wealthiest Americans. This time, they want even deeper cuts to things like education and Medicare, and research and technology.

AUDIENCE: Booo.

PRESIDENT OBAMA: This time, they want to give banks and insurance companies even more power to do as they please. And now, after a long and spirited primary, Republicans in Congress have found a nominee for President who has promised to rubber-stamp this agenda if he gets the chance.

AUDIENCE: Booo.

PRESIDENT OBAMA: Ohio, I tell you what: We cannot give him that chance. Not now. Not with so much at stake. This is not just another election. This is a make-or-break moment for the middle class, and we've been through too much to turn back now. Pres. Obama, Columbus, Ohio May 5, 2012

-----------------

Say 'Good night' Mitt!

END

This article may be reproduced with attribution of authorship and a link to this article.

1 | 2